The Global Hunt for Looted Khmer Art Treasures
As restituted ancient artworks kept in museums worldwide are being flown back to Cambodia, the controversy around Douglas Latchford collection deepens.
Pages: 1
Truth to their name, the Pandora Papers publication in October 2021 have opened a Pandora box of hidden offshore trust funds related to Khmer art collections kept in various museums worldwide. Spectacular consequences followed, including the prosecution of and recent guilty plead from famous New York art dealer Nancy Wiener.
The Washington Post and the ICIJ (International Consortium of Investigative Journalists) team tracked dozens of antiquities possibly tied to indicted art dealer Douglas Latchford (1931-2020) that are displayed in or owned by art museums around the world. In addition to the Pandora Papers, data came from Latchford's self-published books, from art gallery catalogues and from researchers' blogs.
The newspaper feature story includes important documents, such as the Report written by French archaelogist Eric Bourdonneau in 2011, when a Khmer statue from the 10th century was about to be sold at an auction by Sotheby's New York, for $2 million to $3 million. This is how begun the fall from grace for Douglas Latchford, who had been for decades considered as a spotless and learned Khmer art specialist. Bourdonneau found "clear evidence that the statue had been looted: Its legs exactly fit the severed feet on a pedestal that looters had left behind at the Koh Ker temple of Prasat Chen. He identified the statue as Duryodhana, the protagonist in a nine-statue tableau that depicted the climactic battle scene from a Hindu epic poem, the Mahabharata." The auction was cancelled and procedure for restitution to Cambodia started.
The article lists American museums still keeping pieces from the Latchford collection: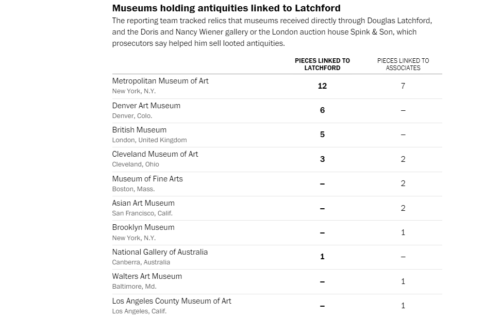 ADB Input:
These disclosures will add to a global debate initiated several years ago: how far museums from developed countries have to go in the restitution of artwork to their countries of origin? Where does start the illicit and stop the legitimate acquisition of ancient artwork? What is the ethical responsibility of art historians when appraising an art piece without knowing exactly its source? The latter topic is considered by S. Vijay Kumar in a recent essay, How some renowned scholars have aided in cultural theft.
The suspicious trading of ancient art by New York gallerist Doris Wiener, and then her daughter Nancy Wiener, has been under scrutiny since at least 2017, when the website Chasing Aphrodite was launched in order to collect information about looted art having transited through their gallery.
In this highly charged atmosphere, it is tempting to consider that most major museums, with their vast financial resources, have been deliberately plundering the art treasures of developing countries. But it is not that curators have systematically hidden the origin of exhibits. One instance illustrated in the report: the two bronze Khmer Tantric deities, Shamvara and a dakini, trampling personifications of affliction (c.1100)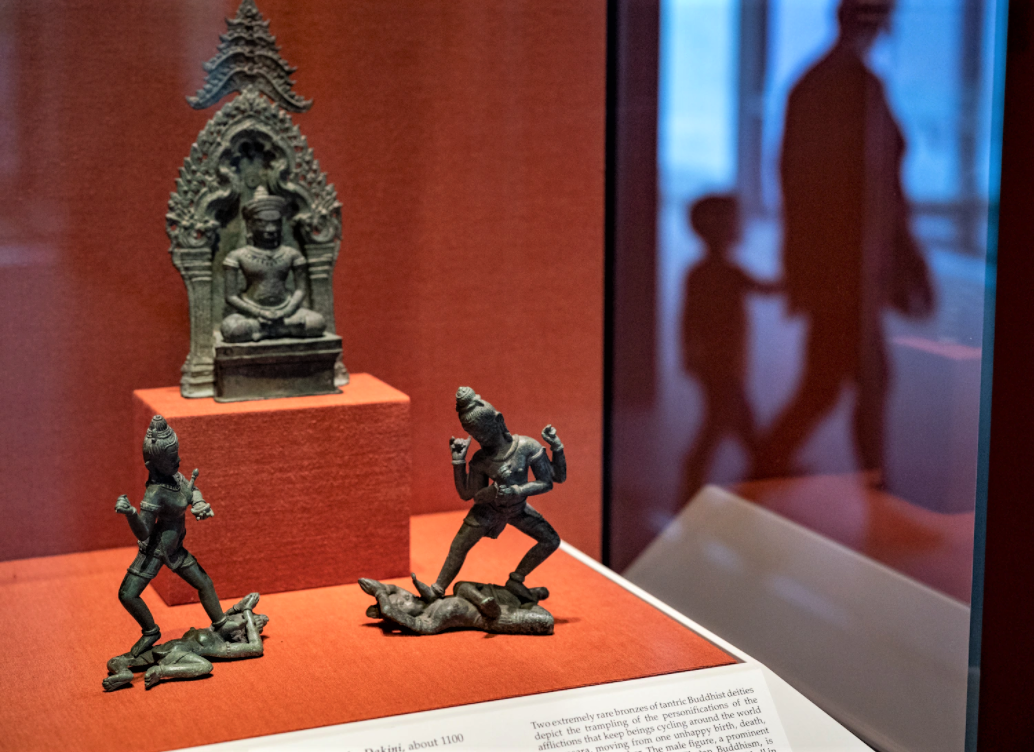 The Washingto Post caption states that these "pieces are on display at the Cleveland Museum of Art in May and had been owned by Latchford. (Salwan Georges/The Washington Post)"
Yet the Museum records for its Cambodian Art collection clearly show that these pieces were previously owned by Latchford. Simply, no one doubted the collector's credentials and respectability at the time of the purchase (through an intermediary) in 1985: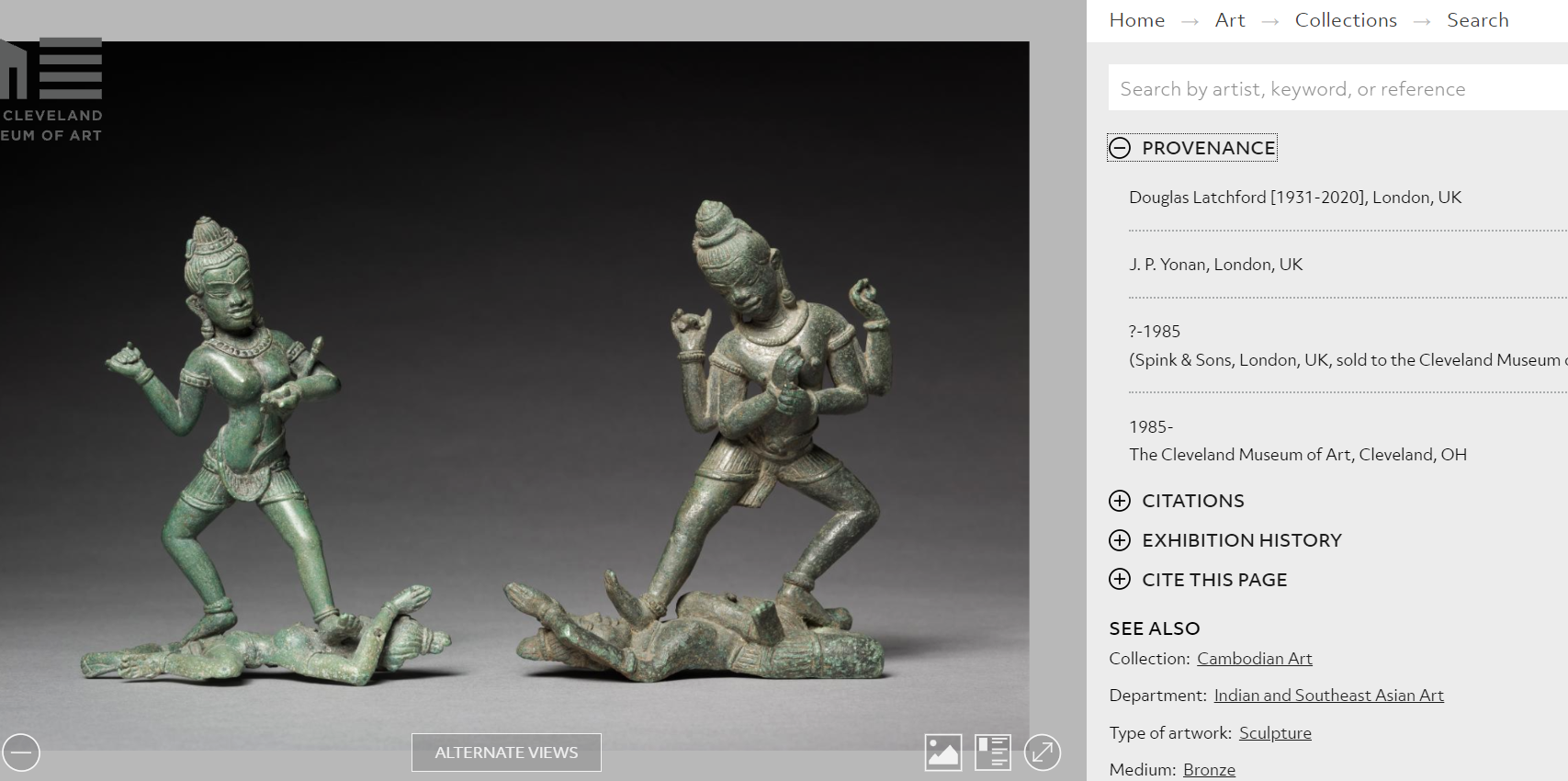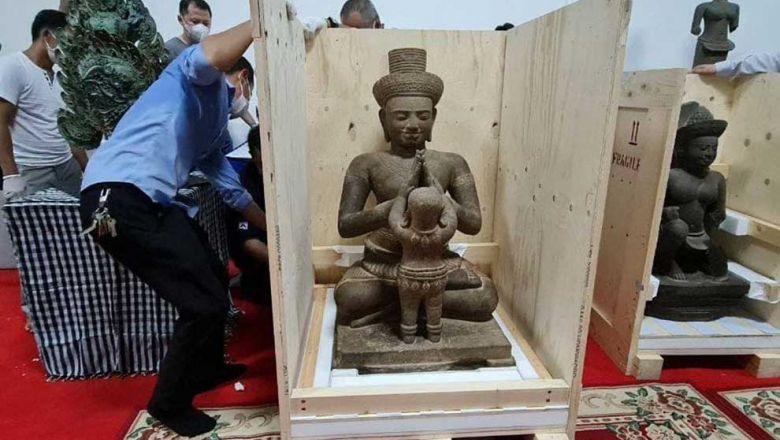 Source: Phnom Penh Post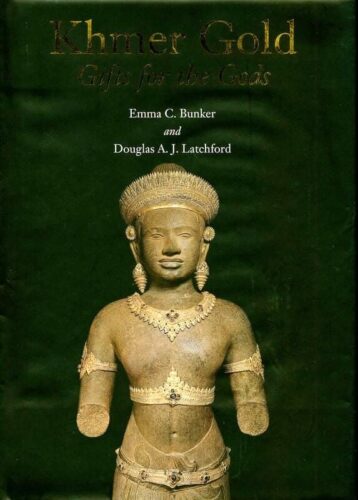 Read about the latest developments related to the MET collection, August 2022 (source: The New York Times)
Contributors: Peter Whoriskey (Washington Post), Malia Politzer, Delphine Reuter and Spencer Woodman (ICIJ), Annie Gilbertson (Spotify), James Oliver and Rory Tinman (BBC), David Conn and Anne Davies (The Guardian), Mario Christodoulou (Australian Broadcasting Corporation)
Main photo: Artwork restitution to the National Museum of Cambodia in September 2021 (Khmer Times)

Tags: art trafficking, restitution, Khmer art, museums, news, museology, looted art, Koh Ker