The Origins of the Civilization of Angkor
by Charles F. H. Higham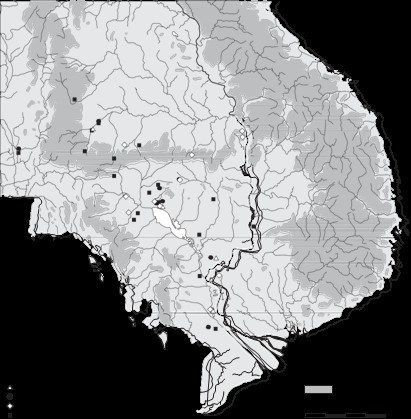 Publication: Albert Reckitt Archeological Lecture | Proceedings of the British Academy, vol. 121, pp 41–89.
Published: 2003
Pages: 49
Language : English
This essay makes for an essential, yet sometimes arduous read about the origins of the Angkorian civilization. Encompassing some fifty millenia, the author's research leads us through eight phases of human settlement in the area covering what is now Thailand, Laos, Vietnam and Cambodia.
Supported by archeological findings, the essay presents some striking evidence of prehistorical activity tracing back the pre-Angkorian and Angkorian sites to the dawn of modern humankind, such as:
"Our excavations at Angkor have revealed Iron Age occupation only one hundred metres from the southern gate into Angkor Thom. At Phum Snay, about eighty-five kilometres northwest of Angkor, an Iron Age cemetery containing rich burials have been discovred. This site has been virtually destroyed by looting later on, but villagers have reported finding skulls wearing horned."
"At Phimai, we have found Iron Age occupation below the remains of an early brick temple. Brick temples of the Chenla period have also been found in the upper Mun Angkorian sites of Phanom Wan and Phanom Rung. At the former, the Angkorian sanctuary was built over an Iron Age cemetery in which the dead were interred on the same orientation as the central temple."
Tags: prehistory, Funan, Chenla, Chams, archaeology, origins of Angkor, Cham civilization, Phimai, Phum Snay, Iron Age
Charles F. H. Higham
Charles Frank Wandesforde Higham (UK, 1939), a research professor at the University of Otago in Dunedin, New Zealand, and a member of the British Academy, is a prolific archaeologist most noted for his work in Southeast Asia, including the neolithic sites of Northeast Thailand and the Angkorian civilization. 
His current research involves excavations at the Iron Age site of Non Ban Jak, Thailand, where he has identified an extensive area comprising the residential quarter of an Iron Age town, complete with houses, a lane, an iron working area and several ceramic kilns. 
In conjunction with other researchers, he has linked a period of increased aridity with the start of an agricultural revolution that stimulated the rise of early states in Southeast Asia. In July 2018, he was a co-author of a pioneering publication on ancient human prehistoric DNA from several sites in Southeast Asia. The result identified a series of population movements beginning with the arrival of anatomically modern humans over 50,000 years ago.