The Ruins of Angkor
by Cecyl Holliday
A 1931 account of Angkor, "the city of mystery".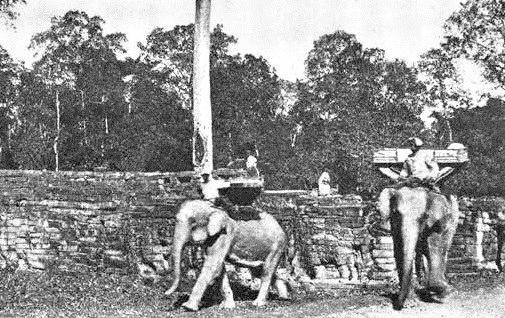 Publication: The Mid-Pacific Magazine, vol 41, issue 3, Honolulu
Published: March 1931
Pages: 8
Language : English
A socialite and educator from Honolulu, Cecyl Holliday was not in any way a specialized archeologist or historian, yet her account on the ruins of Angkor accurately reflects the condition of the archeological site in the 1930s, and the state of contemporary historical research and hypotheses.
Among the author's indications of note:
The rediscovery of Angkor in modern times is boldly attributed to Father Bouillevaux, "a  French mission­ary who in 1850 trudged mile after mile  through the jungle and stumbled upon a forsaken temple, the  remains of  a moat, an  abandoned  fortress, miles of ruins, a vanished civilization".
Cecyl Holliday is aware of "the only written source on Angkor before its fall, the notebook of a Chinese envoy", obviously the relation by Zhou Daguan.
She writes that "the Bayon is supposed to have been the royal treasury though as yet no treasury has been discovered."
Noting that all the Angkor building stones came from Phnom Kulen, "nineteen miles away", she assumes that this enormous amount could not possibly have been hauled on roads, and gives credit to an assumption popular at that time: the Angkorian site was originally located right on the shore of the Tonle Sap Lake, thus the stones were brought to the construction sites by barges.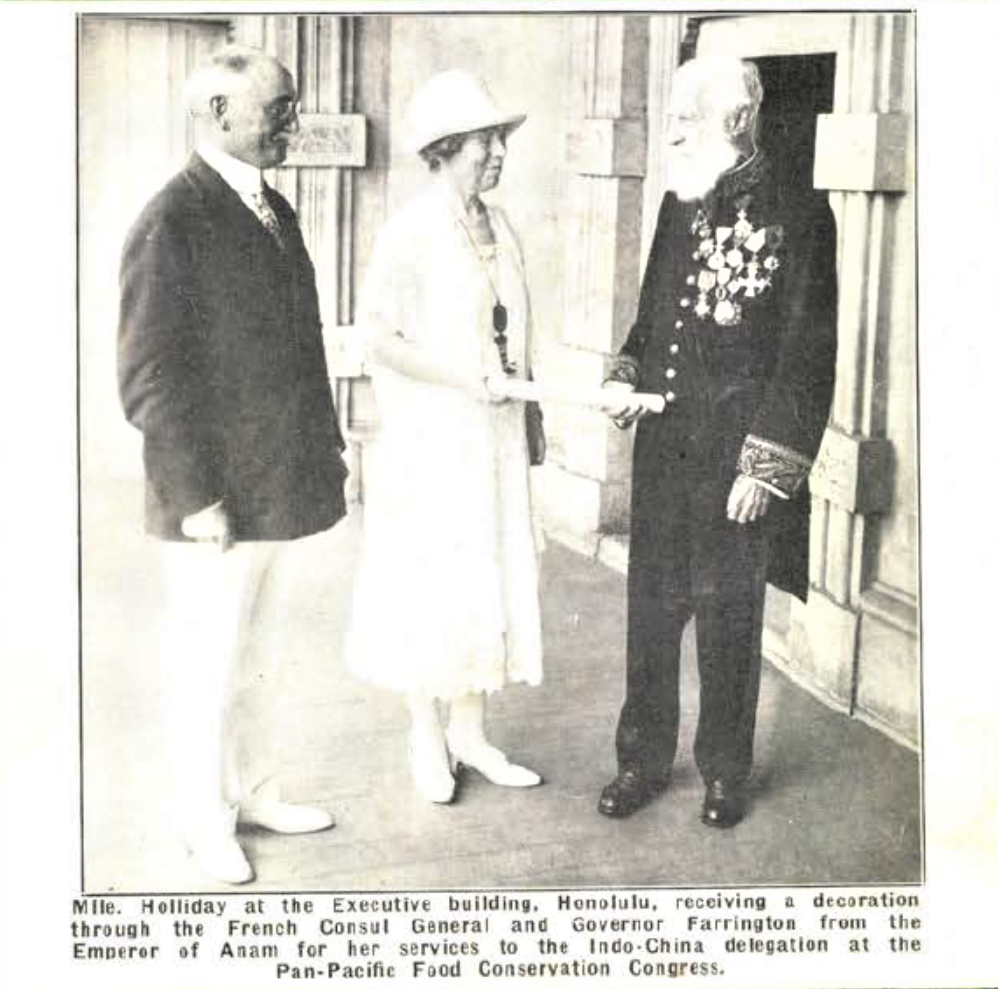 (From The Mid-Pacific Magazine, 1926)
Tags: Angkor rediscovery, architecture, Bayon, Phnom Kulen, Tonle Sap, women travelers

Cecyl Holliday
Cecyl Holliday (who signed her contributions to The Mid-Pacific Magazine "Mlle. Cecyl Holliday") was a French teacher at Maui High  -- the first English-speaking high-school in Honolulu, inaugurated in 1913 --, an interpreter and a trustee of the Pan-Pacific Union.
In 1926, she was awarded in Honolulu the Annamite Order of Kim Boi, a distinction honoring "ladies of special merit or exceptional services", from the Emperor of Annam. The decoration was presented to her by the Consul-General of France, Auguste Marques, for her contribution to the success of the first Pan-Pacific Food Conservation Conference.
She was invited to visit Indochina in 1929 and traveled to Angkor. Ten years earlier, Cecyl Holliday had composed the "Alma Mater" (school song) of Maui High, still sung by students nowadays during school ceremonies.