Trompets & Horns from 12th and 16th Centuries Angkor
by Patrick Kersalé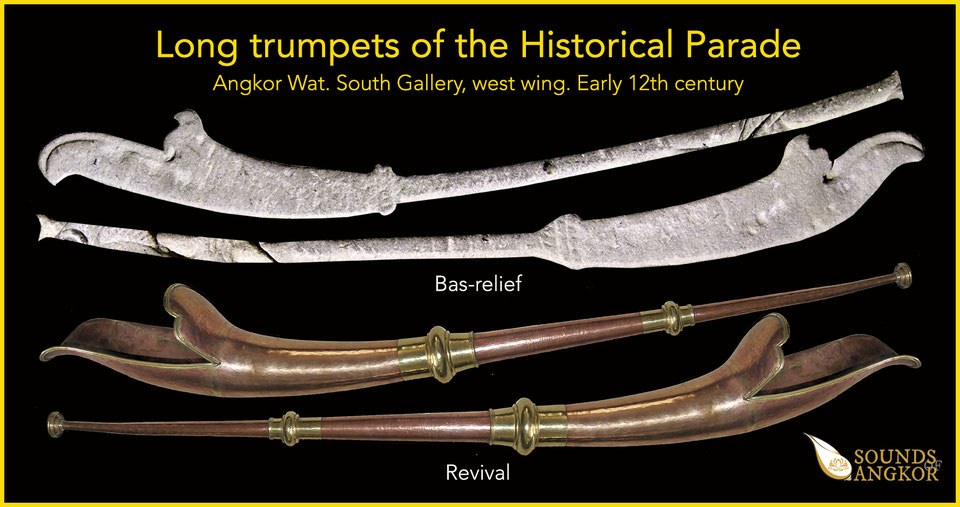 Publication: Sounds of Angkor Website
Published: February 2021
Pages: 1
Languages : English, French
Furthering his exploration of musical instruments from Angkorean times, musicologist Patrick Kersalé has worked on the long trumpets and horns as seen in Angkor Wat south and west galleries, dating back respectively from the 12th and the 16th centuries.
Regarding the epigraphic mentions of turyya (long trumpet in Sanskrit and Old Khmer), the author remarks: "The founding inscriptions of the Lolei temple (late 9th century) offer eight lists in which there are male players of tūrya (written turyya), five out of seven occurrences and four out of the eighth one. The inscription of Prasat Kravan temple (921 A.D.) quotes three players of tūrrya. What is striking in all these examples is the assimilation of the instrument name to that of the musicians. Indeed, for percussion and string instruments there is a specific terminology that describes the musician as "percussion instrument player" and "string instrument player" respectively. Now in the case of tūrya, instrument and musician become confused."
In addition, the work of a contemporary oliphant manufacturer (made from buffalo horn) is shown here.
Photo by P. Kersalé.
Tags: musical instruments, music, sanskrit, Old Khmer, Lolei
Patrick Kersalé
Ethnomusicologist and music archaeologist Patrick Kersalé (1959, Nantes, France) has spent the past 30 years traveling around the world (primarily in West Africa, Southeast Asia, India, Nepal and Europe) in order to seek traditional music at risk of disappearing in order to preserve the memory and to develop programs for cultural conservation.
Patrick Kersalé has carried out many missions in Cambodia in order to collect audiovisual footage at archaeological sites, as well as music from ethnic minorities across Ratanakiri and Mondulkiri provinces. SInce 2009, he has studied the musical instruments from the Angkorian era, through the iconography, inscriptions and archaeological objects. Based on that research, he has rebuilt extinct instruments from the 7th to 16th centuries. Several kinds of harps, zithers, cymbals, drums, trumpets, and conchs have thus literally been brought back to life.
During the last four years, he reconstitued a wooden chapei dang veng (lute) from a photograph of a female lute player taken by Emile Gsell circa 1866 in Phnom Penh, and finding a similar musical instrument from that period at the Music Museum (Musée de la Musique) in Paris.This labor of love, an exercise in historic research and technical prowess, is narrated here.
Patrick Kersalé is also the author of numerous CDs, mostly on the music of ethnic minorities, several books with CD on oral traditions, documentaries, educational DVDs, and articles.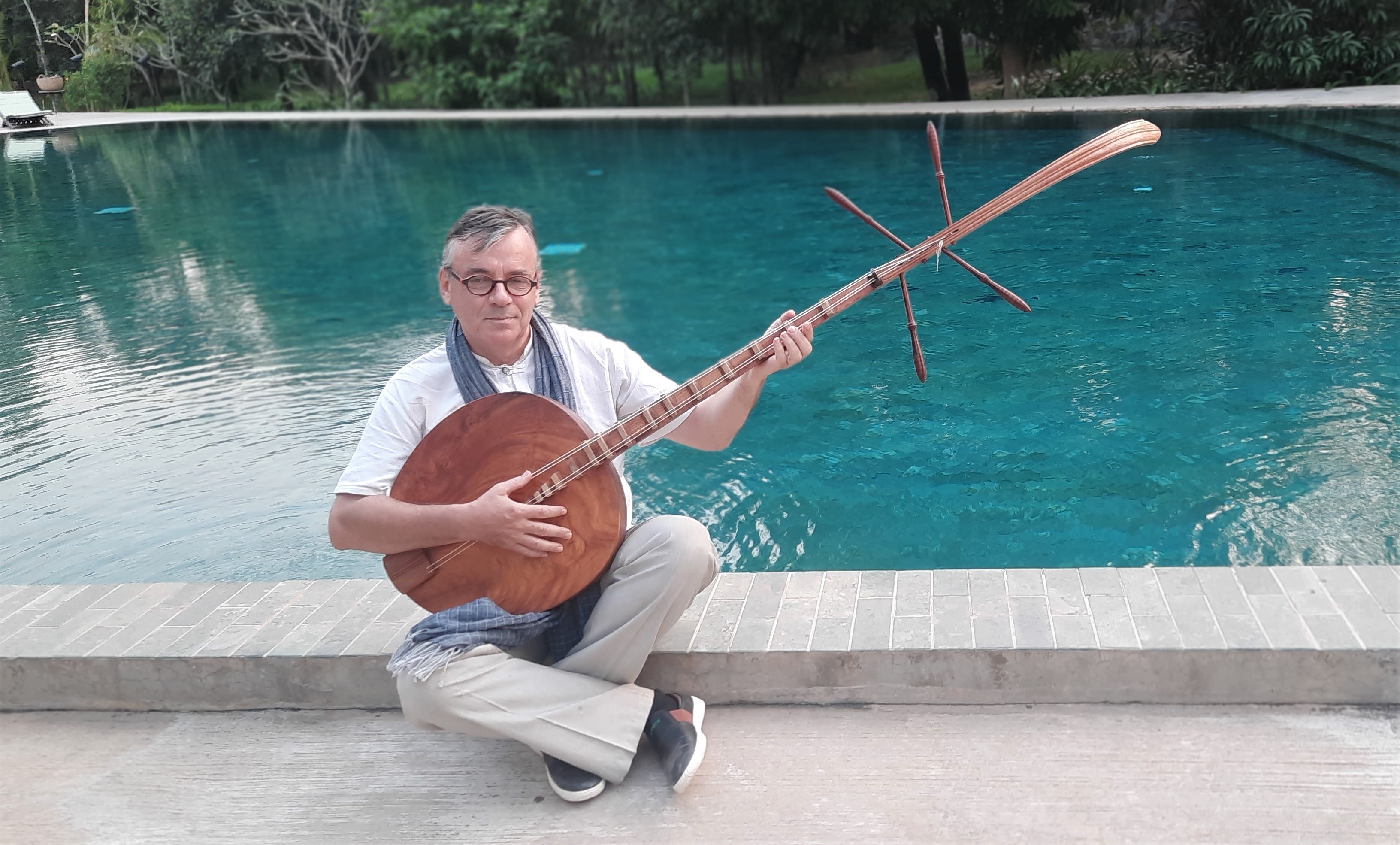 Patrick Kersalé with his chapei in Siem Reap, Feb. 2021. Below, details of the musical instrument: