Un court traité d'architecture cambodgienne moderne (A Short Treatise on Modern Cambodian Architecture)
by Madeleine Giteau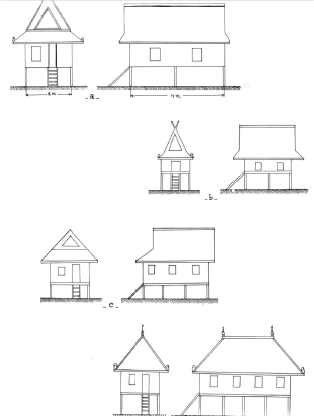 Publication: Arts asiatiques, tome 24, pp. 103-147. Original treatise composed in 1954.
Published: 1971
Pages: 45
Languages : French, Khmer
This report-treatise was initially submitted in 1954 to the Commission des Moeurs et Coutumes Cambodgiennes in Phnom Penh by Ien Sioen, a contractor and building master working with the Royal Palace. The author has translated from Khmer and annotated the document (n° 83.017 at the CMCC archives).
For residential houses, several types are listed: khmaer, ron, ron toi, ron dioen (or kantamn, from the name Canton, since many Chinese in Cambodia adopted this type of house) and pit. Sizes are as follow: large house 11 coudées (cubits), large house 12 cubits, large house 13 cubits, large house 14 cubits and large house 15 cubits.
The treatise also details building specifications for monastaries, salas and kutis, forming part of a specific religious architecture.
Photo: types of kutis (houses for monks).
Tags: architecture, traditional houses, rituals
Madeleine Giteau
Art historian Madeleine Giteau (1918, Nantes - 2005) was the Curator of Cambodia National Museum (then Musée Albert Sarrault) from 1956 until 1966.
A member of École française d'Extrême Orient (EFEO) from 1956 until 1981, she taught Southeast Asian art and history at Sorbonne University until her retirement in 1985.
Invited back to Cambodia for several research tours in the 1990s, she helped in the reopening of Battambang Provincial Museum (the foundation of which she had supervised in 1963) in 2000 at the invitation of the Royal Archeological Faculty of Cambodia.
Madeleine Giteau is the author of numerous studies in Khmer and Mon arts and architectural history, some in collaboration with Henri Parmentier. She contributed to Marc Riboud's  acclaimed photography book, 'Angkor, Sérénité bouddhique'.