Alain Daniel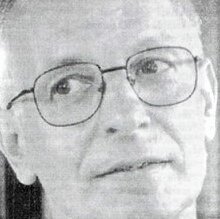 Initially a math teacher, Alain Daniel (1940-2020, France) became a leading expert in Khmer language and translation after his first trip to Cambodia, in 1965, as the winner of Le Grand Voyage, a contest sponsored by the French TV public channel and Air France.
Studying Khmer language and literature by himself and at INALCO (Paris), Alain Daniel came to write an important Dictionnaire pratique Cambodgien-Français (Khmer-French Practical Dictionary).
He also came to serve as an advisor to Prince Norodom Sihanouk, and was active in promoting the Cambodian movie industry and Khmer arts in general. A specialist in popular representations of Reamker (the Khmer Ramayana) characters, he collected many comic books and chromos issued in Cambodia in modern times.
In 1989, he was invited by the Cambodian Institute of Sociology to return to Phnom Penh, becoming a Khmer Language and Literature teacher until his retirement in 2002.

Read Alain Daniel's biography in Khmer here.
Listed works