Diogo Do Couto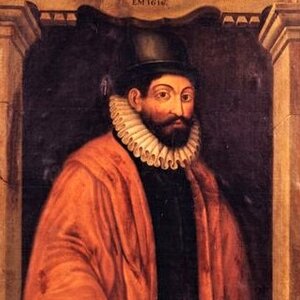 The son of Gaspar do Couto and Isabel Serrão Calvos, Diogo do Couto (Lisbon, 1542- Goa, 1616) studied Latin and Rhetoric at Saint Antão College, and philosophy at the convent at Benfica. In March 1559, he traveled to Portuguse India with the Armada of Pero Vaz de Sequeira, took part in the Surat campaign in 1560 and lived in Baroche in 1563, returning to Portugal in 1570.
A close friend of famous poet Luís de Camões and a biographer of Vasco da Gama, after marrying Luisa de Melo in Goa, Couto was invited to organize the Goa Colonial Archives in 1595, being appointed "Guarda-Mor da Torre do Tombo da India" (Curator of the Archives of India). He had started to write several volumes of the monumental relation of the Portuguese expeditions in India, Asia and Southeast Africa, Décadas da Asia (a sum initiated by Joao de Barros).
After his death, his manuscripts were kept by his brother-in-law, the priest Deodato da Trindade. In this trove of unpublished writings, researcher C. R. Boxer found in the 1960s Couto's transcription of Fr. António da Madalena's oral relation of his visit to Angkor at the end of the 16th century.
Listed works