Diogo Do Couto, ADB Reference Document
by Diogo Do Couto & Bernard Philippe Groslier & Charles Ralph Boxer & Michael Smithies & Angkor Database
Trilingual and complete version of Antonio da Madalena's relation of his visit to Angkor in 1551.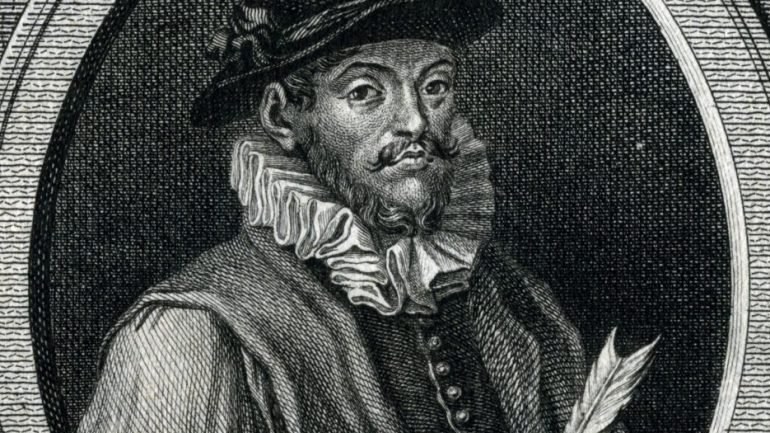 Publication: Angkor Database Reference Document #1
Published: September 2019
Authors: Diogo Do Couto, Bernard Philippe Groslier, Charles Ralph Boxer, Michael Smithies & Angkor Database
Pages: 14
Languages : English, French, Portuguese
"Da grande e admiravel cidade que se discobrio nos matos do Reino camboja e de sua fabrica e sitio" | "Of the Great and Marvellous City Discovered in the Forests of the Kingdom of Camboja, its construction and its location" | "De la grande et merveilleuse ville qui fut decouverte dans les forets du Royaume de Camboja, de sa construction et de sa situation"
The first description of Angkor by a European traveler (Year 1551)
Fraile Antonio da Madalena's relation in Diogo do Couto's Duodecima Decada da Asia
. Original and complete text in Portuguese recovered and established by Prof. C.R. Boxer in 1948
. English translation edited by Michael Smithies
. French translation by Bernard-Philippe Groslier
Source: Cinco livros da Duodecima Decada da Asia, chap. VI, ff 118 110-112. 56 verses. Note: "Este capitolo nao se ha de por, nem imprimir neste livro, porque uai ia na Sexta decada, por ser cousa que se descobrio no tempo do Viso Rey dom Afonso de Noronha". Note from C.R. Boxer: Cod. 537 of mss da Livraria; National Archives, Torre do Tombo, Lisbon. This ms is not in Couto's hand, but that of one of his secretaries. It was formerly in the Augustinian convent of Nossa Senhora de Graca. It has a contemporary leather binding with period tooling. Folios 110 recto and verso are crossed with several lines drawn by quill pen."
Ref: B.P. Groslier, Angkor and Cambodia in the 16th Century, translated by Michael Smithies, Orchid Press, Bangkok, 2006; Angkor et le Cambodge au XVIeme siècle, Presses Universitaires de France, Paris, 1957.
Tags: Portuguese explorers, Longvek, 16th century, decline and fall, Portuguese missionaries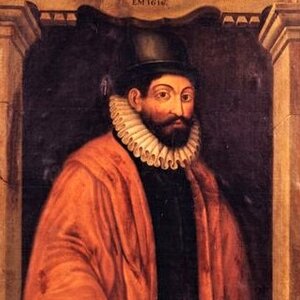 Diogo Do Couto
The son of Gaspar do Couto and Isabel Serrão Calvos, Diogo do Couto (Lisbon, 1542- Goa, 1616) studied Latin and Rhetoric at Saint Antão College, and philosophy at the convent at Benfica. In March 1559, he traveled to Portuguse India with the Armada of Pero Vaz de Sequeira, took part in the Surat campaign in 1560 and lived in Baroche in 1563, returning to Portugal in 1570.
A close friend of famous poet Luís de Camões and a biographer of Vasco da Gama, after marrying Luisa de Melo in Goa, Couto was invited to organize the Goa Colonial Archives in 1595, being appointed "Guarda-Mor da Torre do Tombo da India" (Curator of the Archives of India). He had started to write several volumes of the monumental relation of the Portuguese expeditions in India, Asia and Southeast Africa, Décadas da Asia (a sum initiated by Joao de Barros).
After his death, his manuscripts were kept by his brother-in-law, the priest Deodato da Trindade. In this trove of unpublished writings, researcher C. R. Boxer found in the 1960s Couto's transcription of Fr. António da Madalena's oral relation of his visit to Angkor at the end of the 16th century.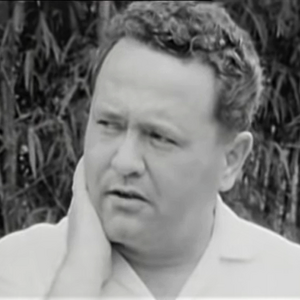 Bernard Philippe Groslier
Son of Cambodia National Museum's founder George Groslier, Bernard Philippe Groslier (10 May 1926, Phnom Penh - 29 May 1986, Paris) was the last French Curator of Angkor Monuments from 1960 until 1975. Archeologist and explorer, he has led the excavations and mapping process at Angkor Thom.
His book Angkor, Hommes et Pierres (Paris, 1968) remains a major reference for Angkor researchers. He also contributed several monographies on Khmer inscriptions, sculptures and architectural vestiges. Bernard Philippe Groslier was also a pioneer in developing the approach of Angkor as "hydraulic city", studying the irrigation and water management.
A childhood friend of H.M. King Norodom Sihanouk, Groslier developed the archaelogical work in the temples surrounding Angkor, obtaining funds from General de Gaulle, whom he guided through the Angkorean ruins during the French leader's historic visit to Cambodia in 1967. He protected as much as possible the archaelogical sites, and the families of Cambodian workers at Angkor, during the 1970-1974 civil war. At that time, some 3,000 refugees lived in Angkor and other temples, while 200 took refuge at the Conservation d'Angkor. Groslier himself suffered a severe knife wound.
He strongly believed that the future of Angkor preservation and research was to become a mission of the Cambodian people. In a lecture given at Sorbonne University in 1984, he expressed what he had thought for a long time: "Il est clair que nous avons d'une certaine manière, non pas délibérement mais concrètement, dépouillé les Khmers de leur passé. Ils n'en étaient plus les maitres (...) J´ai quand même passé vingt ans de ma vie à Angkor et (...) mes sentiments ont toujours été très ambigus (...) Il est clair que pendant 75 ans un pouvoir étranger, un pouvoir intellectuel étranger, des étrangers, ont trôné à Angkor, moi ayant été le dernier. Il est évident que cela a provoqué une sorte de dichotomie dans la pensée des Khmers vis-à-vis de leur passé." [It is obvious that we have somehow -- not deliberately but factually -- stripped the Khmer people of their past. They were not the masters of this past anymore...After all, I spent 20 years of my life in Angkor and...my feelings have always been quite ambiguous...Clearly, for some 75 years, a foreign power, a foreign intellectual power, some foreigners, reigned at Angkor, and I was the last one of them. Obviously, this has triggered some sort of chiasm in the way Khmer people consider their past.]
See Bernard Philippe Groslier's obituary in The Washington Post here.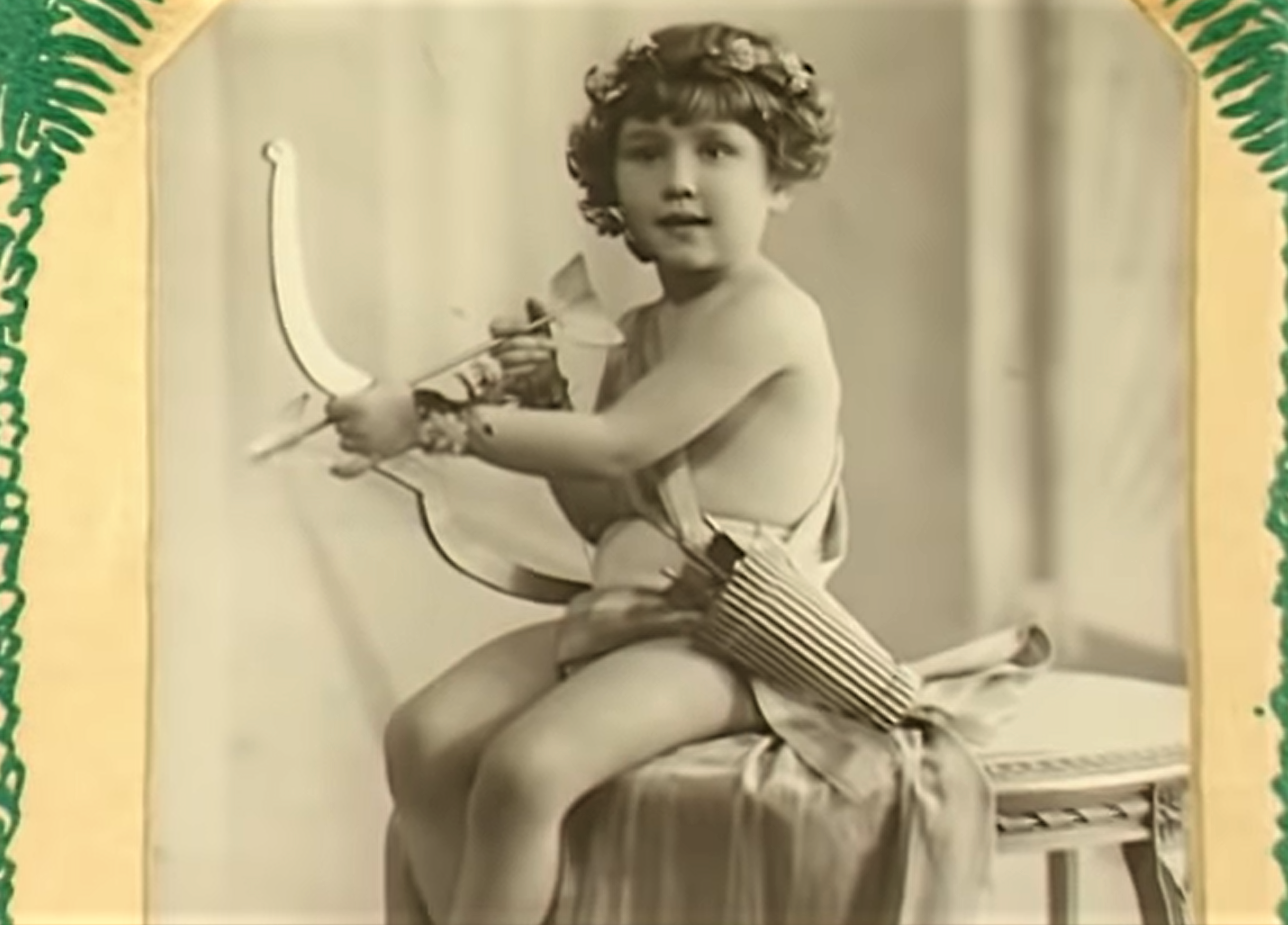 B.P. Groslier as a young Cupid photographed in Phnom Penh (EFE0)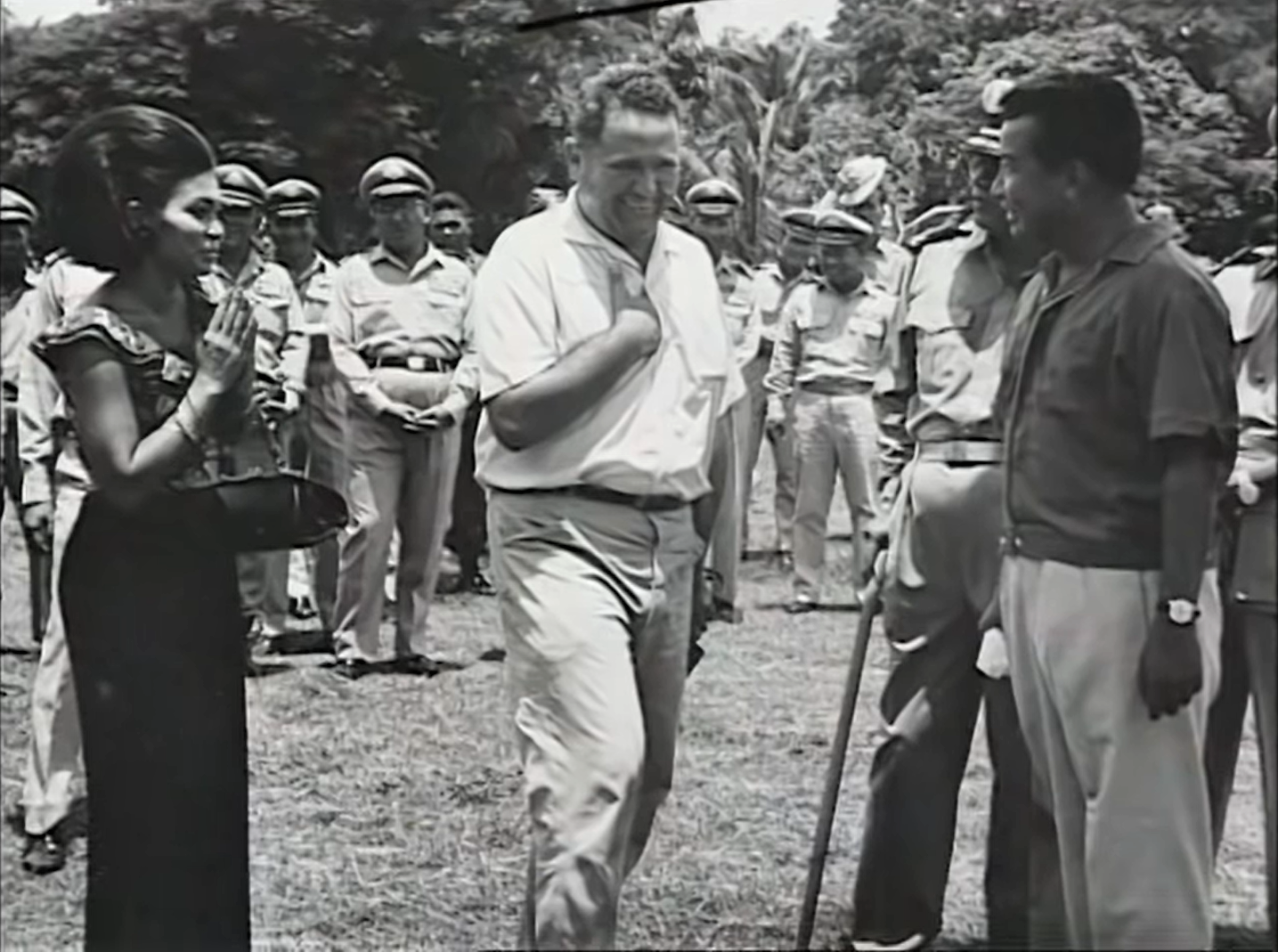 With H.M. King Norodom Sihanouk (and H.R.H. Sisowath Pongsanmony?) at Angkor in 1967 (EFEO)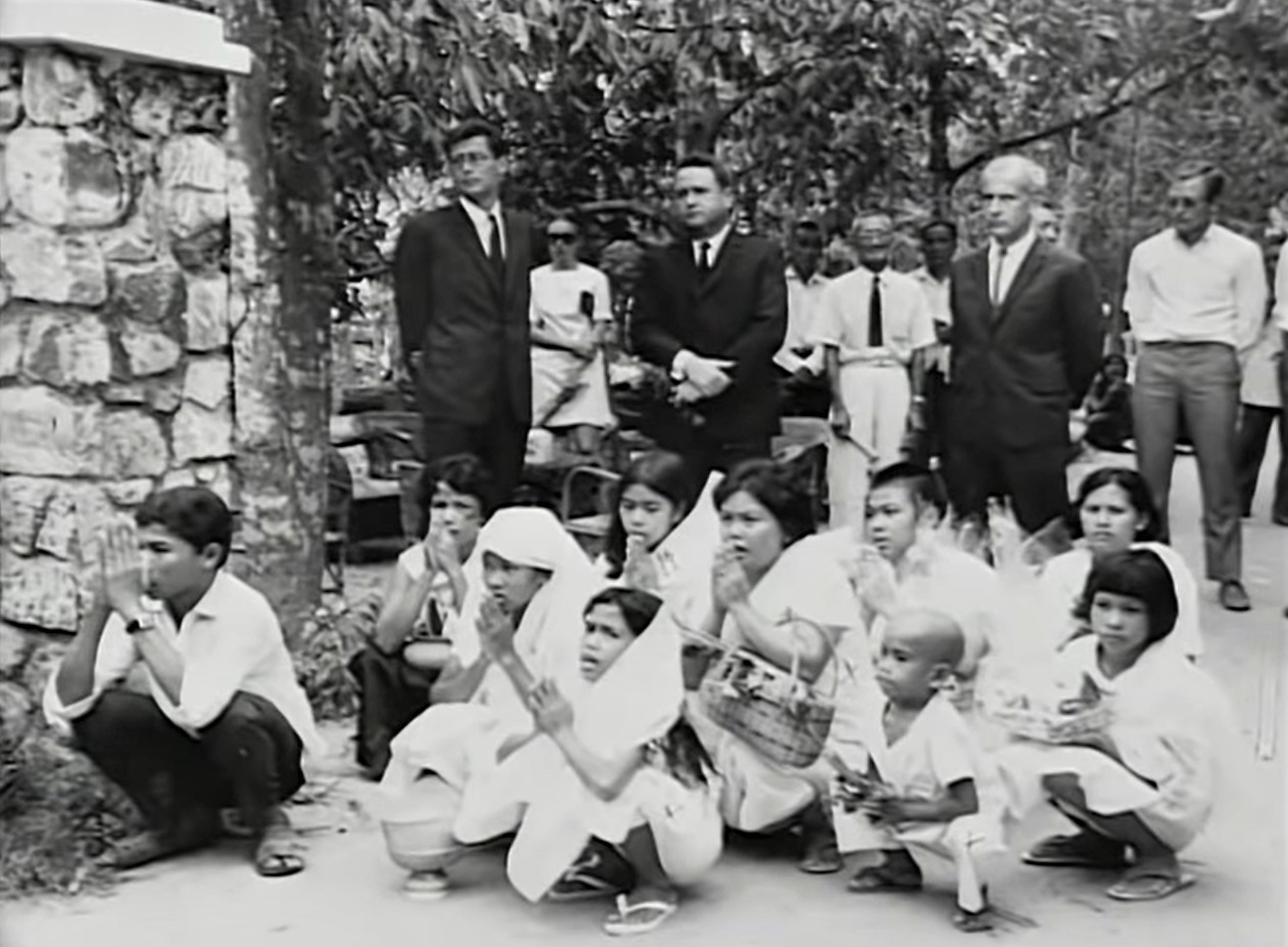 At Henri Marchal's funerals in Siem Reap, 1974 (EFEO)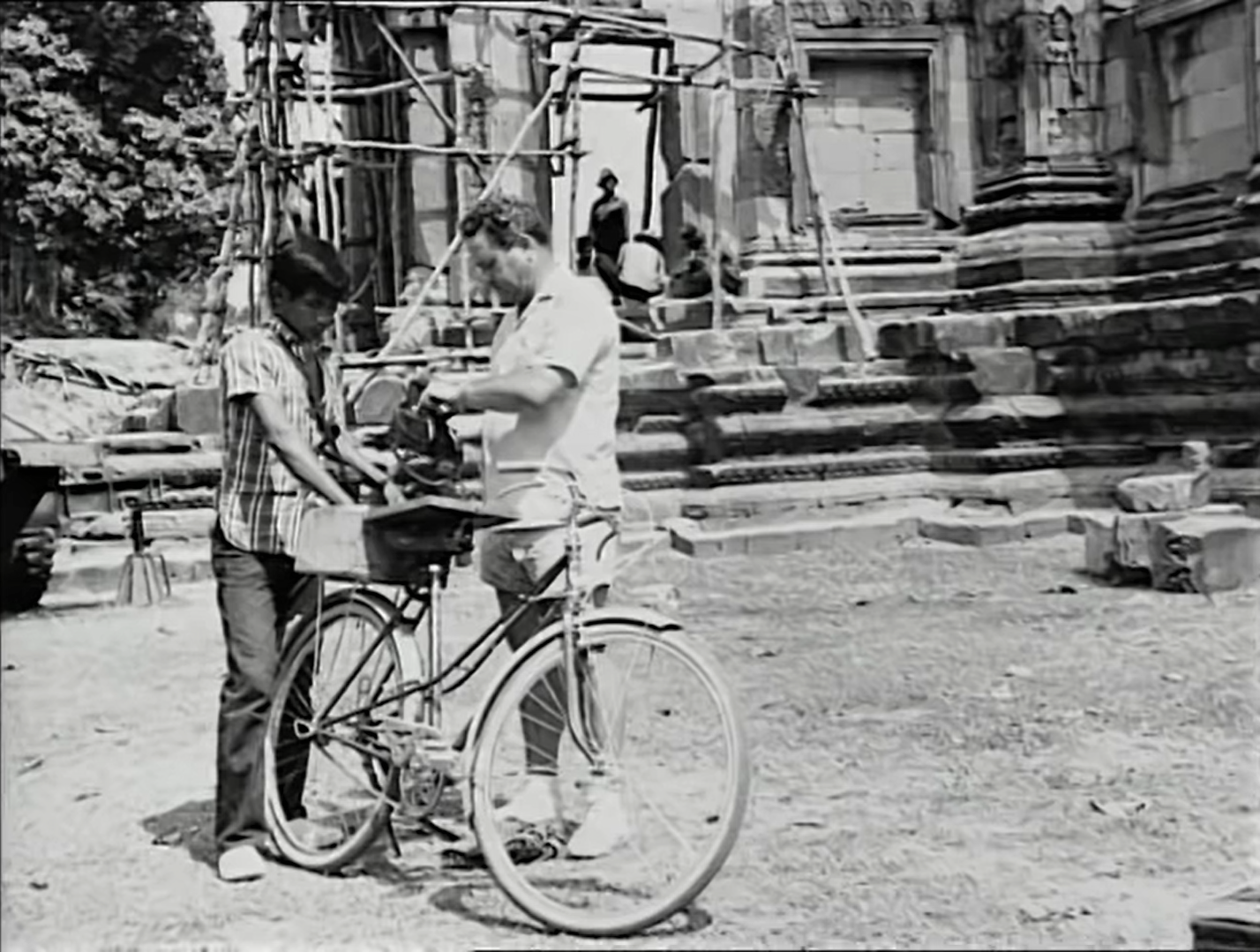 At Angkor during the civil war, when he was allowed to go around the site only by bicycle (EFEO)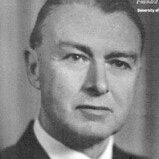 Charles Ralph Boxer
C.R. Boxer (8 March 1904, Isle of Wight-27 Apr. 2000, St. Albans, GB), legendary Far East researcher and scholar, was the chief of British Military Intelligence services in Hong Kong during WWII.
His interest in Dutch and Portuguese maritime expeditions during the XV and XVI centuries led him to the discovery of an unpublished chapter in the monumental chronicle "Decada da Asia", from Portuguese author Diogo do Couto: the description of Angkor Wat by a Franciscan priest in 1551, one of the oldest and most developed Western documents related to Angkor.
Professor at King's College, London, granted honorary doctorates in Lisbon, Utrecht and Taiwan, C.R. Boxer was banned from entering Portugal by dictator Salazar after publishing his Race Relations in Portuguese Colonial Empire 1415-1825 in 1963. Later on, however, he was granted the highest Portuguese distinction, the Grand Cross of the Order of Infante Dom Henrique.
Boxer has compiled the famous "Boxer Codex", one of the richest collections of written sources on the Ancient Far East. He is also known for his affair with American journalist Hillary Hahn (1905-1997), whom he married in 1945. A prolific contributor to The New Yorker, Hillary Hahn published some 50 travel and history books, including Raffles of Singapore.
See the C.R. Boxer's bibliography compiled by S. George West in 1984 (Portuguese Studies, vol 17, 2001).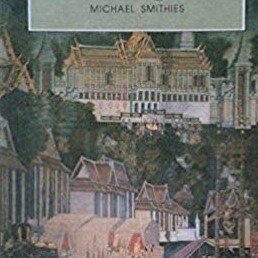 Michael Smithies
Translator of major works on Angkor and Cambodia from French into English, author of numerous books on the Siamese civilization.
Representative of the British Council in South East Asia for many years.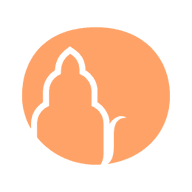 Angkor Database
Angkor Database - មូលដ្ឋានទិន្នន័យអង្គរ - 吴哥数据库
All you want to know about Angkor and the Ancient Khmer civilization, how it keeps attracting worldwide attention and permeates modern Cambodia.
Indexed and reviewed books, online documentation, photo and film collections, enriched authors' biographies, searchable publications.
ជាអ្វីគ្រប់យ៉ាងដែលអ្នកទាំងអស់គ្នាចង់ដឹងអំពីអង្គរ, អរិយធម៌ខ្មែរពីបុរាណ, និងមូលហេតុអ្វីដែលធ្វើឲ្យមានការទាក់ទាញចាប់អារម្មណ៍ពីទូទាំងពិភពលោកបូករួមទាំងប្រទេសកម្ពុជានាសម័យឥឡូវនេះផងដែរ។
Our resources include the on-site Library at Templation Angkor Resort, Siem Reap, Cambodia, with exclusive access for the resort's guests. Non-staying visitors can ask for a daily pass here.