Isabella Lucy Bird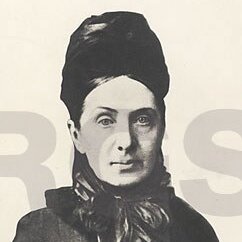 Isabella Lucy Bird (married name Bishop) (15 Oct. 1831, Boroughbridge Hall, Yorkshire – 7 Oct. 1904, Edinburgh), was a 19th-century British traveler, writer, photographer, and naturalist. She was the first woman to be elected Fellow of the Royal Geographical Society of England.
After publishing her first journal article at 16, Lucy Bird sailed to America in 1854, exploring the American Rockies, Colorado, Hawaii,then had a first contact in 1878 with Japan, China, Southeast Asia, returning in 1897 (her last travel) to work on the Yangtze River and Annam (nowadays the northern parts of Vietnam). In 1889, she extensively traveled across India, Persia, and Tibet, ultimately founding the John Bishop Memorial Hospital in Srinagar along with Fanny Jane Butler.
Initially an acclaimed writer -- her book Unbeaten Tracks in Japan (1879, John Murray, London) was a bestseller --, she started photograpy in 1894, when she was already 63, under the guidance of Scottish photographer John Thomson, whom she knew personally.
In her The Yangtze Valley and Beyond (first published in 1897), she combined texts and photographs to vividly depict the daily life in South China, from transportation, wheelbarrows, houseboats, Chinese carrelets, bridges, to burial grounds, shrines and temples, city gates, astronomical instruments, boy eating rice, markets, farmhouses, opium culture...Her work as a photographer was so prolific that over 300 of her photos are held in the collections of the Royal Geographical Society.
Surprisingly, to our knowledge Isabella Bird never visited Angkor, while her mentor in photography, John Thomson, is considered as the first one to have photographed the Khmer temples, a few months before French photographer Emile Gsell.