Isabella Stewart Gardner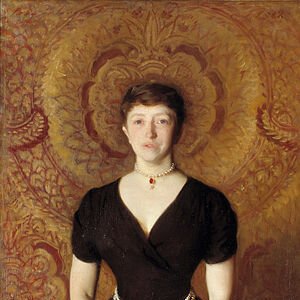 Isabella Stewart Gardner (14 April 1840, New York City, USA – 17 July 1924, Boston, USA) was a leading American art collector, philanthropist, and an eclectic patron of the arts who founded the Isabella Stewart Gardner Museum in Boston, USA, in 1903, and visited China, Southeast Asia and Cambodia as early as 1883.
An avid traveler since her young age, with a particular fondness for Venice, Italy, Isabella extensively traveled the world with husband John Lowell 'Jack' Gardner. In the Vatichino gallery of the museum -- 'the little Vatican', as she playfully named it -- is kept her Travel Diary to Vietnam, Cambodia, Indonesia, Singapore, Malaysia, and Myanmar (Vol IV, 1883-1884), in which she wrote down meticulous records of her acquisitions.
Also in the collection is the letter (on eleven postcards of Angkor Wat) Mary Hoyt Williams Crozier (27 Apr 1864, Stonington, CT, USA - 2 Aug 1955, Washington, DC, USA) sent to Isabella from Siem Reap on Jan. 2, 1922 (ARC 001090). [Mary Crozier's Travel journal from Washington, D.C. to Japan and China via San Francisco, 1920-1922 is kept at the American Heritage Center, University of Wyoming, Laramie, WY, USA).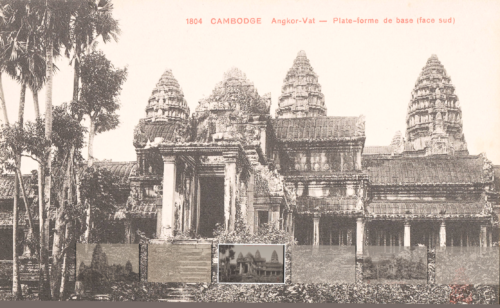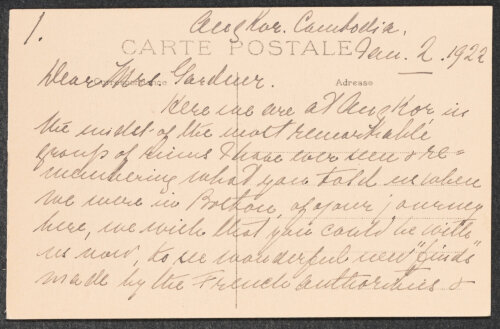 With her dazzling personality, she attracted the attention of renowned artists and writers of her time, among them John Singer Sargent, James McNeill Whistler, Henry James, Okakura Kakuzo and Francis Marion Crawford. Inheriting a vast fortune in 1891, she started to collect artworks, with The Concert by Vermeer, purchased in Paris in 1892, being the first major piece and stolen from the musuem, along with major works by Degas and Manet, during the infamous 18 March 1990 heist. The couple's collection included tapestries, photographs, silver, ceramics and manuscripts, and architectural elements from Egypt, Turkey, Russia and the Far East.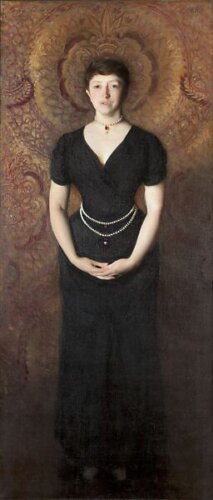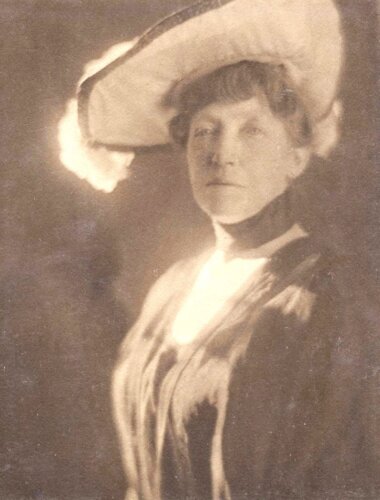 According to her latest biographers [Silver, Nathaniel, Greenwald, Diana Seave: Isabella Stewart Gardner: A Life. Princeton University Press, 2022. eISBN 978-0-691-97384-5], "she sometimes reveled in the "exoticism" of non-Western practices—like riding an elephant, as she did in Cambodia to tour the temples of the Angkor Wat complex. And the photographs she chose for her albums sometimes feature ethnographic images of the people who lived in the places she visited, or positioned local residents as picturesque props in a broader composition. But in general, her tone is one of awe rather than of dismissal of these people and cultures—unlike the attitude of some American and European travelers of her wealth and class." (pp 84-5).