Anna Leonowens
Anna Harriette Leonowens (born Ann Hariett Emma Edwards: 5 Nov. 1831, Ahmednagar, India (1) – 19 Jan. 1915, Montreal, Canada) was an Anglo-Indian or Indian-born British travel writer, educator, and social activist. She attained worldwide fame when she published her account of her years (1862-1867) as a governess of the wives and children of King of Siam Mongkut, and as his language secretary, The English Governess at the Siamese Court (1870).
An avid traveler -- she lived in or visited India, Australia, Syria, Egypt, Singapore, Penang (Malaysia), Siam (modern Thailand), England,the USA, Russia, Germany, Canada --, she lectured Indology and Sanskrit at McGill University up to the age of 78. Twice married, a widow at 28 -- she took her author's name from her second husband's, Thomas Leon Owens) and a mother of four (two children died in infancy), her strong character and her committment as a suffragist triggered hostile reactions from conservative male critics. Accusations of plagiarism and blatant fabrications piled up on her, especially after her life gained posthumous fame with Margaret Landon's best-selling novel Anna and the King of Siam (1944), and with the highly popular 1951 musical by Rodgers and Hammerstein, The King and I. As critic Maurizio Peleggi wrote, any attempt of a serious biographical profile should be "a demystification [both of] Anna's deceits and self-delusions, and of American credulity and die-hard preconceptions", yet not only that...
Co-founder of the Nova Scotia College of Art and Design in her later years, Anna Leonowens is the first known Western female visitor of Angkor in modern times. Her account on her travel to Naghkon-Wat (Siamese name for Angkor) -- Chapter 29 in The English Governess...-- , which took place probably in 1866 or 1867 -- has been criticized by Scottish photographer John Thomson, even if the author wrote in her foreword: "Those of my readers who may find themselves interested in the wonderful ruins recently discovered in Cambodia are indebted to the earlier travellers, Mr. Henri Mouhot, Dr. A. [Adolf] Bastian, and the able English photographer, James (sic) Thomson, F. R. G. S. L., almost as much as to myself."
(1) Her "official" obituary ("Mrs Leonowens", by John McNaughton, Gazette Printing Company, Montreal: 1916, 36 p.) states that her maiden name was "Anna Harriette Crawford, born at Carnarvon in Wales on November 5th, 1834, the daughter of an English gentleman, who died young, and a Welsh mother. The mother, on whom devolved the entire charge of forming her character, was quite uncommonly fitted to undertake that sacred responsibility. She was evidently what her little girl afterwards came in eminent measure to be, a women of force and stout heart."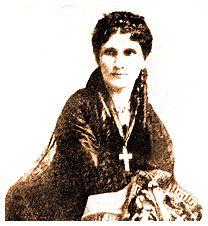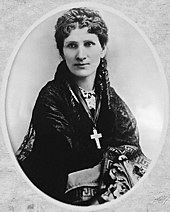 These two portraits show the large cross Anna Leonowens used to wear, symbol of her missionary mission around Asia. However, historians have described her as a "Protestant fundamentalist"...
Listed works