István Zelnik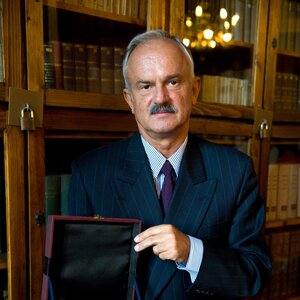 Dr. István Zelnik (1950-) is a former Hungarian diplomat in Vietnam (1970) turned businessman and art collector. More than 1,000 of the Istvan Zelnik Collection's 50,000 Southeast Asian artefacts were on public display in Budapest from 2011 to 2013, when the Southeast Asia Gold Museum was closed for financial and legal reasons.
The mainstays of the collection are the gold and silver artefacts from Cham, Khmer, Javanese and tribal cultures. The collection of gold masks surpasses that of the British Museum.The collection of religious objects, statues connected to Buddhism and Hinduism is equally remarkable.
Zelnik was only 16 when he purchased his first piece of antiquity, a Japanese netsuke, after befriending an Orientalist expert, Aladár Sövény, when both were spending their summer vacation on the shores of Balaton Lake. He then became a multilingual world affairs expert after studying at the Institute for International Relations in Moscow.
In 2011, he sponsored a three-year research campaign in Koh Ker through his Institute for Southeastasian Research. In 2012, Cambodia filed a request for assistance from the United States concerning a 1,000 year old sandstone statute of a mythic warrior, with an estimated value between $2 million and $3 million. Zelnik argued that the statue had indeed been looted during the civil war, and that he only bought it with intent to give it back as donation.