Jean Boulbet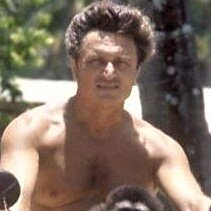 Self-taught ethnologist, poet, archaeologist, botanist, geographer and cartographer, sociologist, linguist Jean Boulbet (2 Jan. 1926, Sainte-Colombe-sur-l'Hers, France - 11 Feb. 2007, Phuket, Thaïland), had extensively explored the Cau Maa' ("hill people" ethnic minority in Vietnam) territory when ethnographer Georges Condominas called him to take charge of the Angkor site forest conservation in 1963, thus helping in saving him from the South-Vietnamese jails.
While completing his studies in geography and ethnology, Boulbet -- nicknamed 'TaBeh' (Granddad (Boul)Bet) by the Khmer -- established the first permanent scientific post in the Phnom Kulen area. After contributing to the cartography of Central Vietnam, Northern Cambodia and Southern Thailand, discovering several important archaeological sites such as Kbal Spean (the Thousand Linga River, in which his ashes would be scattered by his Cambodian spouse, Moey, after his death), becoming fluent in Khmer and minority dialects (stieng, mnong...), he was briefly captive of the Khmer Rouge militia in Battambang in 1975, and managed to escape to Thailand, where he first settled in Nonthaburi.
A "montagnard" himself -- born and raised among the remote hills of Ariege --, a pioneer in fauna and flora preservation, Boulbet saved several endangered species and actively helped to the reforestation after the war.
His life has inspired French novelists such as Pierre Schoendoerffer (in L'Adieu au roi), François Bizot (Le Saut du Varan) and Loup Durand for his literary saga set in Cambodia, Jaraï.
Further references: One of his four grandsons from his daughter Laure (sired with his first spouse, a Cau Maa´ young woman), Danny Blao, has launched in 2012 a blog dedicated to Jean Boulbet.
Listed works