Joan Lebold Cohen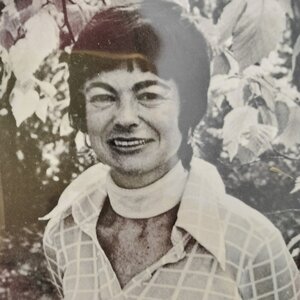 Joan Lebold Cohen (b. 19 Aug 1932, Highland Park, Illinois, USA) is an American freelance photographer, curator, and researcher in Asian art history. A regular visitor to Asia since 1961, Cohen lived in Japan, Hong Kong, and China, where she was a witness to the post-Cultural Revolution period from 1979 to 1981. Her book The New Chinese Painting: 1949–1986 (1986) was one of the first English-language publications to introduce recent generations of Chinese artists to the West.
Her first-hand reports on the early development of Chinese contemporary art were published regularly in the Asian Wall Street Journal, Art News, and Asian Art News, as well as other newspapers and magazines. A professor of Oriental art history, School of the Museum of Fine Arts, Tufts University (Boston, USA) for more than 25 years, she also authored China Today and Her Ancient Treasures (1987), Yunnan School: A Renaissance in Chinese Painting (1988), and co-authored Angkor, Monuments of the God-Kings.
Kept at Asia Art Archive (Hollywood Centre,Hong Kong), the Joan Lebold Cohen Archive of 16,453 digitised slides forms a collection of primary documents about art and artists in and from Mainland China, and to a lesser extent Vietnam, Taiwan, and Hong Kong, dating from the 1970s to the early 2000s. The structure of this archive follows the photographer's original organisational system and consists of forty-six boxes of slides. Each box is divided into thirty compartments, with approximately 200 to 600 slides per box, and each box is labeled according to categories devised by Cohen: region, artist, significant exhibition, public art, and everyday life. "It was all very innocent in the beginning-- I had to have slides to teach about Asian art history", she noted in 1999; "I had no notion of being a photographer or that I would become addicted. What began as a simple documenting exercise of people and landscape became a quest to reveal the full-blown culture, humanity and the range of forms and patterns in nature. I am a student of cultural history and each image promised a more profound level. Moreover, I was in constant dialogue with the paintings I had studied and the formal aspects of composition. If asked what kind of photographer I am – I always think of myself as a photographer of mountain mists. However, I do so much like to take pictures of people. I strive to have them reveal their inner quality and natural being."

A 2003 photograph kept at JLC Archive, AAA.