John Vivian Gottlieb Mills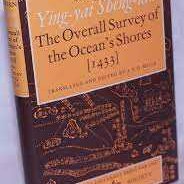 J.V.G. Mills (1887, Hastings, UK -1987, Geneva, Switzerland) was a British colonial administrator and judge appointed to the Straits Settlements at age 24, a translator from Cantonese, Fukienese and standard Chinese, and a specialist in Southeast Asia seamanship and seaways.
Based in Canton for two years, he mastered the language before going back to Singapore where he was Solicitor-General, Attorney-General and judge for the Straits Settlements. Retired in 1940 (aged 53), he went to Australia and returned to England after the war to take his MA at Oxford in 1945 and lecture at the School for a year in Chinese law. Settling in Switzerland on the shores of Lac Leman, he was helped by his second wife, Marguerite Mélanie Mills nee Service (1887-1983) -- to whom he dedicated his magnus opus --, a specialist in Chinese art, in pursuing his research and perusing his notes taken at the Raffles Library.
It was while researching Emanuel Godinho de Eredia's 1613 book that he came across the XVI th century sea chart of Mao K'un and the Wu-pei chih by Mao's grandson Yuan-i (Eredia's contemporary). From late Ming, Mills was drawn back to sources in early Ming, and thence to the voyages of eunuch Cheng Ho (the Sam-poh Kung patron of Overseas Chinese legend) round Southeast Asia and across the Indian Ocean commissioned by the emperor Yung Lo, in the age of Henry the Navigator. He was now equipped to undertake translation and commentary on the Ying-yai Sheng-lan, in which, in 1433, Ma Huan told the story of Cheng Ho's seven voyages, using the modern text established by Feng Ch'eng-chun (1935 and 1955) and drawing on the collaboration of half a hundred other scholars to light up dark corners.
While French sinologist Paul Pelliot had earlier translated parts of that work, it was the first complete translation into an European language, eventually published in 1970 by the Hakluyt Society (of which Mills had been an Honorary Secretary) as Overall Survey of the Ocean Shores. In 1996, Roderich Ptak offered a revised and annotated edition: Hsing-ch'a sheng-lan : The Overall Survey of the Star Raft by Fei Hsin, translated by J.V.G. Mills, South China and Maritime Asia 4, 1996, Wiesbaden, Harrassowitz Verlag, 154 p. [ISBN 3-447-03798-9].