Li-Kouang Lin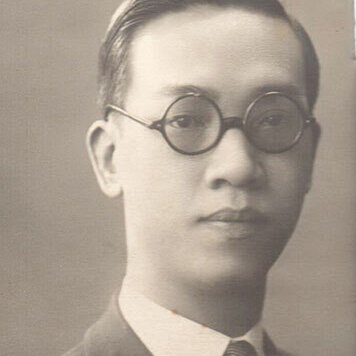 Lin Li-kouang 林藜光 (1902, Xiamen (Amoy), Fujian Province, China – 29 Apr 1945, St Hilaire du Touvet, Isere, France) was a Buddhologist researcher who worked in France with the most distinguished Sanskritists, Sinologists and Indologists, including Paul Demiéville (1894-1979) when he was based in Xiamen, Alexander von Staël-Holstein (1877–1937), Louis Renou and Sylvain Lévi (1863-1935), who taught him Sanskrit and Pali at the College de France.
In 1933, Lin Li-kouang was invited to come to France and work as Chinese assistant to Paul Demiéville, professor at INALCO (School of Oriental Languages). He had already started to compile the Chinese-Sanskrit Index of Kāśyapaparivarta that comprised more than 10, 000 entries, a work that was never published. His wife, Li Wei, was a young poetess and calligrapher.
Under the mentorship of Louis Renou (1896–1966), then the director of the fourth section of the Ecole Pratique des Hautes Etudes, Lin Li-kouang finalized the edition of the 2,549 Dharma-samuccaya stanzas, accompanied by annotations, from a manuscript found by Lévi in Nepal in 1922. The Sanskrit text was published with the revised and corrected Tibetan translation and Chinese translations, as well as a French translation that Lin Li-kouang did himself.
According to Tianzhu Buddist Network, "the suffering of the war years, the overwork and his anguish towards the sad fate of his distant county and his relatives, took a toll on his health. On April 29, 1945, at dawn, he died silently and in absolute solitude at the sanatorium of St-Hilaire-du-Touvet (Isère) at the age of 43. The following year, his remains were transferred to the Père-Lachaise Cemetery where he is now resting for eternity."
According to his son, Lin Xi, Lin Li-kouang was an ardent supporter of the anti-Nazi Resistance, and prayed for the end of the Japanese occupation of China during World War II (See 'Hommage to Lin Li-kouang (1902-1945)', Supplement to Études Chinoises vol 34-1, 2015).
Listed works