Marie-Antoinette Boullard-Devé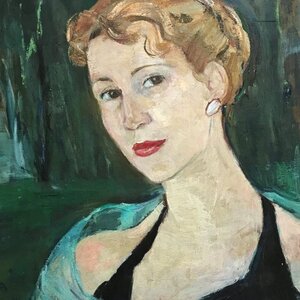 Marie Antoinette Boullard-Devé (1890, Paris - 1970, Paris) was a French artist who extensively painted Indochina, Vietnamese and Cambodian scenes and views of Angkor, with a predilection for oil on paper medium.
After studying at Paris Ecole des Beaux-Arts and meeting her first husband Pierre Fournier des Corats, a sculptor in the Art Deco style around 1917 - they parted ways after the First World War -, she settled in Southeast Asia from 1921 with her second husband thanks to a grant (the Prize of the Compagnie de la Navigation Mixte, a French maritime company), collecting her major artwork in a 20-lithograph book, Vision of Indochina, and exhibiting at the French Colonial Exhibition along with Vietnamese artists. For the occasion, Boullard-Devé and students from Hanoi School of Arts -- in particular Le Pho, Nguyen Phan Chanh, Vu Cao Dam, Georges Khanh -- painted a 40-meter long fresco for the Indochina Pavilion, a fragment of which being kept at the Paris Musée du Quai Branly.
She actively contributed to the École des peintres-voyageurs de l'Indochine, and illustrated numerous publications in the 1920s, such as the glossy magazine Extreme-Asie or Marc Chadourne's Visions de l'Indochine (Plon, Paris, 1926).
Her artwork is often auctioned by major auctioneers such as Sotheby's Hong Kong.
Photo: 'Elegante en Indochine' [Stylish Woman in Indochina], possibly an autoportrait (crozonantiquities)