Troy Dean Harris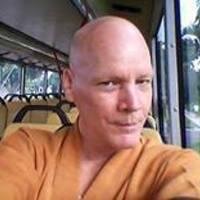 Troy Dean Harris, ascetic-arts researcher and curator, is the founder of the Sritantra Project, under which name he has published several studies.
He resides between Malabar and the Malaya peninsula. His primary research interests combine the comparative distribution and modification of ancient ascetic-arts elements preserved in contemporary South, Southeast and Far-East Asian soteriological traditions.
Sritantra's publications include "Streams to Healthy Living Yoga: Freeing the Source of the Ancient Bauddha" (2014), "The Savage Buddha: Gautama & the Kāpālika-vrata" (2006), "Grafting Plato's Shadow Play, a spray can version of metaleptic mimêsis" (2006), and "On Laubiès's Work" (1990).
In 2018, the Sritantra Project held a yoga meditation at dawn at Angkor Wat, aimed at "contemplating on the cosmic aspects" reflected by the Khmer temple.
Listed works