Brève et véridique relation des évènements du Cambodge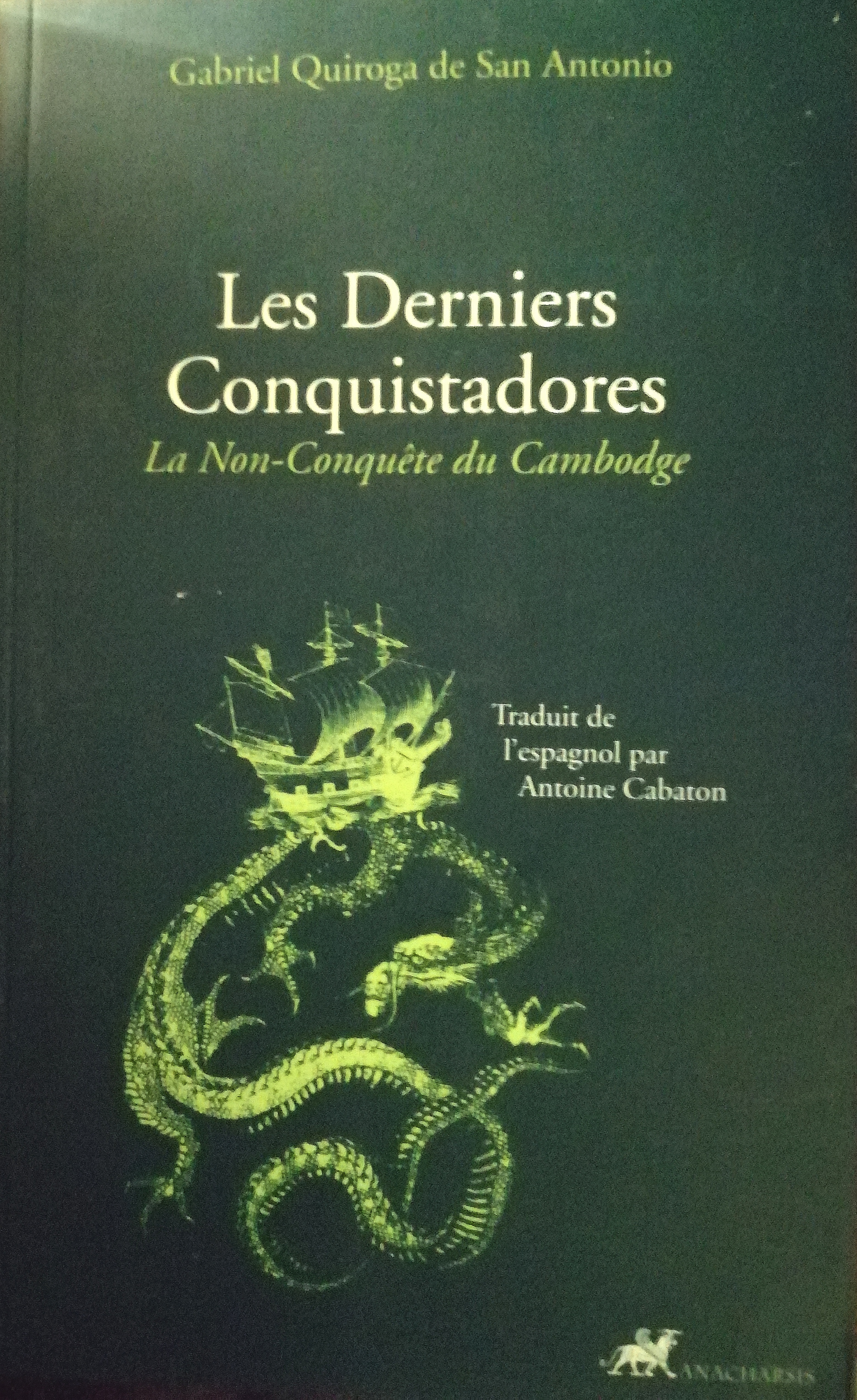 by Gabriel Quiroga de San Antonio & Antoine Cabaton
Languages : French, Spanish
"Les derniers Conquistadores, la non-conquête du Cambodge", Editions Anacharsis, Toulouse, 2009 - 149 pages - Paperback
Editions Ernest Leroux, Paris
ISBN: 978-2-91477-544
Gabriel de san Antonio's Breve y verdadera relación de los successos del Reino de Camboxa (San Pablo de Valladolid, 1604) gives us:
a relation of the failed military attempt to topple the Cambodian autorities by Spanish adventurers Blas Ruis and Diego Belloso, supported by Spanish troops sent from Manila under the command of General Juan Suárez de Gallinato.
an important insight into the military and political situation on the territory now known as Cambodia, with the Siamese forces pushing to the northeast, the Cambodian king retreating to Laos, the turmoil in the southern parts of the country
a first-hand description of Angkor at the end of the 16th century, showing that the Angkorian capital city still retained enough splendor to impress the Dominican priest: 
En el año de 1560 se descubrió en este reino una ciudad nunca antes vista ni conocida de los naturales: esta ciudad está en la playa del río Meccon, ciento y setenta leguas de la mar llega a ella las crecientes y mareas de este río, como a Sevilla las de Guadalquivir, es de maravillosa hechura, tiene un muro muy fuerte de piedra, que en redondo tiene cuatro leguas, cuatro brazas de ancho, y cinco de alto, está lleno de almenas, y las almenas están muy espesas, y en ellas están pintados elefantes, onzas, tigres, leones, águilas, y perros: tiene muchos escudos y letreros que no se conoce ni entienden: las casas son de piedra muy hermosas, repartidas en calles con mucho orden, y la labor de sus portadas y patios, salas y cámaras, parece Romana. Hay muchas fuentes y caños para la limpieza, y a trechos están repartidos algunas pagodas, y plazas sobre el río Meccon tiene un puente de setenta pilares, son muy altos, y el puente no es muy ancho. Remedan los pilares a los cuerpos de los gigantes y rematan en cabezas y manos que la sustenta. El antepecho tiene más de una vara en alto, y a trechos tiene bolas mezcladas como pirámides en que se remata. Hay en esta ciudad cinco torres, y por remate de cada una de ellas está una bola de bronce dorada… 
an assessment of the natural and human resources of Cambodia, with the notation that "the country is rich enough to attract Chinese and Japanese merchants". In one aside, de San Antonio even claims that Angkor was "built by the Jews, who are numerous and thriving in the Kingdom of China". Stressing the country's prosperity was in phase with the author's intent to convince the King of Spain that a new (and not botched, this time) military intervention would benefit the Catholic kingdom.
This is the French translation established from the original Spanish text by erudite Antoine Cabaton and initially published in 1914. The edition under the title "Les derniers conquistadors" was issued in 2009 in Toulouse, France. 
More on the subject:
María del Pilar Cabañas Moreno, Eruditos, misioneros y mártires. Libros sobre Oriente, Tesoros de la colección Francisco Guerra en la Biblioteca Complutense, 2007 (in Spanish). See the document here. 
Cesáreo Fernández Duro, Los Españoles en Camboya y Siam, Blas Ruiz y Diego Belloso (1582-1594), Sociedad Geográfica Española, 2008 (in Spanish), see here.

About the Authors
Gabriel Quiroga de San Antonio
Fray Gabriel de San Antonio (1565?-1608) was a Dominican priest who wrote about the expansion of Spanish colonial endeavors in South East Asia, and counted among the first European visitors to Angkor.
Hailing from the nobiliary, he studied theology in Ocaña and Salamanca Dominican convents before becoming a preacher in Guadalajara and applying to the "Fourth Dominican mission to the Far East" ("quarta misión dominica a Oriente"). 
Sent to Manila (via Mexico) in 1594, Fray Gabriel acted as private confessor to Vice-Governor Antonio de Morga in the Philippines. His attempts to convert to Catholicism the local Chinese population remained mostly unsuccessful.
In 1598, on his way back to Spain, he made a stopover in Cambodia, experience that led him to lobby for more further military expeditions in order to capture the weakened Kingdom and "its invaluable wealth".
The relation of this visit, "Breve y verdadera relación de los successos del Reyno de Camboxa", was published in San Pablo de Valladolid in 1604.
Antoine Cabaton
French philologist, translator and historian Antoine Cabaton (1863-1942) was on the founders of the insulindian studies in the Western world.
After studying pharmacy, Cabaton devoted himself to Orientalist and Philology studies. As Louis Finot's personal secretary, he was actively involved in the foundation of Ecole Francaise d'Extreme-Orient (EFEO).
Archivist for the French National Library (Bibliothèque Nationale de France), Cabaton taught the Malay language as a professor at Ecole des langues orientales, Paris. He has extensively studied the Cham culture, language and traditions.