Bridging The Gulf: Maritime Cultural Heritage of the Western Indian Ocean
by Himanshu Prabha Ray
Type: e-book
Publisher: India International Center (ICC), Manohar
Published: 2016
Pages: 225
ISBN: 978-93-5098-143-6
Language : English
Even if this collection of essays focuse on Western Indian Ocean, its apportation to a better knowledge of ancient sailing techniques (for instance the use of coastal landmarks in navigation), intercontinental cultural and material exchanges, is important for Southeast Asia. Just an example: "monsoon", "mousson", which appeared in Western languages in the late 16th century, comes from Portuguese monção, from Arabic mawsim 'season' [from wasama 'to mark, brand'], and is known in Khmer as ខ្យល់មូសុង, kchyal mousong, "the wind of monsoon".
Among the many considerations of note:
African origin of Indian crops: "There is a growing body of literature on the origin of major crops of peninsular India, such as sorghum (Sorghum bicolor), pearl millet (Pennisetum glaucum) and finger millet (Eleusine coracana) in Africa and their presence at sites in India in the second millennium BCE. It is suggested that these contacts were systematic and frequent, rather than being occasional and peripheral." (p 22)
Boat building techniques: "The building of the dhow or traditional watercraft involved trade and transportation of wood for planking and coconut coir for stitching from different regions of the Indian Ocean, thereby creating and sustaining networks of interaction." (p 21)
East Africa and India trade: "The numerous deep-sea vessels plying the monsoon routes consisted mainly of Kotia, Navadi, Machhava, Dhan, Tar and Hodi from Kachchh; Padav, Konkani, Fatehmari and Valsadi Batela from Bombay; and also the popular Baghelas and Arabian Dhows, which were lateen-rigged sailing vessels. Some of the boats employed in East African and Mocha trade were of the largest and best variety. According to Postans, 'many are decked and some carry four carronades [a short large-calibre cannon in naval use], with which they do not fail to announce their arrival when near the Port'. The ships were owned by a range of merchants and seafarers. They were traversed by Muslim Bhadala Nakhwas, Kharwa Malam and a range of other people. There were Hindu as well as Muslim Kharwas. The etymology of the term Kharwa is traced from the Sanskrit meaning 'carrier of salt'. The vessels were mainly engaged in coastal ferries and deep-sea trading and were well-equipped with ammunition for protection. The coastal sails connected Sindh, Kachchh, Kathiawar, Surat, Daman, Bombay and Malabar in one long arc." (p 153)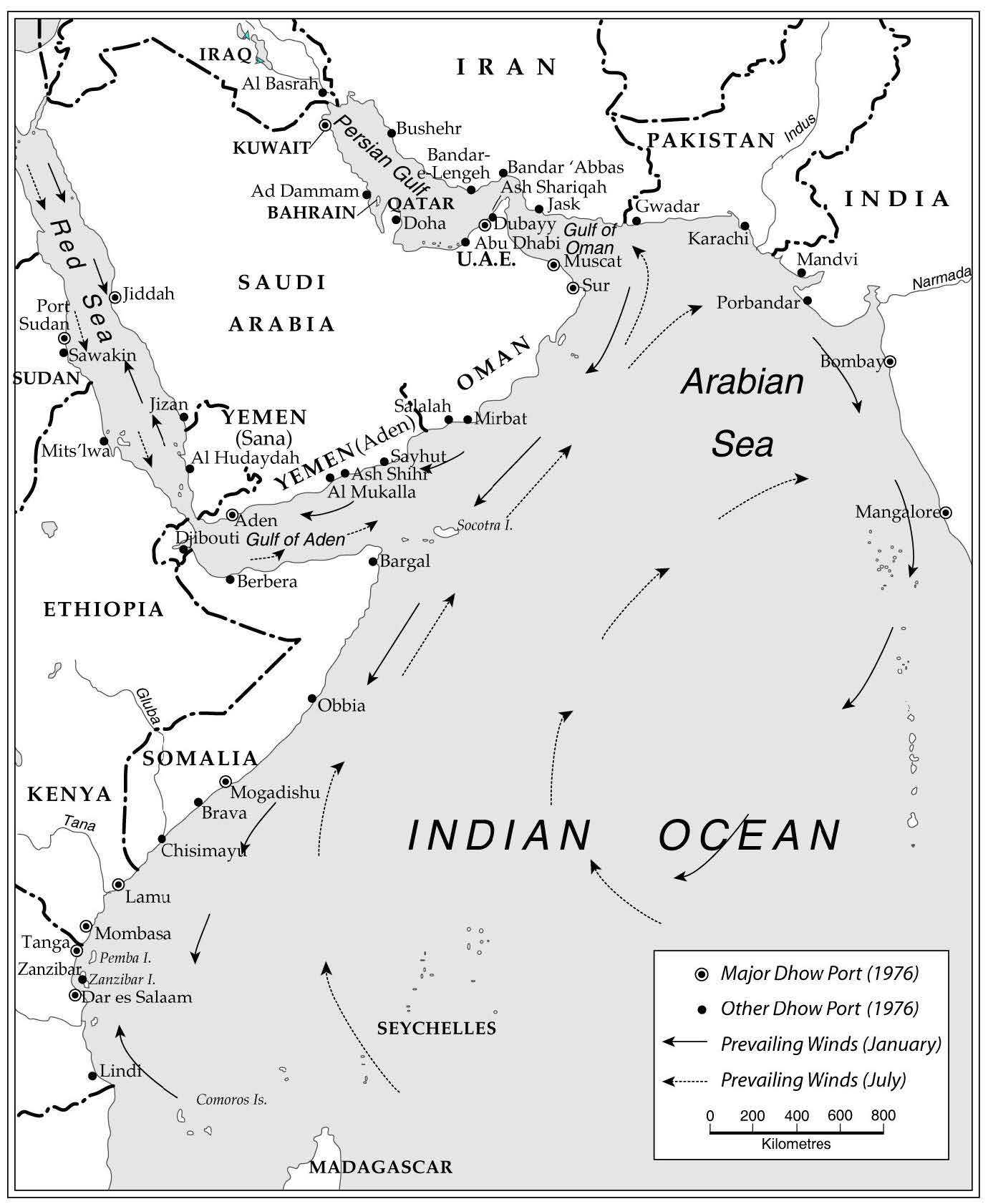 Map of Dhow Ports on Aden–Mangalore Route, 1976 (Map Collection, Perry Castañeda Library, University of Texas)
Contents: Foreword: Kapila Vatsyayan (p 13), Introduction: Himanshu Prabha Ray (17), Archaeology of Indo-Gulf Relations in the Early Historic Period: The Ceramic Evidence, Anjana L. Reddy (53), Melting Pots of Culture: The Archaeology of Early Medieval Ports on the West Coast of India, Rukshana Nanji (79), Provincializing the Littoral in Indian Ocean Heritage: Coastal Connections and Interior Contexts of the Southern Deccan, Andrew M. Bauer (101), Contested Sea Spaces: Of Piracy and Sea Battles Along the West Coast of India, Himanshu Prabha Ray (121), Malam-Ni Pothis: Exploring the Essence of the Navigational Manuals, Chhaya Goswami (145), Navigation Wisdom of Arabs and Portuguese in Pre-Modern Kachchhi Navigation: An Observation, Ashok B. Rajeshirke (161), Unesco World Heritage and the View from Asia, Lynn Meskell with Claudia Liuzza and Nicholas Brown (181), India's Plundered Heritage, K.L. Mankodi (197).
Photo: 12th-century hero stone from Salsette Goa, Goa Archaeological Museum.
Tags: material culture, UNESCO, Africa, Arab traders, Arab sailors, Arabic Peninsula, geography, maritime routes, maritime trade, cultural heritage, looted art
Himanshu Prabha Ray
Prof. Himanshu Prabha Ray (15 Aug. 1947) is an Indian Sanskrit scholar, historian, and archaeologist focusing on maritime history and archaeology. A recipient of the Anneliese Maier research award of the Humboldt Foundation for collaborative research and an Honorary Professor of the Distant Worlds Programme, Ludwig Maximilian University in Munich, Germany, she was also a professor in the Centre for Historical Studies at Jawaharlal Nehru University, New Delhi, India.
Until 2015, she was the Chairperson of the National Monuments Authority, under the government of India. In her recent project focusing on Indian coastal belt from Goa to Mangalore, she intends to study the history of the sea through the historical monuments dated back to European time. Himanshi Prabha Ray has published numerous books and essays on Indian and regional maritime trade and exchanges, including Archeology of Seafaring : The Indian Ocean in the Ancient Period (Pragati Publications, 2002) and Coastal Shrines and Transnational Maritime Networks across India and Southeast Asia (Routledge India, 2021). She is the editor of the Routledge series of books Archaeology and Religion in South Asia.