Cambodia from Funan to Chenla, A Thousand Years of Monetary History
by Guillaume Epinal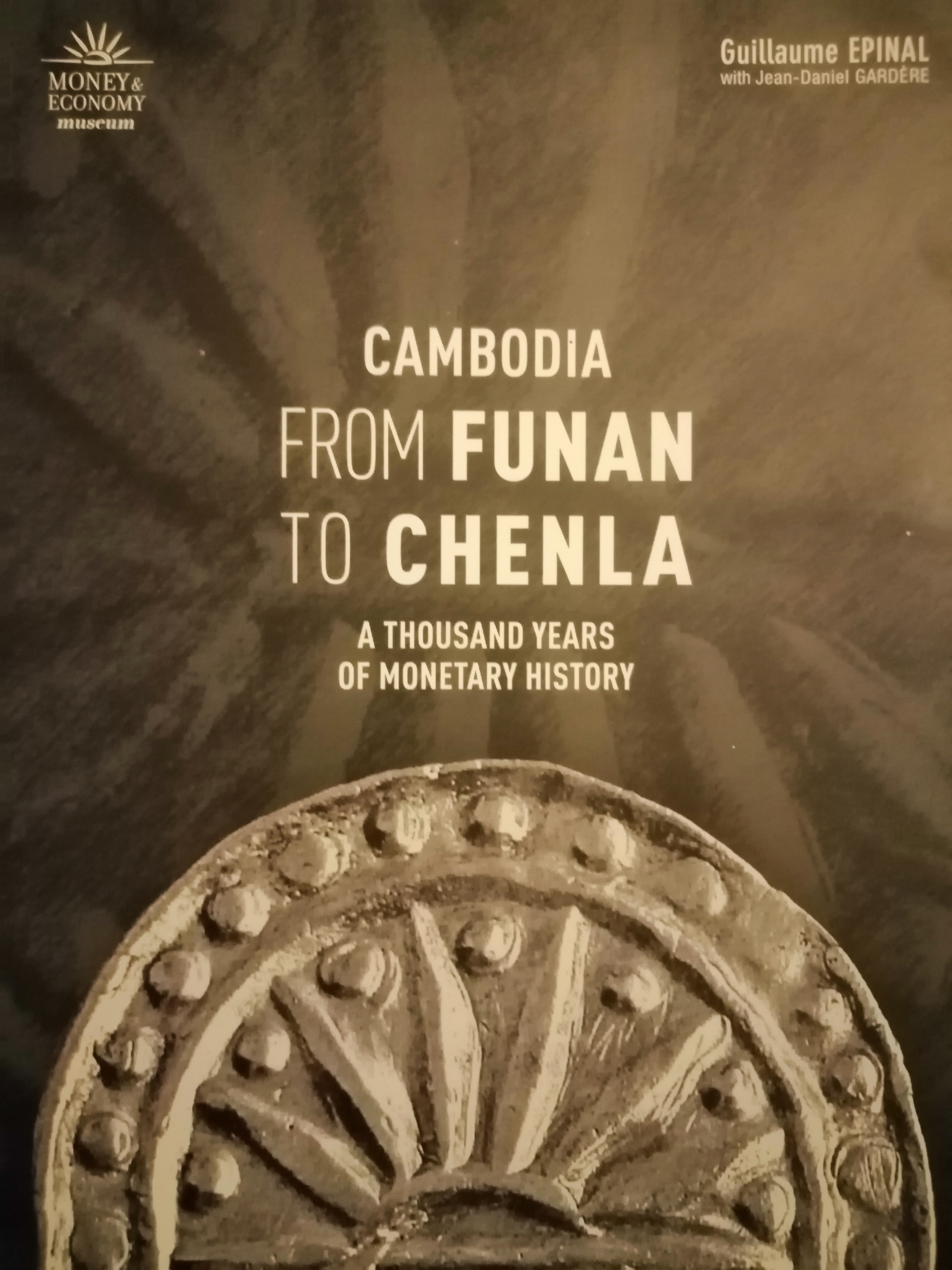 Type: Paperback
Publisher: A National Bank of Cambodia Publication
Published: 2014
Pages: 128
ISBN: 9789996388613
Language : English
No coin nor token have been retrieved from Angkorian architectural sites. We know that, except for some important transactions dealt with silver or gold ingots, most of the religious donations or daily commercial exchanges happened in kind.
Nevertheless, earlier social structures such as the kingdoms of Funan (South) and Chenla (North-East) did use coins. The Pyu and Mon city-states, further north of the region, clearly "indianized", had also developed monetary instruments.
Archeological findings regarding this particular aspect of local economical and commercial realities in and around the territory of modern Cambodia are most recent: the main deposit of coins was discovered by chance in the Angkor Borei area (Southern Cambodia) only in 2012.
This study traces back the sparse archeological evidence to Chenla and Funan systems, which were more markedly under Indian influences than Angkor. King Isanavarman I, the founder of the capital city of Isanapuri (later known as Sambor Prei Kuk) in the 7th century, manifested all the attributes of a typical sovereign in the Indian continent. And the vast city of Angkor Borei (អង្គរបុរី) was then known by its Hindi name, Vyadhapura, "City of the hunters". 
On the other hand, Funan, a Chinese version of the Khmer word "Phnom",  attracted thousands of Chinese merchants ("Nanyang Huashang", literally "Chinese traders of the Southern seas").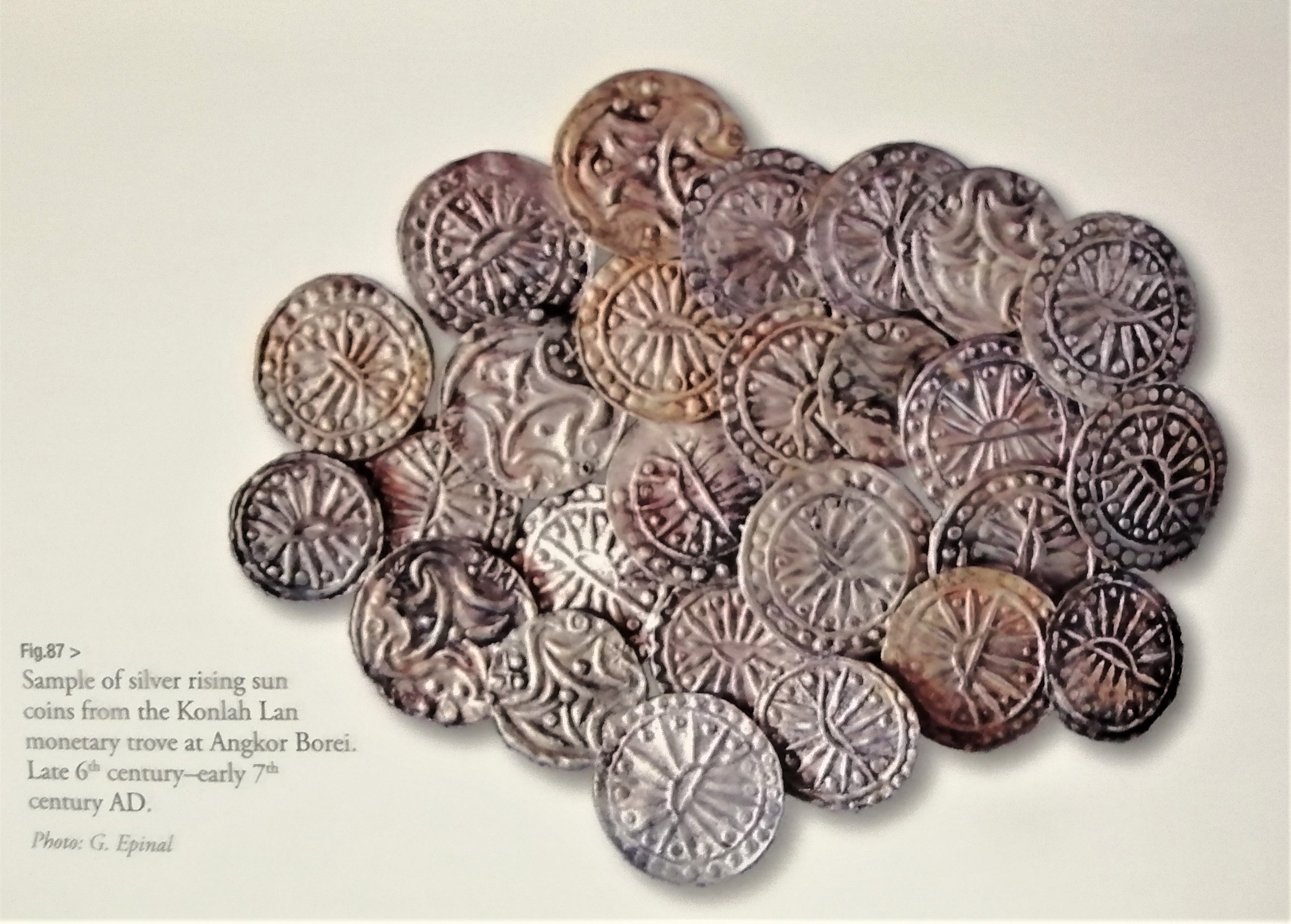 Foreword by H. E. Chea Chanto, Governor of the National Bank of Cambodia.
Translated into English by David Rorke.
With the participation of Jean Daniel Gardère, Special Advisor to NBC and the Sosoro Museum (Cambodia Museum of Economy and Money), Phnom Penh.
In addition, Angkor Database Library presents the Sosoro Museum Guidebook.
Tags: Funan, Chenla, money, non-monetizarion, archaeology, Angkor Borei, Sambor Prei Kuk, Isanavarman, Indian influences, Indianization, Pyu, Mon, Içanavarman, Chinese trade
Guillaume Epinal
Self-taught archeologist, Guillaume Epinal (Le Mans, 1984) has developed his passion for "preventive archaelogy" and ancient material cultures by volunteering on several archeological sites in France, Italy, Syria, and Southeast Asia.
In Cambodia, his contribution to ceramology and pre-Angkorian artifacts studies has been recognized by EFEO and UNESCO representatives, as well as Cambodian researchers such as Michel Tranet. With grants from the National Bank of Cambodia, he has published summaries of the research on pre- and post-Angkorian tin, silver and gold coins, under the guidance of historian Jean-Daniel Gardère. Guillaume Epinal is currently PhD candidate in Archeology at EHESS (Ecole des Hautes Etudes en Sciences Sociales, Paris, France).