Les Monuments Khmers du style du Bayon et Jayavarman VII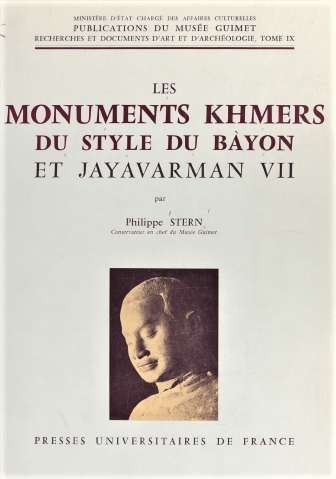 by Philippe Stern
Language : French
1965 - 424 pages - E-book
Publications du Musée Guimet, Recherches et Documents d'Art et d'Archéologie, Tome IX / Presses Universitaires de France
Ebook on demand. Email us here.
About the Author
Philippe Stern
Philippe Stern (11 April 1895 – 4 April 1979) was a historian of art, professor at École du Louvre, musicologist, curator of the Trocadéro Indochinese Museum and, after World War II, director of the Musée Guimet (from 1954 until 1965).
During the anti-Jewish persecutions in France, he stayed hidden for three years in the basement of the Labit Museum in Toulouse thanks to its director Albert Sallet.
A specialist in Champa Art, and Indic influences on the Khmer civilization, Philippe Stern developed his own outlook on Khmer history, especially regarding the Bayon Temple, arguing that its edification dated back from the 11th century and not the 9th century as most archeologists had thought.
In 1936, he took part to a major archeological campaign devoted to Cham and Khmer arts. At that time, he met and befriended another French art historian, Gilberte de Coral-Rémusat.
After World World II, he married Thérese Le Prat, a talented photographer known for her work across Southeast Asia and Oceania.