Andy Warhol's Sketches of Angkor
by Andy Warhol
When the Pop-Art Superstar in-the-making was visiting and drawing Angkor in 1956.
Published: 2014
Author: Andy Warhol
In June 1956, Andy Warhol was still a quite obscure New York illustrator -- he had held his first solo exhibition ever, "Warhol", in 1954 (at the Loft Gallery, New York), when the much more seasoned production designer Charles Alvin Lisanby (1924-2013, the first and only Production Designer ever inducted into the Academy of Television Arts and Sciences Hall of Fame) invited him to join him in one of his many around-the-world trips. Recalled Lisanby: "Every summer since 1951 [I travelled] all over Europe, Egypt, Lebanon, Turkey... We [Andy and Charles] were the closest friends and whenever I went away for two months he was really unhappy. So this particular year, 1956, he said, 'why don't I go too,' and I said 'okay'... I wanted to go to Japan. I had collected Japanese prints since I was sixteen. But what impressed me most was Angor Wat... It blew my mind..."
For the 1956 journey, the itinerary was: June 16, depart from New York; June 16-17, San Francisco; June 17-19, Honolulu; June 21-July 3, Tokyo; July 3-5 Hong Kong; July 5-6, Manila; July 6-7, Djakarta; July 7-11, Bali; July 11-12, Singapore; July 12-14, Bangkok; July 14-17, Siem Reap, Cambodia; July 17-21, Bangkok; July 21-25, Colombo, Ceylon; July 25-26, Calcutta; July 26-29, Kathmandu, Nepal; July 29-30, Benares, India; July 30-August 2, New Delhi; August 2-3, Agra, India; August 3-4, Aurangabad, India; August 5-9, Cairo and Luxor; August 9-11, Rome; August 11, change flights in Amsterdam; August 12, arrive in New York.
While never changing into a bathing suit and always wearing a cap -- he was afraid of sunburns --, and even if if he was much less sexually adventurous than Lisanby, Andy Warhol did enjoy Asia, from the quirky scene of Tokyo -- according to Nathan Gluck, "he bought a Japanese pornographic book... It was something he had bought in Japan, and it had these little flaps you lifted, and there was the pornography. But, you know, he had all kinds of things" -- to the serene boldness of Angkorean art.
After Hong Kong, Formosa, Djakarta and Bali, the pair arrived in Cambodia where they met the Davises, a couple made of American illustrator and World War II correspondent for Life Magazine Floyd MacMillan Davis (1896-1966) and famed painter Gladys Rockmore Davis (1901-1967) [1], who guided him through Angkor. The trendy New-Yorkers and globe-trotters -- they had covered the Liberation of Paris, and had lived in Cannes in the 1930s, with Pierre-Auguste Renoir as a neighbor --had been exposed to the beauty of Angkor by then-famous -- in the field of commercial and advertisement photography -- American photographer Lionel Green.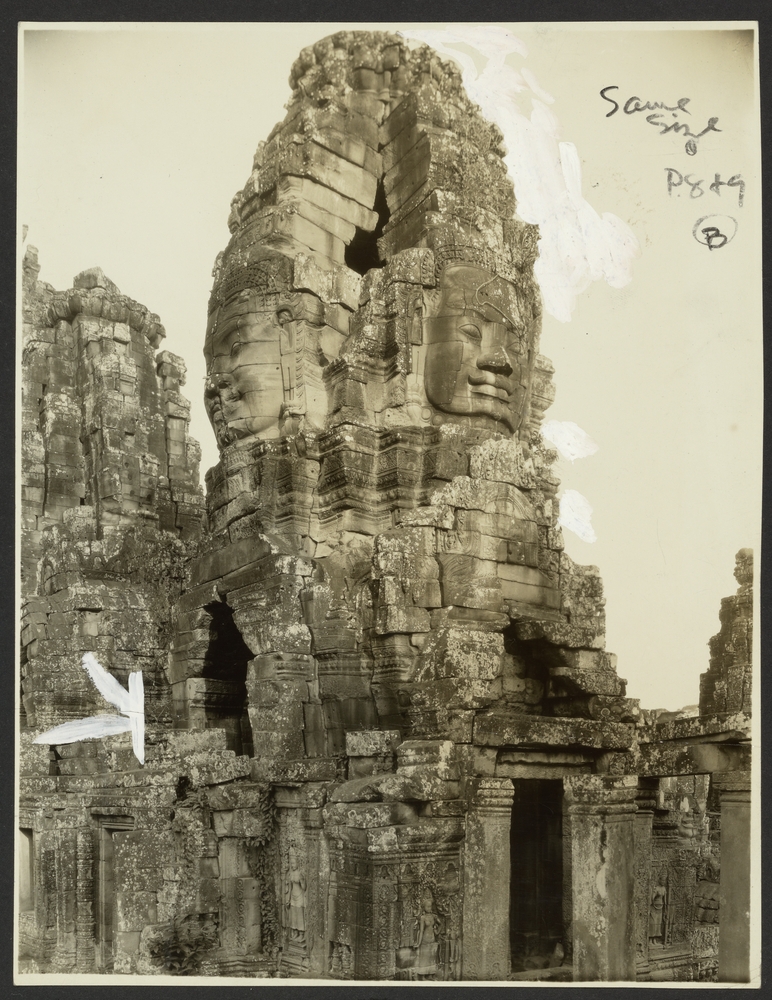 Lionel Green, Ruins of The Bayon Temple, gelatin silver print, c. 1940 (©Getty Images, ref. 84.XP.709.287 in the Getty Museum)
In Angkor, Andy Warhol did a lot of sketching, all with Bic pen on paper, yet we know only a few of them, now part of the New York Anton Kern Gallery collection. Then it was Bangkok -- where he became fascinated with the Siamese lacquer patterns --, India, Egypt, Europe. To quote the 2012 Exhibition Catalog at James Madison University (Virginia, USA), "the influence of this trip on Warhol, who had previously never been outside Pittsburgh or New York, was profound. Characteristics like the flat, simple contours and cropping of Japanese prints, the use of gold in Siamese furniture and the delicacy with which mystical and fantastical fairies are rendered in Netherlandish children's books, all contributed to Warhol's now-dubbed "Pop art."
[1] In 1956, The New York Times reported that at her art show at the Midtown Gallery,"from a stay in the Orient Gladys Rockmore Davis has brought back some vivid impressions of Balinese dancers [...] She has made full use of the brilliant colors of the costumes, the swaying rhythm of the performers and the sharp contrasts of light and dark in the outdoor performance."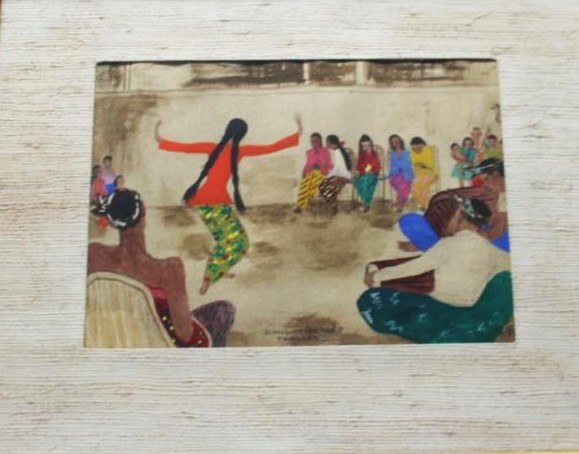 Gladys Rockmore Davis, Balinese Dancers (1956).
In 2012-2014, Andy Warhol: 15 Minutes Eternal was the largest collection of iconic works by Andy Warhol ever exhibited in Asia. Opened on 17 March 2012 at ArtScience Museum (Marina Bay Sands, Singapore) on the 25th anniversary of the artist's death, the exhibition traveled to five cities over 27 months, moving from Singapore to Hong Kong, Shanghai, Beijing and finally Tokyo in 2014.
In 2014, The Anton Kern Gallery in New York City held an exhibition of 174 drawings by Andy Warhol, including 3 of Angkor Wat dated "c.1956". The time range was from c. 1950 to 1960, one year before the artist was going to rise a star of PopArt. Apart from one sketch of Hong Kong Street, and 2 of Bali scenes, themes covered were mostly flowers, female anatomy, fashion, still life, and male genitalia. Browse the exhibition checklist.
Tags: American travelers, modern art, pop art, American photographers, 1950s, Angkor as artistic inspiration, Bali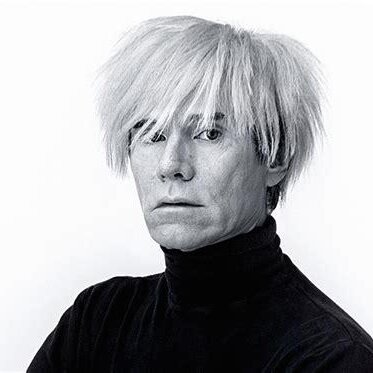 Andy Warhol
Andy Warhol (born Andrew Warhola, Jr., 6 Aug 1928, Pittsburgh, PA, USA - 22 Feb 1987, New York City) was an American painter, printmaker, filmmaker, and a leading figure in the visual art movement known as pop art.
He visited Cambodia in 1956, when he was still a relatively unknown artist drawing for fashion magazines and advertising agencies after training at Carnegie Mellon University.
After a successful career as a commercial illustrator (the now mythical 1962 Campbell's Soup Cans painting!) Warhol became famous worldwide for his work as a painter, avant-garde filmmaker, record producer, author, and member of highly diverse social circles including Bohemian artists, wealthy heirs and heiresses, Hollywood stars, and avant-garde literati.
Albeit sticking to "political neutrality", Warhol indirectly criticized the American-made Vietnam War, agreeing to create a poster "Vote McGovern" for the Democratic Party against warmongering Richard Nixon, and subverting the right-wing campaign "Bomb Hanoi!" slogan. However, his pop-art sensibility led him to address politics, and political leaders, as a mere part of 'mass media stardom'.
In May 2022, his 1964 silkscreen of Marilyn's face, "Shot Sage Blue Marilyn", was sold for about 195 million at Christie's New York, highest price achieved for any auctioned American work of art.The highest price ever paid for a Warhol painting is $100 million for a 1963 canvas titled Eight Elvises. The private transaction was reported in a 2009 article in The Economist, which described Warhol as the "bellwether of the art market." $100 million is a benchmark price that only Jackson Pollock, Pablo Picasso, Vincent van Gogh, Pierre-August Renoir, Gustav Klimt and Willem de Kooning have achieved.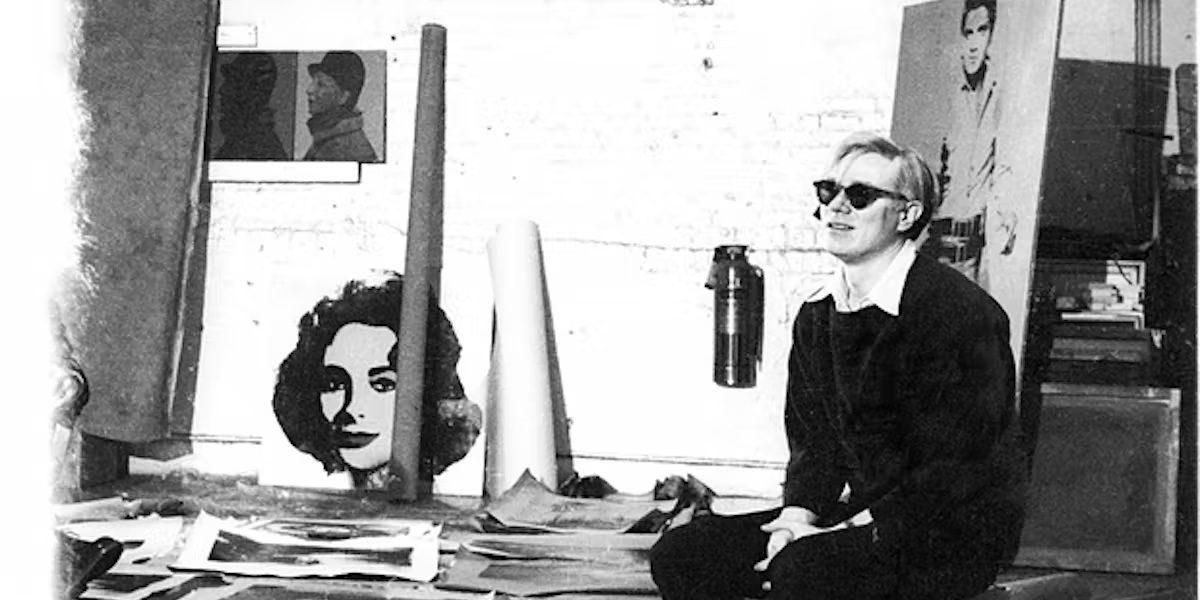 Andy Warhol in 1956, the year he went to Asia.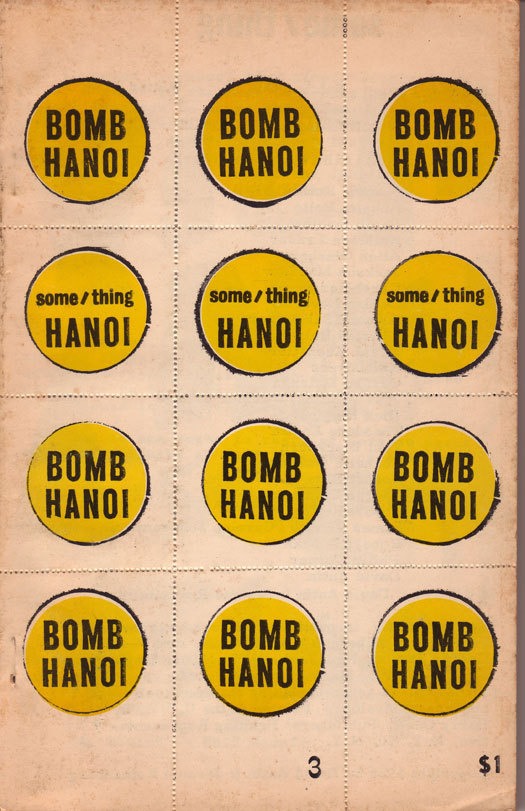 'Some/thing', Andy Warhol's response to warmongers in 1966.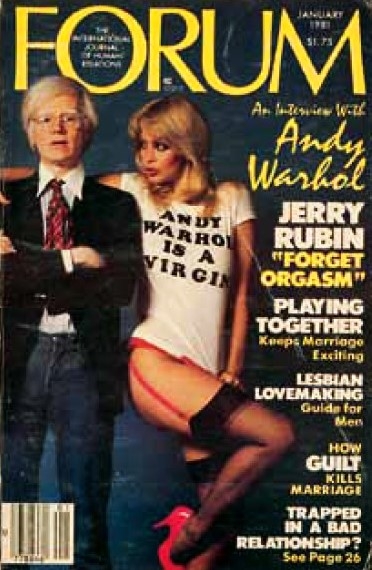 Andy Warhol is a virgin", claims the model's teeshirt on Forum magazine, 1981.