Visions of Angkor and Cambodia by...Raymond Cauchetier
by Raymond Cauchetier
Photographer Raymond Cauchetier was in his thirties when he fulfilled a childhood dream: to see Angkor Wat.
Author: Raymond Cauchetier
The Arles Rencontres de la photographie (Arles Photo Festival) is paying from July 4 2021 a tribute to the late 'artist-historian' Raymond Cauchetier, reputed for his work as a set photographer on major movies of the French Nouvelle Vague (New Wave) movement. His widow of Japanese origin, Kaoru Cauchetier, who accompanied him in many of his travels, is attending this posthumous exhibition.
Cauchetier came to the cinematographic world largely through Angkor and Cambodia: he was working on the Khmer ancient temples in the late 1950s (see his series Temples d'Angkor) when he met Marcel Camus, who had started the shooting of his movie L'Oiseau de Paradis (Bird of Paradise, released in 1962, and featuring the Khmer Royal Ballet dancers and a radiant Princess Norodom Buppha Devi). In fact, as early as 1956, Cauchetier had been asked to be set photographer for the (anticolonialist) movie Mort en Fraude, which Camus was about to film in Indochina, based on a book by novelist Jean Hougron, one of Cauchetier's friends.
Cauchetier also befriended King Norodom Sihanouk, the Princess' father and a movie director and cinema buff himself. Both Camus and King Sihanouk gave Cauchetier the idea of applying his self-taught talents to the movies, which he did back in France, capturing backstage actresses, actors and directors who were to attain worldwide fame. Feeling that his work was not truly appreciated, however, Raymond Cauchetier explored other avenues, developing 'romans-photos' (photo-stories) from classics of the world great literature, and traveling across Europe to capture samples of medieval Romanesque art.
With the same acute and compassionate eye he had applied to the daily life in Vietnam, drawing the admirative attention of novelist Graham Greene and of the Vietnamese leaders, Cauchetier portrayed the people of the Cambodian streets, fields and forests, first in the 1950s and then in 1967, when he was invited back to the country by King Sihanouk.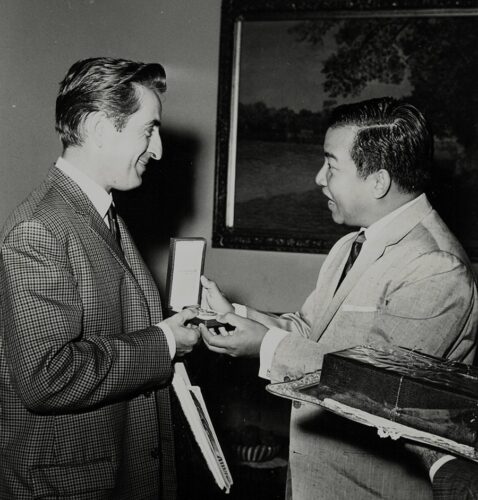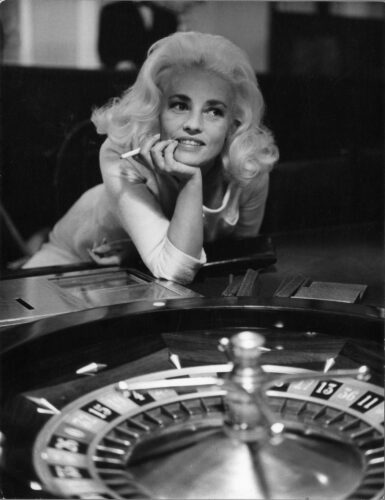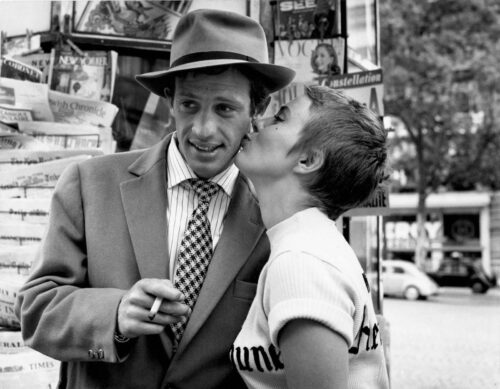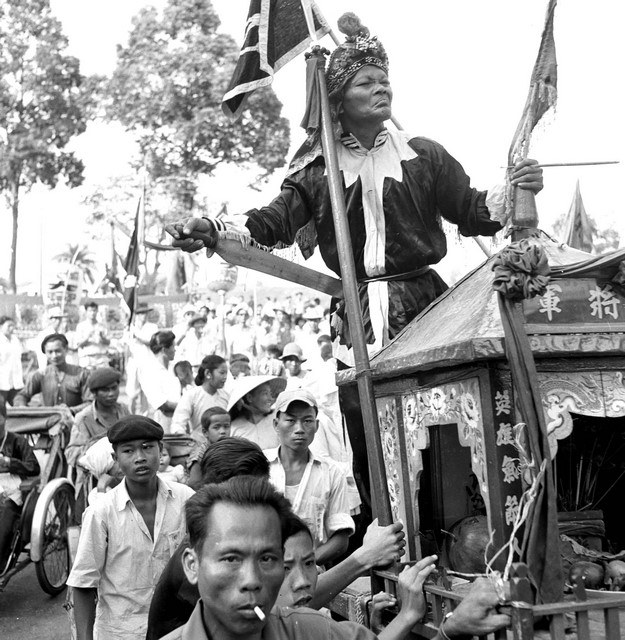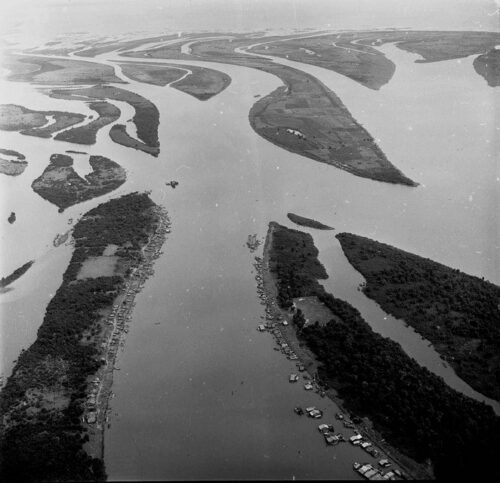 Honored by H.M. King Sihanouk in 1967; Jeanne Moreau during the shooting of Baie des Anges; Jean Seberg and Jean-Paul Belmondo, backstage A bout de Souffle (Breathless); Folk festival and aerial view of Cambodia (all photos © Raymond Cauchetier)

The photo collection Raymond Cauchetier's New Wave was published by ACC Art Books in 2015.
In 2018, the exhibition Cambodia 50's showcased Raymond Cauchetier's work in Hong Kong.
To celebrate his 100th birthday, an exhibition of his notable photos was held at the Galerie de l'Instant in Paris in September 2020.
In Xiamen, China, his work was featured during the Jimei x Arles Photo Festival, 26-29 November 2020.
Read a review in Khmer Times, July 2021.
Tags: Exposition Universelle, Vietnam, Ta Prohm, Ta Som Temple, daily life, King Norodom Sihanouk, cinema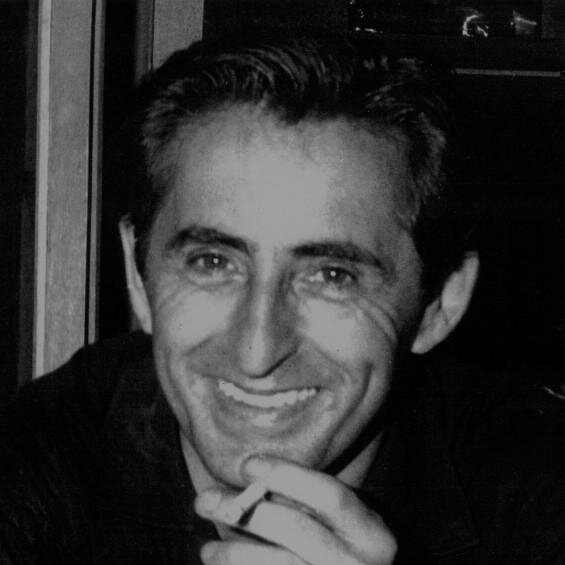 Raymond Cauchetier
Raymond Cauchetier (10 Jan. 1920, Paris - 22 Feb. 2021, Paris) was a self-taught photographer whose work, intimately vinculated to Angkor and Asia, is recognized as one of the major testimonies on culture and arts in the 20th century.
The son of a struggling widow, Raymond had a humble childhood, illuminated at the age of 11 with the vision of the Angkor Wat reconstitution for the 1931 World Exhibition in Vincennes, which he could marvel at from the window of their small apartment. After joining the France Libre Resistance in 1943, he was sent in Saigon as part of the Free French Air Force press service. He bought himself a quite basic Rolleiflex camera, "used by all war correspondents in those times", and started doing aerial photos.
In 1959, Brazilian musician Antonio In 1959, Carlos Jobim and lyricist Newton Mendonça released ´Desafinado´(Out of Tune), a song-manifesto of Bossa Nova:¨Fotografei vôce na minha Roleiflex / Revelou-se sua enorme ingratidao¨, Taking a photo of you with my Rolleiflex/ Exposed its gigantic ungratefulness...


¨I see myself more as a historian than a photographer¨, would later recall Cauchetier, who nevertheless became a belatedly acclaimed visual artist, photographying Vietnam, Cambodia, Laos, Japan in the 1950s, before switching to movie set photography.
In 1967, King Sihanouk was so taken by Cauchetier's photos that he offered him to launch and head a National School of Photography, but Raymond was too much of a wanderer and free spirit to take upon himself such a responsibility. According to Cauchetier himself, "the King of Cambodia had a special air-conditioned safe made to protect my slides and negatives from the tropical climate. Little did he know that a coup was in the offing, and that in 1970 one of his generals, Lon Nol, inspired by the CIA, would depose him while he was on one of his trips to France. The victory was short-lived. The Khmers Rouges, which Sihanouk had kept in check, were unleashed on Cambodia and embarked on a reign of terror. They took Phnom Penh in 1975 and occupied the Royal Palace. They found the safe with the photos in it and, believing it to be full of jewels, blew it up with dynamite. Everything it contained was burnt to ashes: nothing remained of my 3,000 photos."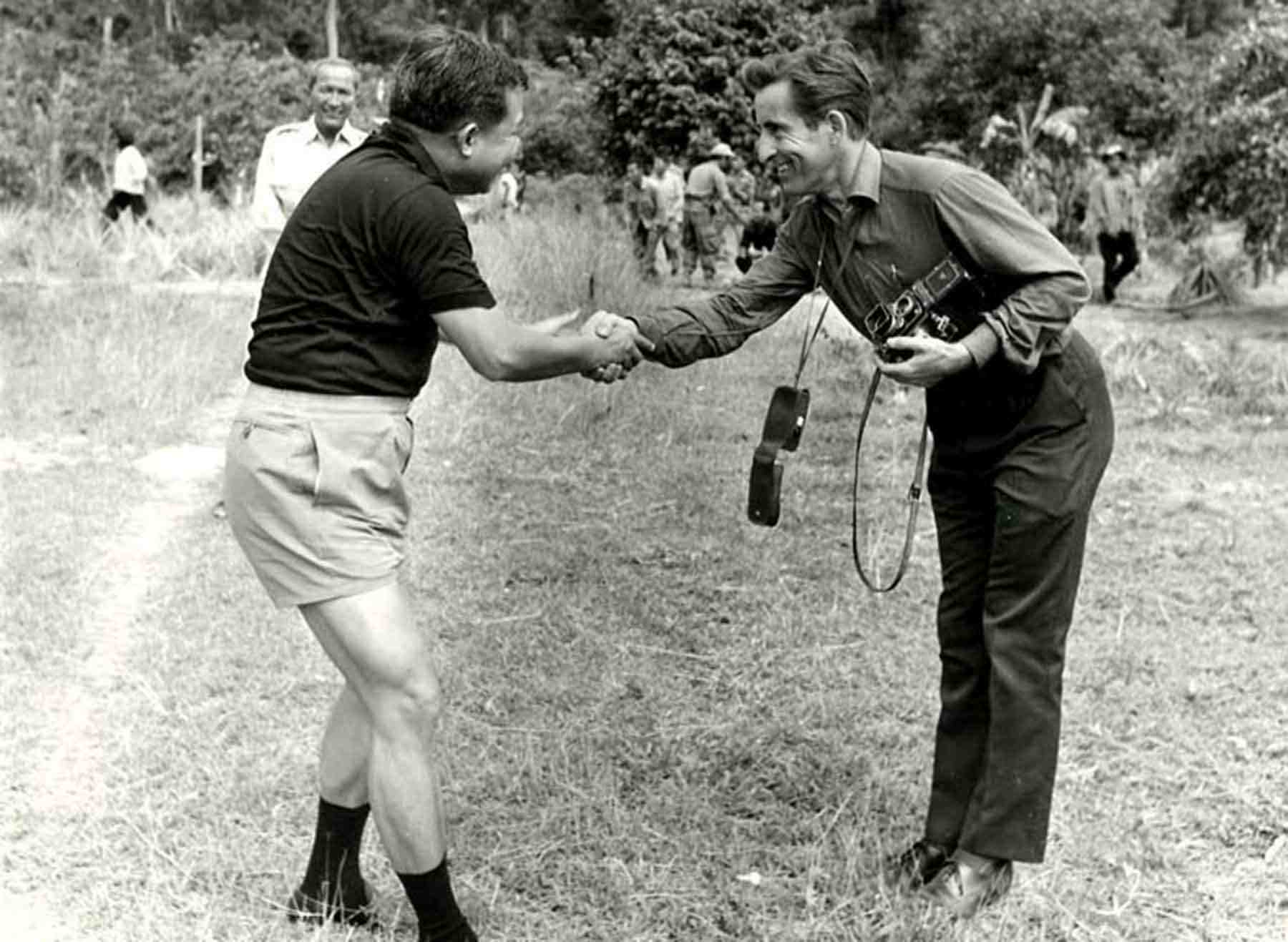 Raymond Cauchetier passed away at 101 years of age, after contracting Covid-19 virus in France. Read his ´self-portrait´.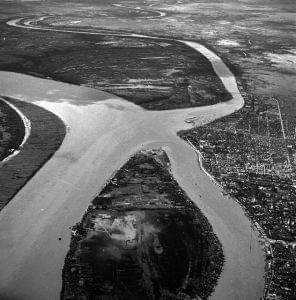 The 'four rivers' site of Phnom Penh, aerial view by Raymond Cauchetier in 1957. Earlier that same year, Cauchetier had gone to the Siem Reap jungle to photograph the warlord Chap Duon. During that trip, he rescued a baby tiger that he named Bijou and brought back to Phnom Penh, then to France: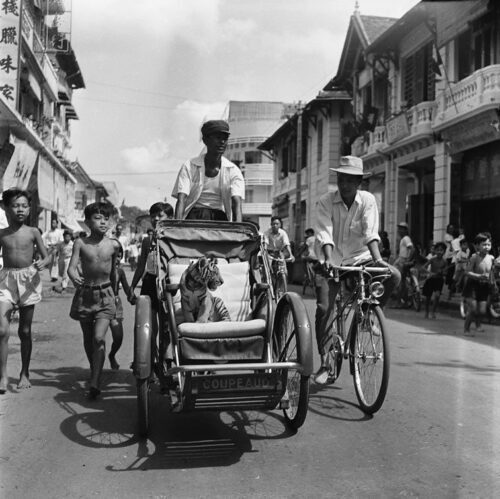 (all photos © Raymond Cauchetier)