Royal Ark of Cambodia
The genealogy and chronology of the Varman Dynasty, Royal House of Cambodia.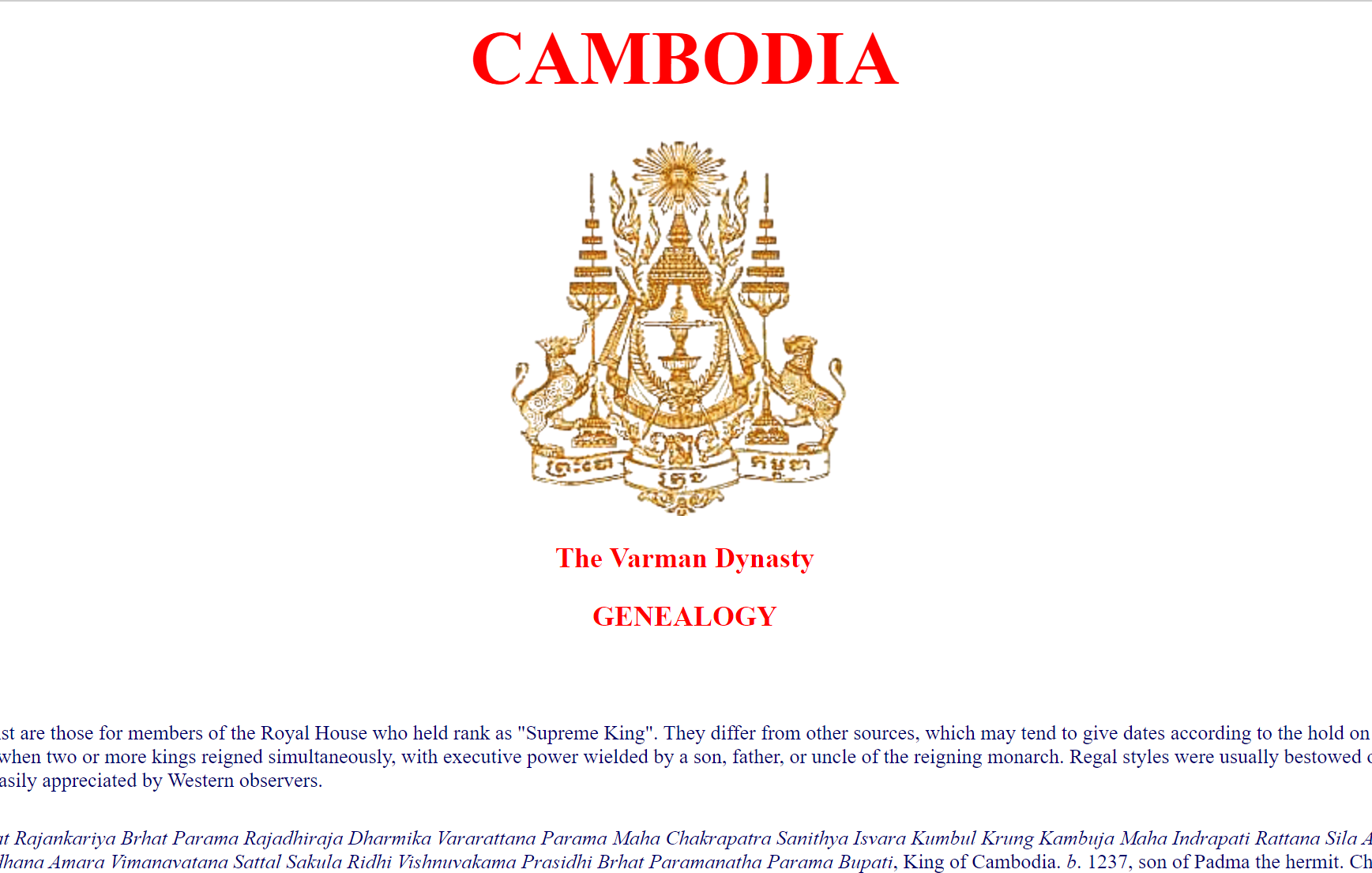 Published: 2001
Language : English
Developed tirelessly from 2001 to 2013 by British researcher Christopher Buyers, this is probably the most exhaustive and accurate attempt of a dynastical genealogy of the Varman branch, from the 13th century with the 'Chief of Sweet Cucumbers' [1296 - 1307 Brhat Pada Samdach Brhat Rajankariya Brhat Parama Rajadhiraja Dharmika Vararattana Parama Maha Chakrapatra Sanithya Isvara Kumbul Krung Kambuja Maha Indrapati Rattana Sila Adipati Sri Sudha Pawara Gururatta Rajadhani Purirama Udama Maha Sadhana Amara Vimanavatana Sattal Sakula Ridhi Vishnuvakama Prasidhi Brhat Paramanatha Parama Bupati, King of Cambodia. b. 1237, son of Padma the hermit. Chief of the Royal Gardens in early adult life and nicknamed Nai Trasak Paem ("chief of the tasty cucumbers")] to the modern days.
Part of the Royal Ark project, devoted to the genealogies of the Royal and ruling houses of Africa, Asia, Oceania and the Americas. These pages have been designed with the aim of recording, and increasing knowledge about, the genealogies of the current and former ruling families of Africa, Asia and the Americas. Unlike their European counterparts, genealogical information on these families is sparse and inadequate. This is the case, even though many of the dynasties are more ancient than most of the European dynasties that are so amply covered in genealogical works [...] Many of the ruling families, particularly those of the princely families of India, Pakistan, Indonesia and Burma, have ceased to rule or have been prohibited from playing officially recognised roles in national life. It is therefore, imperative that their stories be recorded for posterity, before they are forgotten to history's memory."
Covers the following kingdoms or countries: ABYSSINIA, AFGHANISTAN, ALBANIA, ANNAM,
ARABIA, BAHRAIN, BHUTAN, BRAZIL, BRITISH HONDURAS, BRUNEI, BURMA, BURUNDI, CAMBODIA,
CHINA, EGYPT, ETHIOPIA, GEORGIA, HAITI, HAWAII, INDIA, INDONESIA, IRAN, IRAQ, JORDAN, KOREA, KUWAIT, LAOS, LIBYA, MADAGASCAR, MALAYSIA, MALDIVES, MANCHUKUO, MANCHURIA, MEXICO, MOROCCO, MOSQUITO NATION, MUSCAT & OMAN, MYANMAR, NEPAL, NETHERLANDS EAST INDIES, NORTHERN RHODESIA, OMAN, PAKISTAN, PHILIPPINES, QATAR, RWANDA, SAMOA, SAUDI ARABIA, SIAM, SOUTH AFRICA, SOUTH YEMEN, SUDAN, SWAZILAND, TAHITI, TANGANYIKA, TANZANIA, TCHAD, THAILAND, TIBET, TONGA, TRANSJORDAN, TURKEY, UNITED ARAB EMIRATES, VIETNAM, YEMEN, ZAMBIA ZANZIBAR.
Photo: Royal Ark Website screenshot (author's contact).
Tags: Varman dynasty, royals, Royal Family of Cambodia, Queens & Kings of Cambodia, genealogy, chronology, reference documents