A Commentary on Lboek Angar Vat | 'The Poem of Angkor Wat' | ល្បើកអង្គរវត្ត
by Sotheavin Nhim
"Once in a glorious time in the time, there was a king who was law-abiding and generous"....
Publication: in Renaissance Culturelle du Cambodge Vol.31, pp.107-143, (2019-2020). Sophia Asia Center for Research and Human Development, Sophia University, Tokyo.
Published: 2020
Author: Sotheavin Nhim
Pages: 19
ISSN: 0917-141X
Languages : English, Khmer
"Once in a glorious time in the past, there was a king named Braḥ Pād Vaṅ' Ascār (or Preah Bat Vong Oschar), who was law-abiding and a man of generosity. The king had a blessed and most beautiful consort who surpassed all concubines. He had a son, named Preah Ketmealea, who was most exceptional, meritorious, and courageous. Preah Ketmealea's glory was well-known everywhere, not only on the earth but also in the Sthān Traitrịṅ (or Sthan Traitroeng, the residence of god Indra).
"God Indra realized that Preah Ketmealea was his son in a previous life, who was reborn as a son of king Preah Bat Vong Oschar. Then, Indra descended to the earth and took Preah Ketmealea to Sthān Traitrịṅ. However, the presence of Preah Ketmealea there was unsettling and disturbing to all the Devatas (or angels), because Preah Ketmealea was a human and had a human smell, and so the Devatas informed Indra about the matter. Hence Indra decided to send Preah Ketmealea back to the human world. Preah Ketmealea felt unhappy and suffered mentally, because he had led a harmonious, uplifting, and enjoyable life in the great and splendid palace, namely Bejjayanta Ratana (or Bejayant Ratana), and he did not wish to depart from that comfortable atmosphere."
This commentary on the famous Poem of Angkor Wat is based on the transcription of oral traditions made by Etienne Aymonier in the 1870s. The author does not intend to date the first written version of the "poem", which is more of a "tale"or, as Aymonier put it, a "drame historique" (saga).
"Pages 25 to 26 illustrate scenes of Naraka (Norok, or the hells), and it consists 30 tiers in which
are described the names of the hells where tortures take place, and where sinners were punished and tortured by many ways."
Tags: Angkor Wat, Pisnukar, Angkor foundation, Khmer dynasties, 17th century, Khmer classical literature, King Preah Ketmelea, Lovek, Middle Khmer, Middle Period, legends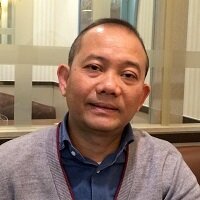 Sotheavin Nhim
A visiting Researcher at the Asian Culture Research Institute, Sophia University, Tokyo, Nhim Sotheavin specializes in Cambodian history.
Graduated from the Cambodian Royal Academy of Fine Arts (RUFA) in 1996, he worked he worked as an archaeological researcher at the Sophia University Angkor Archaeological Site International Research Team (currently the Asian Human Resources Development Research Center) in Siem Reap.
Since 2000, he has been studying abroad as a government-sponsored international student at the Department of Area Studies, Graduate School of International Studies, Sophia University. Part-time lecturer since 2014, he participated as one of the leaders in archeology training and cultural heritage education activities conducted by the Asian Human Resources Development Research Center, and in online courses on Angkor and Khmer civilization.