Banteay Chhmar and the Military Protector Hevajra
by Peter D. Sharrock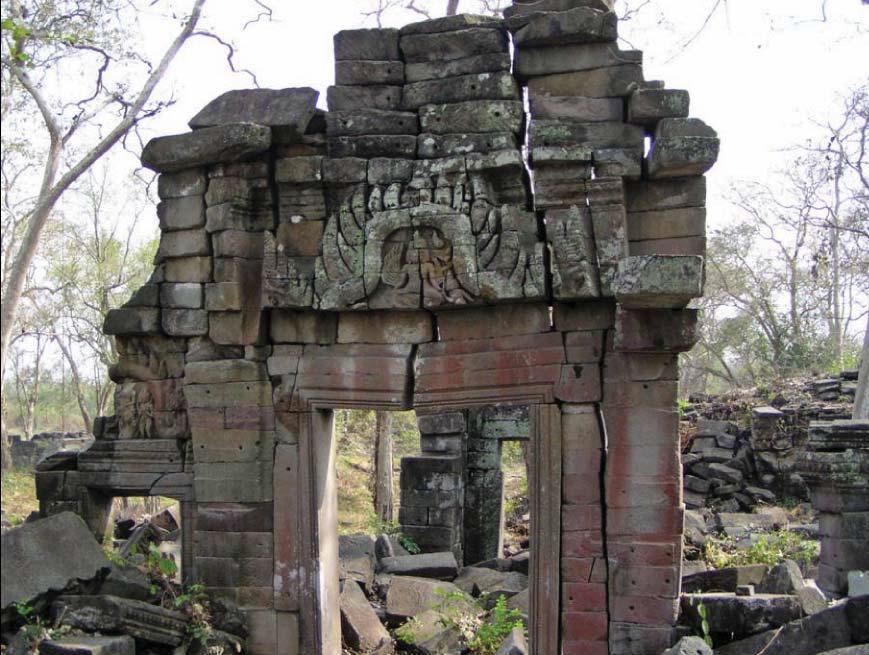 Publication: The Journal of the Walters Art Museum | Essays in Honor of Hiram W Woodward,Jr. | Volume 64/65
Published: 2006
Pages: 23
Language : English
Banteay Chhmar (បន្ទាយឆ្មារ), the most enigmatic, the most looted, the most surprising to our days...
Like Angkor Thom, the temple complex of Banteay Chhmar was built during the reign of Jayavarman VII in the late 12th and early 13th century. One of the temple's shrines once held an image of Srindrakumararajaputra (the crown prince), a son of Jayavarman VII who died before him. The temple doors record Yasovarman I's failed invasion of Champa.
The Old Khmer inscription found at the site (K.227), now on display in Phnom Penh National Museum, relates how Prince Srindrakumara was protected on two different occasions by four companions in arms, once against Rahu, and once on a military campaign against Champa. Their four statues, with one of the prince, was placed in the central shrine.
According to the author, the "militaristic" figure of the Tantric god Hevajra may have been "chosen for Bantéay Chmàr because the temple is associated with battles. It was dedicated to the memory of the prince, along with four generals, two from this region, who sacrificed their lives to save the prince in a palace coup; the two other generals died defending Jayavarman in an ambush in Champā. The Bantéay Chmàr inscription says images of the prince and four generals were raised in the central sanctuary of the temple and in sanctuary-towers around it."
A Sanskrit Tantric text taken to China in the 11th century defines Hevajra as 'the perfection of heroism (vīryapāramitā)'. 
Tags: Banteay Chhmar, Jayavarman VII, 12th century, garrison temple, Tantric Buddhism
Peter D. Sharrock
A Reuters newsreel agency correspondent during the American war waged in Indochina during the 1960s-1970s, Peter D. Sharrock, PhD, teaches at SOAS/University of London.
He has been studying the spread of Buddhism (and Tantric Buddhism) across Maritime Asia as it is visible in the art and architecture of Cambodia, Vietnam and Java from 800 to 1400 CE.
Peter Sharrock's writings include Vibrancy in Stone: Masterpieces of the Da Nang Museum of Cham Sculpture (2018), Banteay Chhmar: Garrison-temple of the Khmer Empire (2015) and (with Vu Hong Lien) Descending Dragon, Rising Tiger: a History of Vietnam (2014).