Cambodia in the Mid-Nineteenth Century: A quest for survival, 1840-1863
by Bun Srun Theam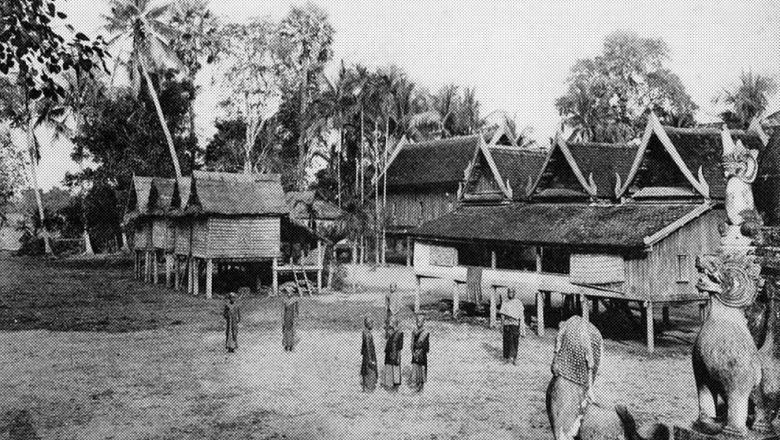 Publication: MA Thesis, Australian National University (ANU)
Published: 1981
Pages: 216
Language : English
Contemporary historiography tend to insist that the notion of a Cambodia (and Khmer identity) haunted by the fear of extinction was a French propagandist fabrication aimed at justifying the Protectorate as a purely colonial ambition. The author, a Cambodian opposed to the Khmer Rouge and granted political asylum in Australia, gives us a much more balanced of the 1840s-1860s, these transitional decades that led to modern Cambodia.
"Cambodia in the mid-nineteenth century was indeed free from a foreign military presence on its soil, thanks to the mounting pressure of French forces upon Vietnam on the one hand, and on the other to the competition between the countries of the West, namely Great Britain, the United States and France, to gain preponderance with the Thai court in the matter of commerce and navigation. Without this simultaneous western interest in the region, the Thai would would have taken over Cambodia from the Vietnames and replaced them as occupiers. It was probably with this in mind that King Duong, even although the country seemed to be enjoying relative peace and independence after the withdrawal of Vietnamese and Thai armies in1847 and 1848 respectively, turned for help and protection towards France, whom he most likely viewed as less dangerous than the Vietnamese and the Thai," asserts the author.
Noting that the Cambodian government then resembled more the Angkorean system, with regional okhnas having free reins, than the centralized states of Vietnam or Thailand, the author explores societal issues at that time, such as slavery and the fate of ethnic minorities. The political role of French missionaries is also detailed.
The author refers to several Thai and Vietnamese authors, in addition to Western researchers.
Often quoted by scholars and historians, this essay is published here in its integrality for the first time.
Photo: A Cambodian village in the 1860s (Phnom Penh Post)
Tags: 19th century, Siam, Vietnam, King Ang Duong, King Norodom I, Cochinchina, missionaries, French colonialism, Protectorate
Bun Srun Theam
Theam Bun Srun is a Cambodian historian whose major publication, Cambodia in the Mid-Nineteenth Century: A Quest for Survival, 1840-1863 (M.A. Thesis, The Australian National University, 1981) has been a reference for researchers on Cambodian modern history.
He was the Cambodian charge d'affaires in Canberra from September 1974 when he petitioned for and was granted temporary residence in Australia to escape the Khmer Rouge regime.