Construction Sequence of the Koh Ker Monuments
by Etsuo Uchida & Kojiro Tsuda & Ichita Shimoda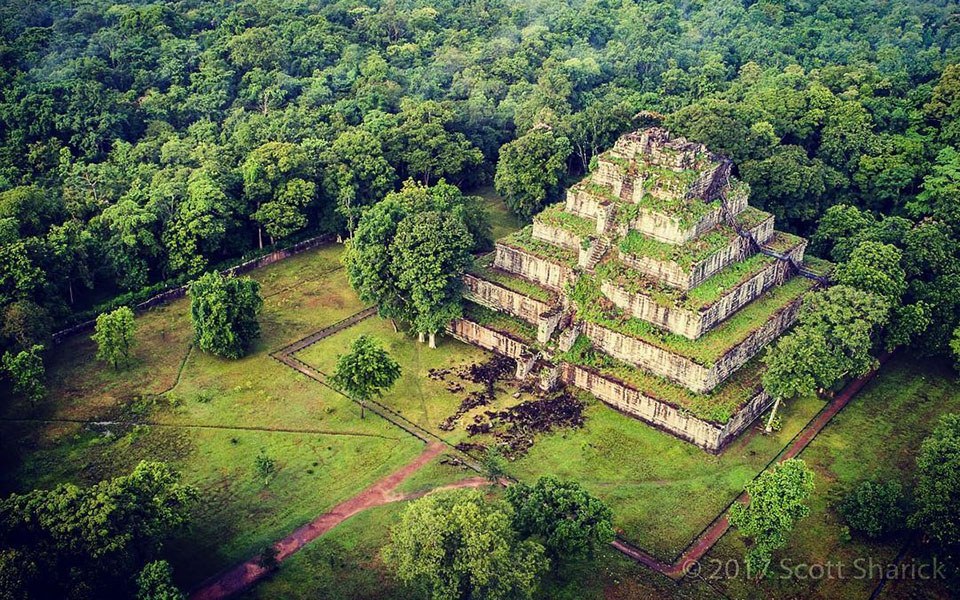 Publication: Heritage Science Journal, 10 | Springer Open
Published: 2014
Pages: 1
Language : English
Why did King Jayavarman IV install in 928 his capital city in Koh Ker, 7 kms south of the Royal Road linking Angkor to Wat Phu (in modern Laos)? If the motives of this move from Angkor still remain unclear, one thing is established by this study: his architects and workers found plenty of excellent sandstone on-site, "a gray to yellowish brown sandstone (feldspathic arenite), which also was used to build the Angkor monuments. It is generally believed that this material is derived from the Jurassic Grés [Grès] Rouge Formation. However, the use of sandstone as a major building material for the construction of sanctuaries, such as those at Prasat Balang, Prasat Thneng, Prasat G, Prasat Trapean Rosei and Prasat Khna, is rare. In the Koh Ker area, outcrops of gray to yellowish brown sandstone can be found near Prasat Khna, Prasat Neang Khmau, and several other temples. In addition, ancient quarries of gray to yellowish brown sandstone have been found 6 km to the north of Prasat Thom along the Rongea River, as well as 5 km to the northeast of Prasat Thom in the area east of Prasat Trapean Russei. Hence, the sandstone blocks of the Koh Ker monuments likely originate from the surrounding area rather than from Mt. Kulen, which was used to supply sandstone blocks to the Angkor area."
As for the laterite, "close to the Srayang village, immediately south of the Koh Ker monuments, there are many laterite outcrops. Given that there are the remains of several ancient laterite quarries in this area, it is possible that these quarries provided the laterite material used for the construction of the Koh Ker monuments."
From their Sr (Strontium) content and magnetic susceptibility measurements, and "using "the assumption that the temples were constructed in an outwardly propagating manner", the authors conclude that the construction process at Koh Ker was "defined by: (1) a first stage using laterites with low Sr content and low magnetic susceptibility values; (2) a second stage using laterites with low Sr content and high magnetic susceptibility values; (3) a third stage using laterites with high Sr content and high magnetic susceptibility values; (4) a fourth stage using laterites with low Sr content and low magnetic susceptibility values; and (5) fifth stage using laterites with high Sr content and low magnetic susceptibility values. Almost all of the buildings in the Koh Ker monuments belong to the first three stages, with only three and two buildings belonging to the fourth and fifth stages, respectively. Buildings belonging to the fifth stage remained unfinished."
They also found that "buildings made of sandstone were limited to the first and second stages of construction. The sandstone blocks used in the second stage were larger than those used in the first stage. We have assumed that the brick sanctuaries are the oldest (i.e., Prasat Thom, Prasat Damrei, Prasat Kraham, Prasat Krachap and Prasat Pram), followed by the sandstone sanctuaries (i.e., Prasat G and Prasat Trapean Rosei), with the laterite sanctuaries being constructed last of all. The laterite sanctuaries of Prasat Neang Khmau and Prasat Chen were constructed earlier than those of Prasat Khtum, Prasat Bak, Prasat Banteay Pir Chan and Prasat Chrap."
Full title: Construction sequence of the Koh Ker monuments in Cambodia deduced from the chemical composition and magnetic susceptibility of its laterites.
Photo: Prasat Thom, the Prang (by Scott Sharick via siemreap.net)
Tags: Koh Ker, architecture, laterite, sandstone, bricks, geology, magnetic susceptibility, Jayavarman IV, Harshavarman II, architectural history
Etsuo Uchida
Uchida Etsuo 内田 悦生 is a geologist and Professor at the College of Creative Science and Engineering, Waseda University, Tokyo, who studies the geology and archaeology of Cambodia, South Korea and other parts of Asia.
His latest publication is "Non-destructive in-situ classification of sandstones used in the Angkor monuments of Cambodia using a portable X-ray fluorescence analyzer and magnetic susceptibility meter" (with Ryota Watanabe, Rathborith Cheng, Yuta Nakamura, Toru Takeyama, Journal of Archaeological Science: Report 39, 2021)
Kojiro Tsuda
Tsuda Kojiro 津田浩二郎 is a researcher at the Department of Resources and Environmental Engineering, Waseda University, Japan, who worked on several archaelogical sites in Cambodia.
Ichita Shimoda
Dr. Shimoda Ichita 下田 一太 is an architectural historian who has been extensively working on Angkorean sites.
With a Ph.D. in Architectural History of Southeast Asia at Waseda University, Tokyo, Dr. Shimoda is currently Associate Professor at the World Heritage Program in the University of Tsukuba, Japan.
He has worked on the restoration sites at major Cambodian Monuments, such as Angkor Wat, Bayon, Sambor Prei Kuk, Koh Ker, and is a a Technical Advisor of the Japanese Government Team for Safeguarding Angkor, UNESCO Japanese Funds-in-Trust Project.
In addition, he carries on several research and conservation projects across Southeast Asia, and was involved in the nomination and management of Japanese World Heritage sites within the Agency for Cultural Affairs of Japanese government between 2016 and 2019.
Conservation and adaptive reuse of the architectural heritage including traditional building, historical city, and archaeological monuments are important issues for him, and he is the founder of the Shimoda Laboratory of Architectural History.
Shimoda Ishita has been decorated with the Royal Medal of Sahametrei from the Kingdom of Cambodia in 2006 (for his work at Sambor Prei Kuk) and in 2012 (for his work at the Bayon Temple).