Gold in early Southeast Asia
by Anna T.N. Bennett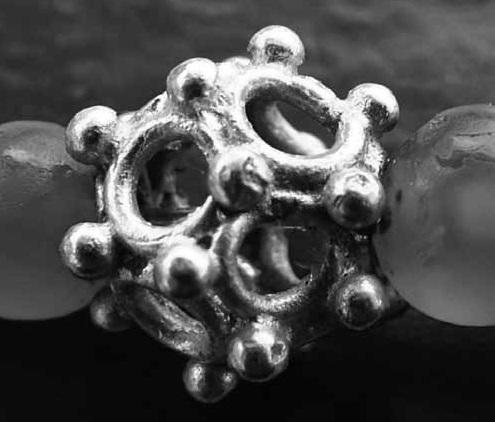 Publication: ArcheoSciences, revue d'archéométrie, 33, p. 99-107
Published: November 2009
Pages: 9
Language : English
Gold in South-East Asia history: "Luzon and Mindanao in the Philippines, the Barisan mountain range in west Sumatra, western Borneo, Timor, parts of the Malaysian and Thai Peninsula, northern Burma, north and central Vietnam, Laos, northwest Cambodia in the Oddar Meanchey province, near Banteay Chhmar, its north-central area, in the Preah Vihear province in Rovieng district, and in the northeast in Rattanakiri province have all acquired a reputation as gold producers at one time or another, and the majority of these still produce small amounts of placer [mining of alluvial deposits of minerals] gold."
Suvarnabhumi: "It seems quite probable that the gold ores available in Southeast Asia were not only partly responsible for the early trade with China, but that they were one of the stimulating factors in developing early contacts with India. The Ramayana mentions Sugriva sending his envoys to Hiranyanabha Mountain to the east, i.e. in the direction of Southeast Asia, which was known to be rich in gold, in search of Rama's wife Sita. Sanskrit synonyms for gold, such as Hiranya, Kanaka, Hema and Suvarna, have been used to name rivers and mountains containing either alluvial or vein deposits of gold, and the region was known to the Indian merchants of the Mauryan Empire (321-185 BPE) as Suvarnabhumi: 'Land of Gold', which is thought to refer to the mainland, including lower Burma and the Thai Malay Peninsula, and Suvarnadvipa: 'Islands of Gold', which may correspond to the Indonesian Archipelago, including Sumatra."
Gold and International Trade: "While much archaeological
work is still necessary to clarify the socio-economic conditions in the period between 500 BPE and 500 PE, there is ample evidence that mainland Southeast Asian societies were engaged in extensive and sophisticated commercial trading, either directly or indirectly, with India, Central and Western Asia, Insular Southeast Asia and China throughout the last two and a half thousand years. The fact that gold appears in the archaeological record in the second half of the first millennium BPE, at about the same time as iron, semiprecious stone polishing and glass working, suggests that the techniques of gold extraction and working were quite plausibly introduced to Southeast Asia via Indian or Chinese merchants seeking the gold ores available in Southeast Asia. It also seems quite plausible that the conquest of the Upper Thai-Malay Peninsula by the Funan Kingdom, which is clearly mentioned in Chinese texts, may have been stimulated by a desire to control this area's mineral resources. This elaborate international trade network was not a homogenous system, but was rather based on differential economies, which may nonetheless have eventually stimulated local gold panners to retrieve excess metal to be sold in the context of a wider distribution. The rulers of the large coastal and riverine settlements around Oc Eo in the early Funan Kingdom are reported to have sent more than twenty-five missions to China between 226 and 649 PE, bearing gold and other precious gifts."
Photo: Polyhedral gold bead found in Oc Eo, Funan settlement in the Mekong Delta.
Tags: mining, gold, Ramayana, Southeast Asia, Indian traders, Chinese chronicles, Funan, archaelogy, maritime trade
Anna T.N. Bennett
As an archaeological scientist and conservator Dr Anna Bennett is particularly interested in the services which can be offered to art specialists in caring for their valuable collections. An important facet of this work involves authenticities and the management of collections.
She has been called as an expert witness in cases dealing with authenticity, misrepresentation, the extent of restoration and provenance (including Thomson v Christie's 2004, the Houghton Urns case; Kamidian v Lloyds underwriters 2007, the Fabergé clock case; Sarikhana v Horiuchi 2011; The Union of India v Bumper 1986, the Shiva Nataraja case; the Republic of Lebanon v Sotheby's/Northampton 1993, The Sevso Silver case (in the US Supreme Court) ; Michailidis v Symes 2002/4). She is on the vetting committees of European Sculpture, Works of Art and Antiquities at art fairs including the Paris Biennale, the Brussels BRAFA and the London Masterpiece Fair.
Anna Bennett lectures in Conservation and Scientific Analysis and teaches on numerous Archeology and Art courses. She has co-authored a book on a Roman Silver hoard, The Sevso Treasure (Bennett, A., & Mango, M., 1994), and has published papers on conservation and ancient metallurgy in journals including World Archaeology, British Archaeological Reports and Proceedings of the International Conference of the European Association of Southeast-Asia Archeologists. Her most recent publications include the study of 6th/7th century Gold in the National Museums of Thailand published in 2017 and she co-edited Defining Dvaravati published in 2020.