Inscriptions du Phnom Kulen: Corpus existant et inscriptions inédites, une mise en contexte / Phnom Kulen Inscriptions
by Jean-Baptiste "JB" Chevance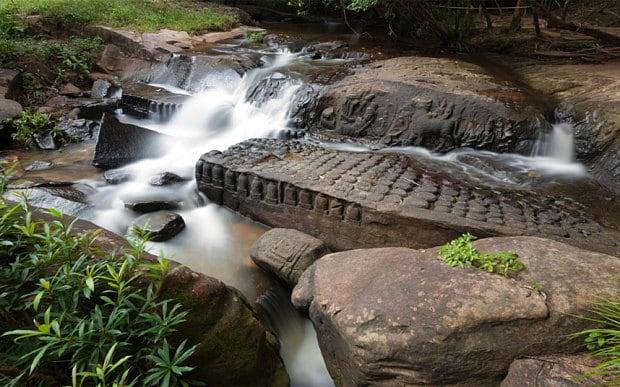 Publication: Bulletin de l'École française d'Extrême-Orient (BEFEO), 100, p. 201-230
Published: 2014
Pages: 30
Language : French
While we now know for sure that Jayavarman II established a capital city on the 'Lychee Hill', Mahendraparvata, as early as the 9th century, the twenty inscriptions found in the area to these days are much more recent. Nevertheless, according to the author, these texts reflect 'a remarkable continuity in the human presence from the 10th to the 16th centuries' linked to religious and contemplative practices.
This analyzis of the existing epigraphic corpus related to Kulen, in particular in the western side of the plateau, points toward "the importance of developing archaelogical prospection around the less-studied area, and of revisiting the sites previously identified (Poeng Tbal and inscription K. 1269, Phnom Sruoch with K. 1272, Prasat O Top with K. 1281 à 1284, or Preah Ang Thom with K. 1325.1 and K. 1325.2, and Srah Damrei with K. 1327).
Photo: Sandstone carvings om the 'River of the Thousand Lingas', Phnom Kulen.
Tags: epigraphy, Kulen Mountain, inscriptions, Jayavarman II
Jean-Baptiste "JB" Chevance
After graduating from École du Louvre in 1997, and obtaining a PhD in Khmer Archeology in 2011 at Sorbonne-Paris III University, Jean-Baptiste Chevance has focused his research on the Phnom Kulen Mountain, 25 miles north-east from Angkor proper.
Prospecting the mountainous area right after the demise of the Khmer Rouge guerilla, the archeologist has worked with EFEO, INRAP and Apsara Authority, lauching in 2007 the Archaeology and Development Foundation (ADF), devoted to the preservation of the Phnom Kulen site.