La Femme et l'Oiseau (Women and Birds)
by Pierre Le Roux
Publication: Author's publication
Published: 2006
Pages: 92
Language : French
This essay on bird cultural representations and their correlation with feminity explores numerous cultures through Southeast Asia.
Regarding Cambodia, the author stresses the centrality of three bird-like mythical figures in Khmer folklore and traditions: hângsa (from Sanskrit hamsa), wild goose often assimilated to the swan, kinari, the bird-woman so important in the Reamker, and khrut, the Khmer version of the garuda, often associated with drought.
As a symbol of aesthetical perfection -- "an embodiment of grace, frailty and strength" --, the bird often meets with the female principle, a promise of a new life to be born. Icarus and fertility, an truly encompassing concept...
Photo: Birds at Pek Toal Bird Sanctuary, Cambodia
About the hangsa (KH ហង្សទ, SK हंस, haṃsa or hansa): this aquatic bird of passage, which various scholars have interpreted as the goose, the swan,or even the flamingo, is an icon used in Indian and Southeast Asian culture as a spiritual symbol and decorative element. In Hindu tradition, this bird is the vahana (vehicle) of Brahma, Gayatri, Saraswati, and Vishvakarma.
Below: Hangsa as a ceiling support in in Wat Preah Theat Basrey, Tbong Khmum Province (Photo Kim Hong).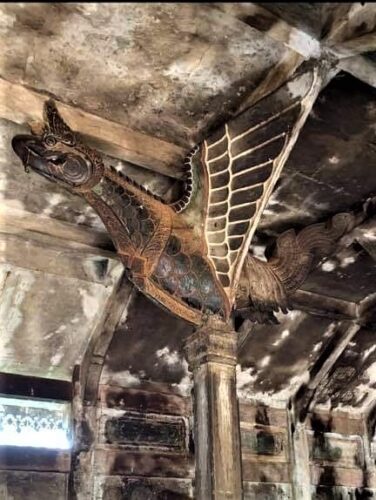 Pierre Le Roux
Pierre Le Roux is an ethnologist and a professor of ethnology at Strasbourg University.