Laos Jars Are Slowly Revealing Their Secrets
by Louise Shewan & Dougald W. O'Reilly & Thonglith Luangkhoth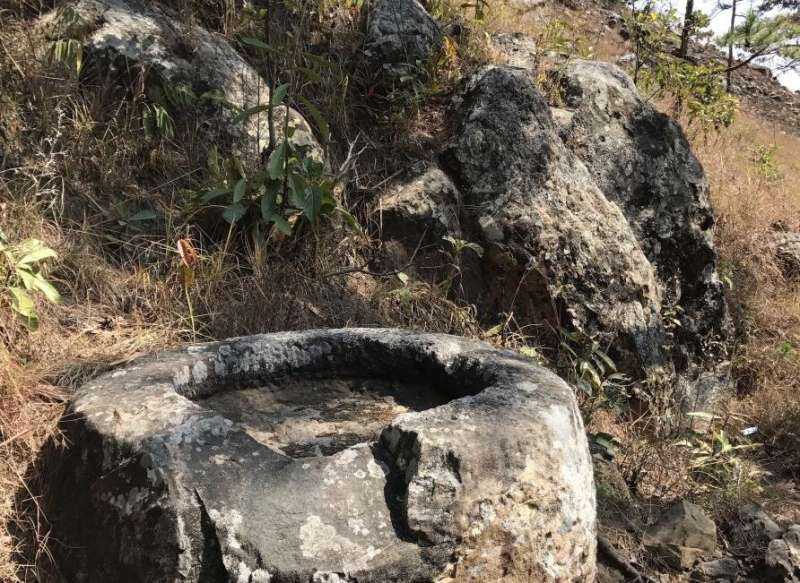 Publication: Phys.Org
Published: April 16th, 2021
Pages: 1
Language : English
Since 2016, a Laotian-Australian team has conducted research on the famed site of the Plain of Jars, Laos. Recent discovery shows that the funerary rites linked to these jars were held through the centuries, back from their first appearance somewhere near 2250 BCE, with some of these gigantic urns being placed in their final resting position as late as 660 BCE.
In the rugged province of Xieng Khoaung in upper northern Laos are scattered more than 2,000 large carved stone jars. They vary in size, with the biggest standing at just over 2.5 meters tall and weighing in at 30 tons. The jars are believed to have been used for funerary purposes, with human remains (including teeth) found buried around some of the jars.
In 2018, the same authors (also with Julie Van Den Bergh and Samlane Luangaphay) noted in their overview published in the Journal of Indo-Pacific Archaelogy (Vol. 42, 2018, pp 1-31): "To date there are potentially 118 sites in northern Laos with megalithic jars representing a significant culture about which very little is known. Recent research, such as that at Site 52 where four further sites with megalithic jars rough-outs, as well as unknown groups of jars at the site were discovered, indicates that there are probably many more undiscovered sites shrouded in the heavily forested upland landscape. In reviewing the data compiled from various sources including Colani, Van Den Bergh and Luangaphay and Genovese, it is clear that the peoples who created the megalithic jars of northern Laos occupied and exploited an expansive territory."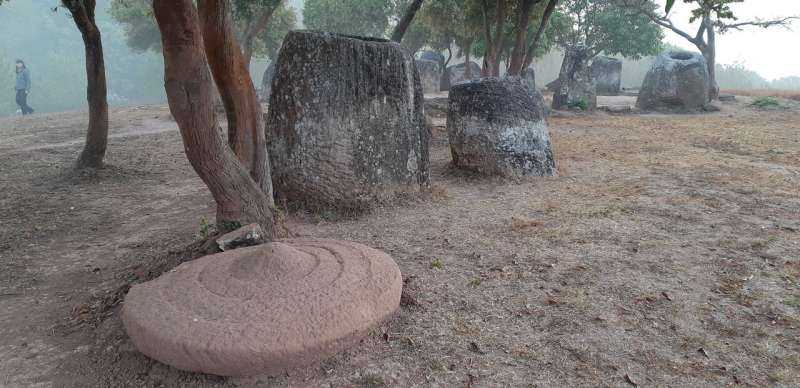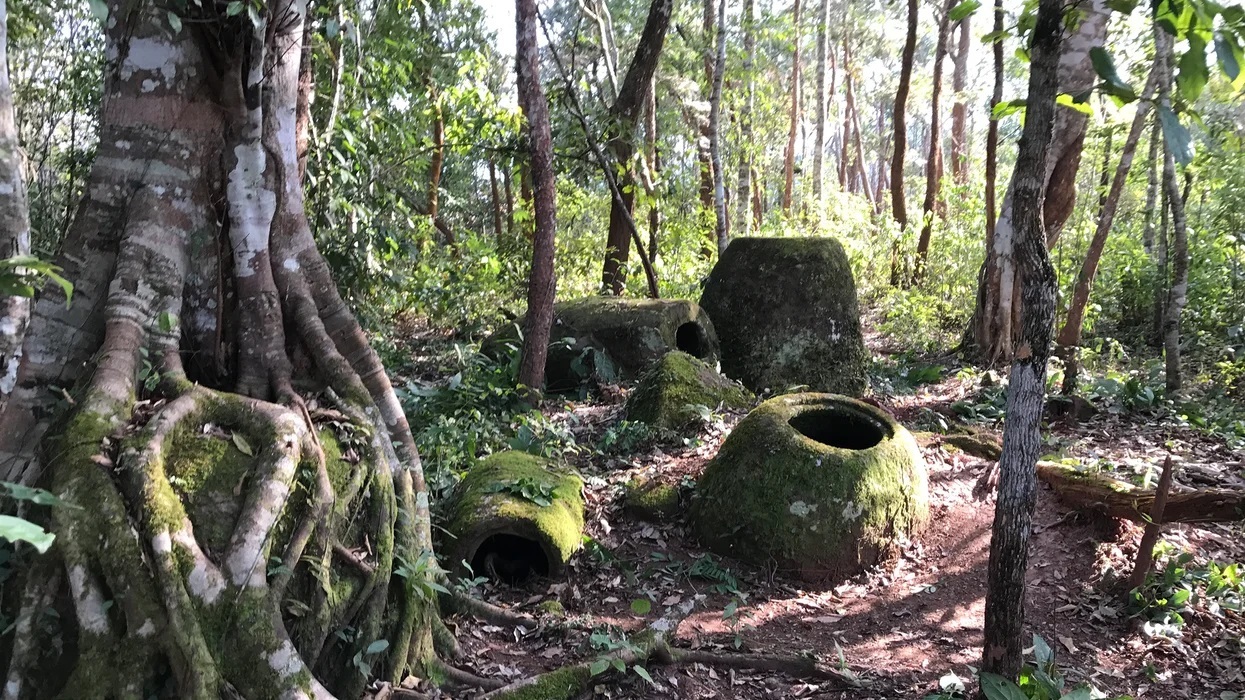 Photos by L. Shewan

Dr. Louise Shewan has also conducted research on burial rites in Cambodia.
Photo: the Pou Kheng quarry, Laos.
Tags: funerary rites, prehistory, Laos
Louise Shewan
Louise Shewan is the Centenary Fellow (Science) based in the School of Earth Sciences, University of Melbourne. Her current archaeology project is the 'Plain of Jars Archaeological Project'. The network of some 90 sites across modern Laos has been added to UNESCO World Heritage List since 2019.
Since 2014, Louise Shewan has joined the 'From Paddy to Pura: the Origins of Angkor' Project, a research aimed at examining emerging socio-political complexity in Thailand prior to the rise of the Angkorian state. The project is seeking evidence of the indicators of socio-political transformation including the control of trade and exchange networks, settlement transformation and growth, rising militarism, the attainment of status through the deployment of surpluses, and privileged access to vital resources. Furthermore the project will examine changing population dynamics, specifically, health, mobility and the genetic relationship between the occupants of sites. The project has investigated the moated site of Lovea near Angkor in Cambodia and the site of Prei Khmeng which boasts a later Khmer temple atop a prehistoric cemetery. One site has been selected in Thailand: the oval, moated site of Non Ban Jak in the Mun Valley.
Dougald W. O'Reilly
An Associate Professor at the College of Arts & Social Sciences, Australian National University, Douglas W. O'Reilly is an archaelogist active in Cambodia since 1999.
In response to the looting of archaeological sites in Cambodia, a non-governmental organization called Heritage Watch was founded by O'Reilly in 2003 to combat the loss of heritage in Cambodia. Heritage Watch established a nationwide education campaign highlighting the importance of heritage and continues to work in heritage preservation, currently running a programme called Heritage for Kids.
He is currently involved in archaeological research in Laos.
Thonglith Luangkhoth
A Doctor in Archaelogy and Environmental Sciences, Thonghlit Luangkhoth is the head of the Department of Heritage, Ministry of Information Culture and Tourism, Vientiane, Lao People's Democratic Republic.
As an associate researcher with the University of Melbourne, Australia, he joined several missions on ancient Laotian sites, in particular the Plain of Jars.