Le cycle des douze animaux dans la vie des Cambodgiens (The 12-Animal Cycle and Cambodian Daily Life)
by Éveline Porée-Maspero
Publication: Bulletin de l'Ecole française d'Extrême-Orient. Tome 50 N°2, pp. 311-365.
Published: 1962
Pages: 55
Language : French
Computing time periods by using twelve animal symbols is a widespread practice across Southeast Asia: Rat, Cow, Tiger, Rabbit, Dragon, Snake, Horse, Goat, Monkey, Rooster, Dog, Pig. However, following the George Coedes' studies, the author stresses a distinction in the use of the 60-year cycle in which the 12-animal cycle is repeated: a Northern group, mostly tai-speaking, with the 12-animal cycle brought by the Khmer before the 11th century, and a Southern group (Môn, Chams...) not using it, or opting for it under Thai and Khmer influences.
The author studies Cambodian legends and folktales regarding the World Creation, which have inspired to our days important community choices such as auspicious days and months for contracting marriage, building a house, and al.
For instance, a woman born in the Rabbit cycle will have more chance to get prosperous if she marries a Rabbit man, more intense love life if she elects a Monkey man...
Tags: astronomy, divination, Khmer religion, Cambodia daily life
Éveline Porée-Maspero
Daughter of sinologist Georges Maspero (her mother was Cécile Sophie Maspero nee Seyrig), grand-daughter of archeologist and explorator Gaston Maspero (1872-1942), Éveline Porée-Maspero (1906, Cholon-1991, France) was an anthropologist and researcher with EFEO and CNRS, active in Cambodia for many years. Her contribution to the post-Independence Commission des moeurs et coutumes du Cambodge remain unvaluable.
In 1938, she published, with her husband, Guy Porée, a comprehensive history of Khmer Customs with a foreword by Georges Coédès. The latter noted in his recension of the book that Eveline Porée-Maspero's emphasis on Chinese influences on Khmer culture, while opening new prospects for the theory that once existed a vast 'Mon" cultural space encompassing territories from South China down to South East Asia, was perhaps informed by her own academic background (she had studied Chinese civilization with Prof. Grenet) and the influence of her uncle Henri Maspero, another distinguished Orientalist.
Her extensive research on folk and oral traditions remains an important source for contemporary researchers, in particular her doctorate thesis on "Les rites agraires du Cambodge" (Ceremonies in Cambodian agriculture).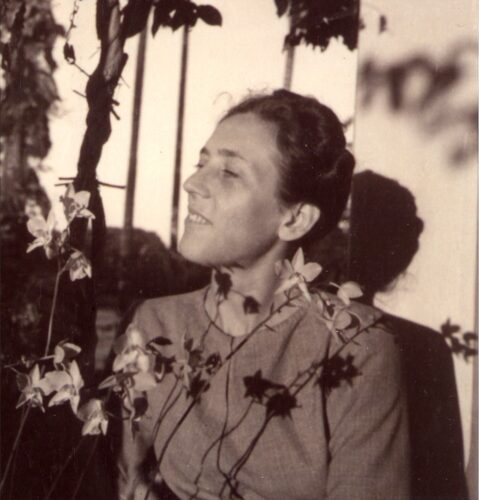 Photo by J. Porée-Maspero
Note: In 1983, Cambodia's historian David Chandler visited Eveline Porée-Maspero at her village house in Mormoiron, Ventoux, France, to look through her personal journals regarding the period of Cambodia's Japanese occupation in 1945.
The house, known as 'Maison Porée', later became a Writer's Residence supervised by renowned publisher and translator François Maspero. It still hosts cultural and musical events, like in this photo from 2014: