The Syncretism of Religions in Southeast Asia, Especially in the Khmer Empire
by Lawrence Palmer Briggs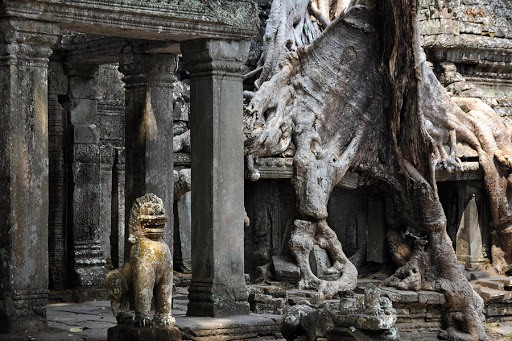 Publication: Journal of the American Oriental Society , Vol. 71, No. 4, pp. 230-249 | JSTOR
Published: October 1951
Pages: 20
Language : English
The author, the first modern researcher having assembled most of the academic corpus in Khmer studies for the English-speaking public, condensates the many forms of religious and philosophical syncretisms at the core of the Khmer civilization.
Of particular interest is the author's focus on the figure of Lokeshvara, also known as Avalokiteshvara. He notes that this so specificallyh Khmer deity "did not figure prominently in the early part of the reign of Jayavarman VII. Preah Shan of Angkor was dedicated to that deity and Ta Prohm - to Prajnaparamita, and Coedes points out that they form the Buddhic Trinity, with the Bayon dedicated to the Buddha in its proper place in the center. Smiling bodhisattvas with cylin- drical chignon began to appear in the earliest face-towers of the second period of the Style of the Bayon.
'But in the third period, images of Ijokesvara came in an avalanche. This was the era of sculptured images. Like the monuments, most of the sculptured figures of ancient Cambodia belong to the reign of Jayavarman VII. According to the inscription of Ta Prohm, 260 small statues were deposited in that temple, while those of Preah Khan numbered 515.'
Tags: Khmer religion, syncretism, Tantric Buddhism, Hinduism, Buddhism, visnaism, sivaism
Lawrence Palmer Briggs
Lawrence P. Briggs (17 Oct 1880, Manton, Wexford County, Michigan, USA - ?) was a US diplomat and independent researcher who dedicated his major work to the Ancient Khmer Empire.
Teaching and traveling fellow of University of California, Lawrence P. Briggs serves as Superintendent of schools, U.S. Consul in Saigon (1914-17), Rangoon (1917-20), Riviere du Loup (1920-22), Nuevitas (1924-29), and Bahia (1932). His burial location remains unknown.
In the 1940s and 1950s, he published extensively his researches, in particular in The Journal of American Oriental Society. Reviewing his major published work (The Ancient Khmer Empire, 1951) in 1953, George Coedès, who had met him in Cambodia, noted that L.P. Briggs had started working on the manuscript in 1943, collating more than 750 research items on the subject. ´It is the first time that the already considerable body of research work relating to ancient Cambodia has been assembled, sifted and brought within reach to the English'speaking public´, noted Coedès.