Udayādityavarman Ier : Une énigme au début du XI e siècle au Cambodge (The Udayadityavarman I Enigma)
by Hubert de Mestier du Bourg
Was the short-lasting King Udayadiyavarman, successor of Jayavarman V, coming from Bali and Java?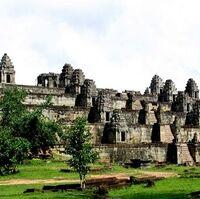 Publication: Bulletin de l'École française d'Extrême-Orient, Vol. 97/98 (2010- 2011), pp. 359-365
Published: 2010
Author: Hubert de Mestier du Bourg
Pages: 7
Language : French
What we know: Udayadityavarman the Ist was a king of Angkor who reigned from 1001 to 1002 AD. Maternal nephew of his predecessor Jayavarman V (968-1001), he reigned only a few months and his death triggered a nine-year civil war. His successor in Yaśodharapura was a prince of the royal family named Jayavirahvarman (1002-1010). Then Suryavarman I took the reins of the Khmer Empire.
In this audacious essay, the author develops a thesis speculated in 1948 by the Indianist historian Frederik David Kan Bosch: the enigmatic sovereign was in fact Udayana, King of Bali born and raised in Java.
To the inscription at Prasat Khna temple (K. 356, S) mentioning Udayadityavarman as the successor of Jayavarman V, the author adds several traditions establishing that the connection between the nascent Khmer Empire, Bali and Java already was in full swing. According to this hypothesis, Udayadityavarman (whose maternal aunt was King Jayavarman V's spouse) escaped back to Bali after his short reign, which could explain his subsequent disappearance from Khmer royal chronicles and scriptures.
Photo: one of the first temples of Yasodharapura, Phnom Bakheng.
Tags: Bali, Java, Khmer Royal dynasties, genealogy, Jayavarman V, Suryavarman I

Hubert de Mestier du Bourg
Hubert de Mestier du Bourg (25 Nov 1945, Paris) is an independent researcher and a consultant for various organizations in Japan.
After studying at McGill University, Montreal, Institute of Comparative Law in Paris, National School of Oriental Languages (INALCO), Ecole Pratique des Hautes Etudes (EPHES) and The Hague Hague Academy of International Law, he has been guest lecturer with Meiji Gakuin University, Tokyo, and senior adviser for energy companies such as TOTAL, Idemitsu, Air Liquide Japan.