Ky-Phuong Tran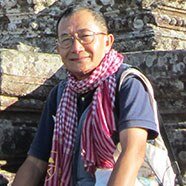 TRAN Ky-Phuong (Trần Kỳ Phương) is a research fellow at National Library of Singapore (January to July 2008),and a senior researcher fellow with the Vietnamese Association of Ethnic Minorities Culture and Arts.
He was a curator of the Danang Museum of Champa Sculpture, Danang, from 1978 to 1998. After working on Champa architectural sites in Central Vietnam in 1993-96, Dr. Tran conducted field research in Thailand, Cambodia, Laos, Malaysia and Indonesia on Mon-Dvaravati, Pre-Angkor ruins and Javanese arts.
An active proponent of the collaboration between Cambodia, Laos and Vietnam in architectural research, Dr. Tran held in 2017 (with Soumya James) the SOAS Research Workshop "Approaches to the Study of Khmer and Cham Art". He also worked on several research projects with APSARA Authority, UNESCO World Heritage Sites and the Thai Center for Cultural Relationship Studies in Mainland Southeast Asia (CRMA Center).
He has published several books and articles in Vietnamese, English and Japanese, including: "Vestiges of Champa Civilization" (Gioi Publishers, Hanoi 2004), "The wedding of Sita: a theme from the Ramayana represented on the Tra Kieu pedestal" (in Narrative Sculpture and Literary Traditions in South and Southeast Asia, edited by Marijke J. Klokke, Brill, Leiden 2000", "Champa Iseki/ Champa Ruins" (co-authored with Shigeda Yutaka, Rangoo Shutsuhan, Tokyo 1997), "Artifacts and Culture of Champa Kingdom" (The Toyota Foundation, Tokyo 1994), and Museum of Cham Sculpture in Danang (Foreign Languages Publishing House, Hanoi 1987).
Listed works