Sihamoni Norodom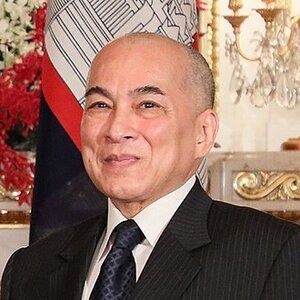 HM King Norodom Sihamoni នរោត្តម សីហមុនី (b. 14 May 1953, Khemarak Palace, Phnom Penh, Cambodia) became King of Cambodia on 14 October 2004, a week after the abdication of his father, Norodom Sihanouk.
The eldest son of Norodom Sihanouk and former Queen Consort Norodom Monineath -- his given name "Sihamoni" comprises two morphemes from his parents' given names "Sihanouk" and "Monineath"-- , he was Cambodia's ambassador to UNESCO prior to his selection by a nine-member throne council to become the next king. Educated in Czechoslovakia, a cultural ambassador in Europe and as a classical dance instructor, he was an actor in several of his father's feature movies during his youth.
After working as his father's secretary during the Cambodian Royal Family exile in Beijing from 1979 to 1981, HRH Prince Sihamoni moved to France for nearly to decades to teach ballet as a professor of classical dance and artistic pedagogy at various conservatoires, including the Marius Petipa Conservatory, the Gabriel Faure Conservatory and the W.A. Mozart Conservatory. He was also later president of the Khmer Dance Association there. There, he also established 'Ballet Deva', an original dance troupe, and also headed the Royal Khmer Cinematic Corporation. During this time, he undertook monkhood under the auspices of Samdech Bour Kry, who would later become a supreme patriarch of Cambodia.
An ardent advocate of the Kingdom's cultural and artistic heritage, King Sihamoni is also praised for his philanthropic endavors, contributing financially to the Kantha Bopha Children's Hospital, to the relief of communities affected by floods, and authorizing royal grants for infrastructure, schools, orphanages, struggling communities, religious institutions, mental health organizations, demining, among others. His philanthropy extends in the international context as well, like for instance, after Hurricane Katrina, the King made a personal good-will donation to victims of the storm.[64]
Amidst the global COVID-19 pandemic, King Sihamoni, alongside Queen Mother Norodom Monineath, has donated well over $1 million to the Royal Government of Cambodia's efforts to address the situation in Cambodia, inspiring a vast public campaign across the country.
Listed works