Sihanouk Norodom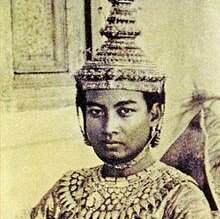 HM Norodom Sihanouk នរោត្តម សីហនុ (31 October 1922, Phnom Penh, Cambodia – 15 October 2012, Beijing, China) was the King of Cambodia from 1941 to 1955 and from 1993 to 2004. Affectionately known to the Cambodian people as Samdech Euv (សម្តេចឪ, Father Prince), he masterminded the independence from the French colonial rule in 1953, inspired the creative Golden Age of the young country and was instrumental to national reconciliation after the US-crafted coup d'etat by General Lon Nol, the Khmer Rouge brutal rule and the Vietnamese intervention.
Married six times, he fathered fourteen children. His eldest son with Queen Norodom Monineath, King Norodom Sihamoni, ascended to the throne of Cambodia in 2004.
Cambodian photographer Kim Hak has devoted a book to the collective mourning surrounding King Sihanouk's passing away in 2012.
Listed works