Vinh Ky Truong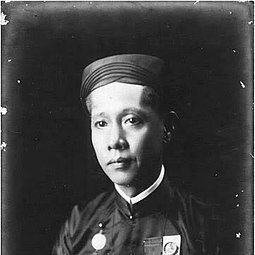 Trương Vĩnh Ký (張永記), also known as Pétrus Ky or Jean-Baptiste Pétrus, (6 Dec 1837, Vĩnh Long Province - 1 Sept 1898, Saigon, Vietnam) was a Vietnamese linguist, teacher and translator whose publications helped improve understanding between colonial Vietnam and Europe.
After his father's death when he was 9, he grew up among French Catholic missionaries. He studied Latin and modern idioms under the guidance of Pere Bouillevaux during three years at the Pinhalu (Cambodia) Catholic school, and served as interpreter for the Annamite delegation to Paris in the 1860s.
The first Vietnamese scholar to publish in European publications (notably the Bulletin de la Société Géographique de Paris), his works helped popularize the romanized script of the Vietnamese language, Quốc Ngữ, before its officialization.

See Pétrus-Ký's biography on Nhip Cau Giao Ly blog (in Vietnamese).
Listed works