Les collections khmeres du Musée Albert Sarraut | Khmer Art Collections of the Phnom Penh Museum
by George Groslier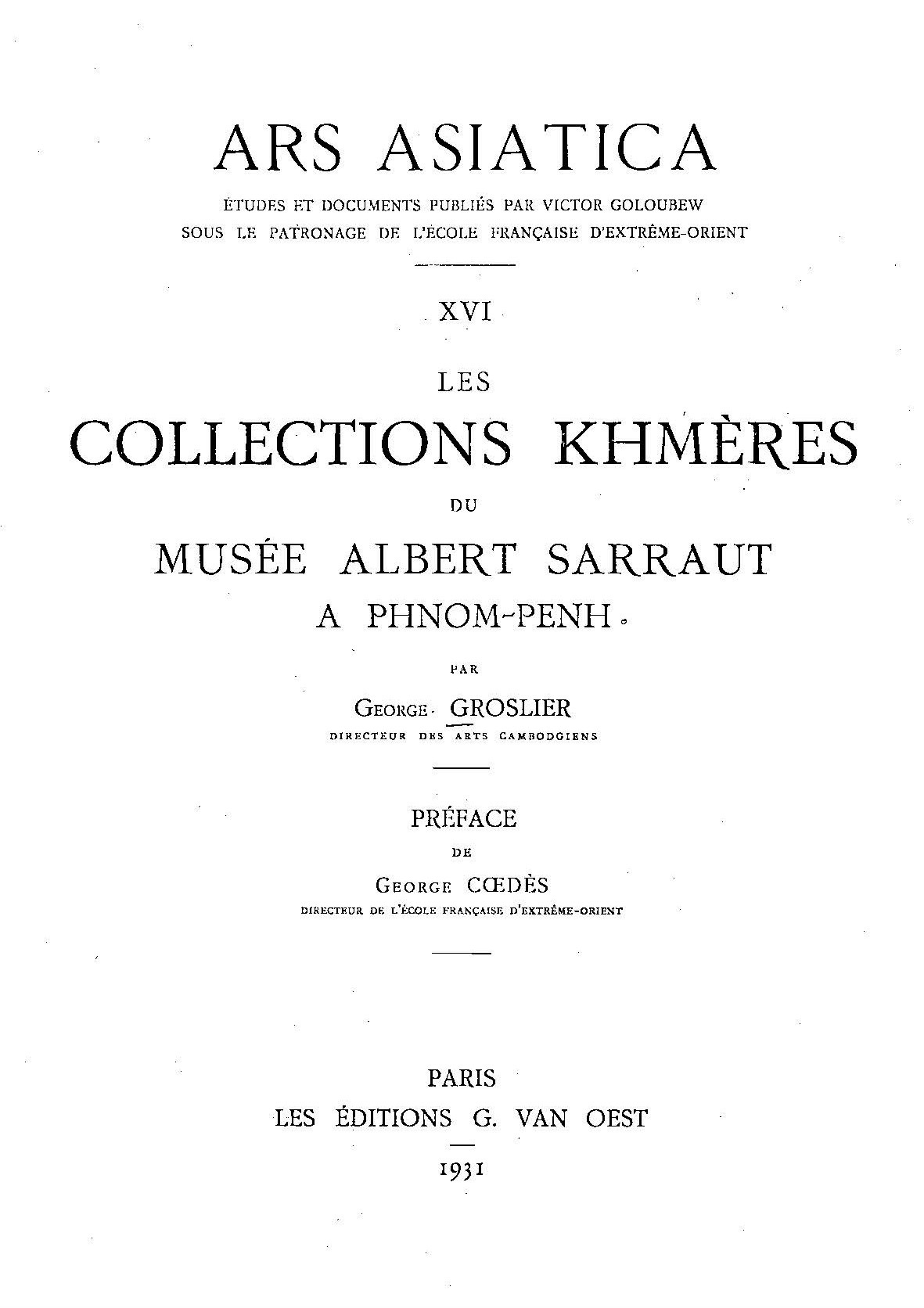 Type: e-book
Publisher: Ars Asiatica, Vol. XVI
Published: 1931
Pages: 182
Founded 12 Aug. 1919, the Musée Albert Sarraut of Phnom Penh (to become National Museum of Cambodia) initially gathered Khmer art items and exhibits coming from a) EFEO archaelogical discoveries on the Cambodian territory b) individual donations or sales from people who had found artefacts by chance c) HM King Sisowath's collection at the Royal Palace.
In this illustrated catalog, Museum founder and director George Groslier presented the "major pieces" from ten specific collections:
1) 290 stone statues and statuettes (including fragments)
2) 55 stone inscriptions, dated from the 7th to the 14th centuries
3) 110 fragments of monuments, door frames, tower bases, decorative stones, basins, bas-reliefs, boundary stones, etc...
4) around 700 pieces of bronze art, including 300 statuettes (pre-Angkorian times to modern times) figuring in particular Shiva and Uma, Vishnu and Laksmi, Harihara, Vishvakarman, Ganesha, Agni, dancing Apsaras, Dvârapâla, the Buddha standing or sitting, Avalokiteçvara, Vajrapâni, Hevajra, Prajüâpâramitâ, and also lighting devices, harness and kitchen ware, gongs and bells...
5) 292 pieces of jewelry and decoration in precious metals
6) 120 weapons and tools from the 19th century, and a few Japanese swords from the 16th century
7) More than 600 pieces of ceramic
8) 85 local coins and medals9) Ramayana (Reamker) illuminations on canvas
10) Ethnographic pieces including music instruments, ballet-theater masks and costumes...
It has to be noted that the datation, origin and interpretation of many pieces, notably improved since the 1930s, often remain an ongoing effort.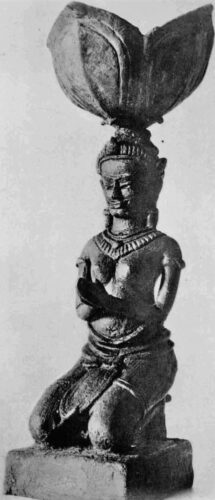 "Femme en priere, X-XIIe siecle"
Tags: Khmer art, Khmer arts, museums, art collections, statuary, ceramics, jewelry, ceramic
George Groslier
George Groslier (4 Feb. 1887, Phnom Penh-16 June 1945, Phnom Penh), the first child with French citizenship born in modern Cambodia, artist, novelist, historian, archaeologist, ethnologist, architect, photographer, founder and curator of the National Museum of Cambodia, was the ultimate "Cambodian scholar".
While organizing the School of Cambodian Arts (nowadays the Royal University of Fine Arts) in the 1920s, he has extensively portrayed and studied the country, its people and its traditions, in his writings, paintings and erudite communications. He founded the Phnom Penh Albert Sarraut Museum in 1919, later to become the Cambodia National Museum. Groslier's wife, Suzanne Poujade (1893-1970), was a niece of Albert Sarraut, former Governor-General of Indochina and then French Minister of the Colonies and future Prime Minister.
George Groslier died prisoner in a Japanese concentration camp when Japan -- although formerly an ally of Petain's French government -- occupied vast swaths of South East Asia. With Suzanne Poujade, he had three children, Nicole, Gilbert and Bernard-Philippe, the latter following his father's steps and becoming an eminent researcher in Cambodian archaelogy and history.
Four of his major books -- Cambodian Dancers, Ancient & Modern; In the Shadow of Angkor, Unknown Temples of Ancient Cambodia; Return to Clay, A Romance of Cambodia and Road of the Strong, A Romance of Cambodia -- have been translated into English and published by DatAsia Press.
Read here about the Rue Groslier (Groslier Street) in Phnom Penh (access to National Museum).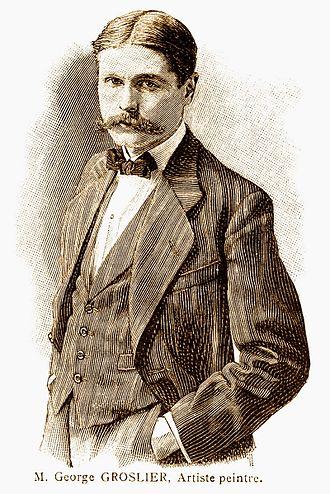 George Groslier portrayed in 1913 in the George Groslier portrayed in 1913 in the French journal Femina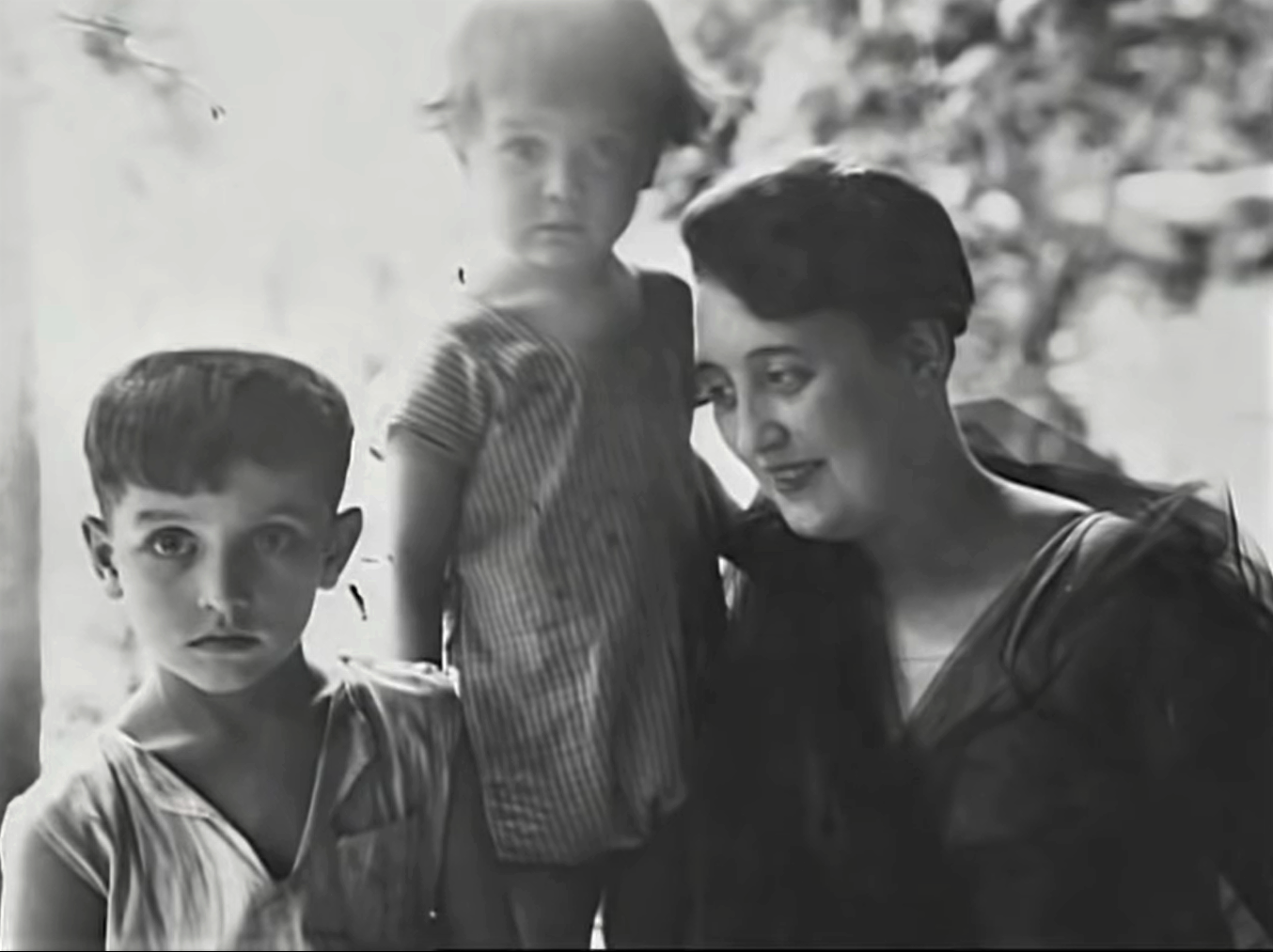 Suzanne Poujade and two of Groslier's three children in the 1920s (EFEO)