Erotic Sculpture of India
by Devangana Desai
The power-charged erotica of Indian iconography, or how "bringing beauty nearer" inspired Indian (and Khmer) sculptors.
Type: e-book
Publisher: Tata McGraw-Hill Publishing Co., New Delhi
Edition: Internet Archive
Published: 1975
Author: Devangana Desai
Pages: 365
Language : English
ADB Library Catalog ID: e-INDART33
Ritualistic orgies, intercourses with fabled or real animals, sex groups, almost fethistic depictions of the goddess of fertility...This erudite work does not shy away of anything. And yet, for Angkor lovers, what does it mean? How and why the erotically charged godly or semi-godly creatures of the Indian pantheon morphed into the Angkorean apsaras, always singular, always smiling, almost always bare-breasted, always seductive but never...explicit?
While this remarkable work does not even try and answer the question, it gives us a rich background for the aesthetical and conceptual world Khmer sculptors started to draw from, and at some point definitely went the other way.
So, starting with the apsara figure: "a heavenly damsel," offers the authoress as a definition. And then...
"Ornamentation (alankara) on the house of god and also on the houses of men is believed to be auspicious and to promote prosperity. Alankiira conveys manga!Ja or auspiciousness in the pattern of Indian culture. In the Q.igveda, a-bhar means to "bring near," especially things that are desired or that have a strengthening or prhed power. In the Atharvaveda the word is used by preference in connection with words denoting magical power or a thing that possesses such power. The words alanlqita and alankara not only· denote the idea of "adorn, beautify, ornament, add grace or beauty" but also of "provide, make ready and fit for a purpose, prepare, etc." Gonda gives an instance of "the magico-religious use of ointment for the eyes and for the feet" from the Satapatha Brahmana. "Such are human alankiira and thereforth they keep off death from themselves." A similar concept is also conveyed in a passagefrom the Sankhayana Aranyaka (19, 3, 4). In the path after Death, 500 apsaras came towards the dead man, 100 with fruit in their hands, 100 with unguents, 100 with garlands, 100 with garments,100 with aromatic powders. "Him they adorn with the ornaments of Brahman. He, adorned with the ornaments of Brahman, knowing Brahman, advances to Brahman." Thus, alankara and abharana do not only have aesthetic functions but also represent magical power [...] Even a Jaina scholar of the calibre of Hemachandra, while praising the war expeditions of the Solanki kings, uses Kamasastriya terminology to describe the apsaras who received the dead heroes "through passionate embraces,
through hair-pulling, through kissing the lotus face, and through inflicting the wounds by nails.""
As for the still enigmatic coupling of ascetics and seductive dancers we can find in so many Khmer temples, including Preah Kanh, it is worth to read the author when she remarks: "There is no inscriptional evidence on the patronage of T antric sects by the Chandella rulers. However, the profusion of erotic figures, many of which portray ascetics and royal personages participating in orgiastic groups, does at least suggest that the theme ofTantric sexual practices was popular among the sculptors and the patrons. Whether such rites were actually practised by the Chandella royal society or whether these were popular themes and motifs known and favoured by sculptors and builders of the temples is difficult to say. Pramod Chandra has drawn attention to the possibility of the Kaula-Kapalika sects at Khajuraho from the fact that such sects who believed in sexual practice as a means of attaining deliverance were known in many regions of India, including the neighbouring Kalachuri region."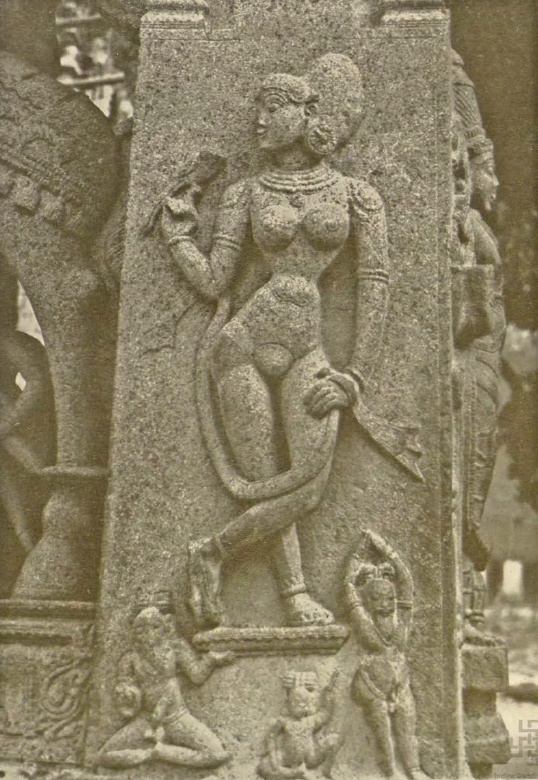 Tags: Indian art, sculpture, apsaras, women, sexuality, erotica, ascetism, Hinduism, Indian scholars, Indian artists, syncretism
Devangana Desai
Dr Devangana Desai (1937, Bombay (now Mumbai)) is a prominent historian and researcher of early Indian art, in particular the iconic and narrative representations of female and male principles, whose essays on erotic art have been proven to be groundbreaking.
Born in a Vaishnava family, she developed an early interest in religion-related studies, her MA in Sociology from University of Bombay in 1978 followed by her PhD on 'Erotic Sculpture of India in its Socio-cultural Setting' under the guidance of sociologist Dr G.S. Ghurye. While never embracing an academic career path, she has published extensively books, monographs, and more than a hundred papers on Khajuraho sculptures, and on various motifs and themes in Indian iconology.
Drawing a distinction between depictions of mithunas (amorous couples) and maithuna (coitus), Desai stated that the earliest maithuna scenes in temple art belonged to the 6th–7th century, a period "when the Tantras came to be accepted by the literate class".
Amongst her major publications are Art and Icon: Essays on Early Indian Art (New Delhi: Aryan Books International, 2013), and Erotic Sculpture of India, A Socio-Cultural Study (New Delhi: Tata Mc Graw-Hill, 1975).

Related resources: P. Pratap Kumar, 'Eroticism in Hindu Texts and Modern Hindus', in Contemporary Issues in Buddhist Studies, Richard K. Payne ed., Institute of Buddhist Studies and BDK America, 2016.