La favorite de dix ans
by Makhali-Phal
Ascetes, sacred dancers and kings in a fantasy Khmer kingdom evoked by an archetypal symbolist novel.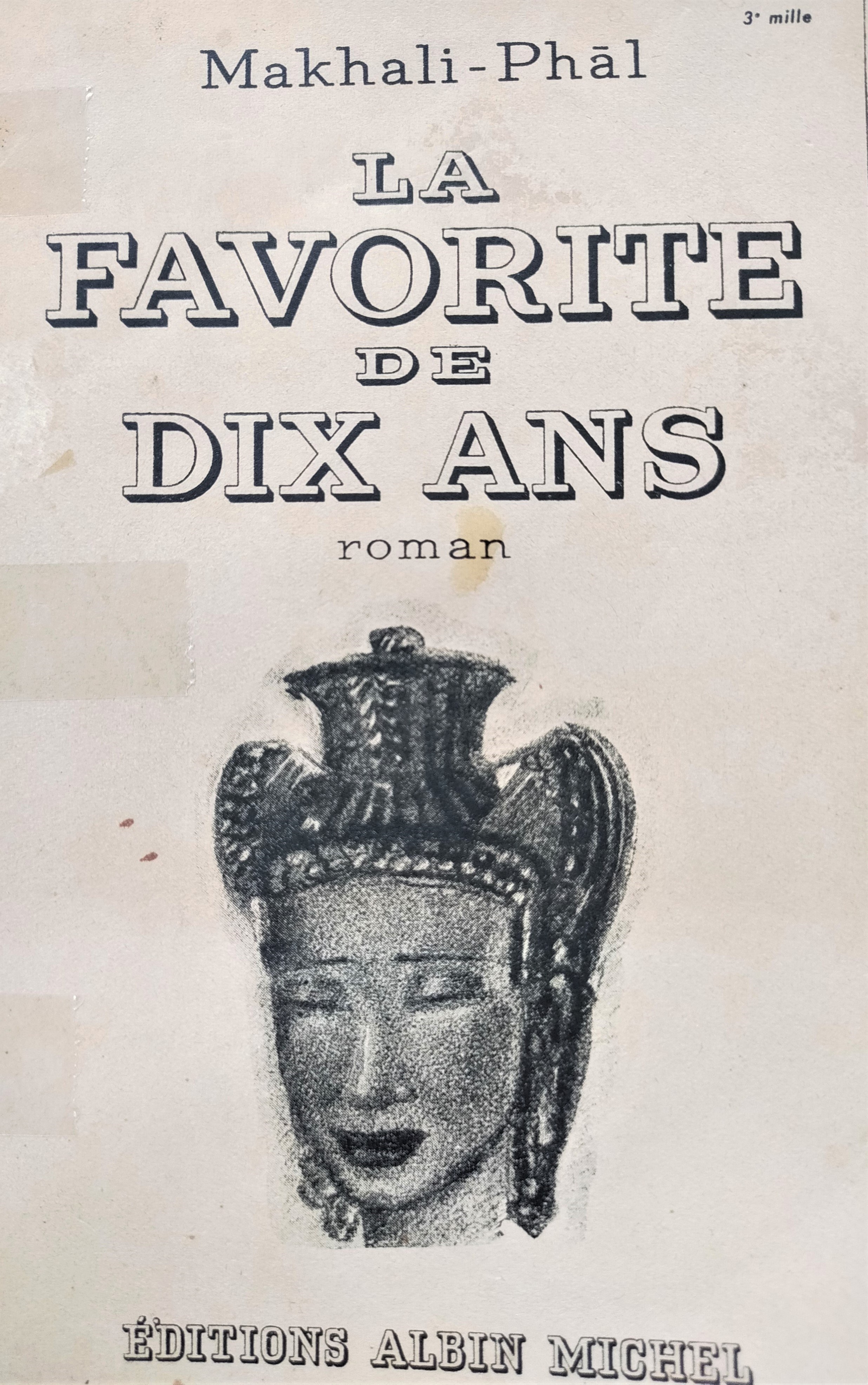 Type: Paperback
Publisher: Albin Michel, Paris
Published: 1940
Author: Makhali-Phal
Pages: 255
Language : French
ADB Library Catalog ID: LIT-MP4
"Mille vierges tournées vers l'amour d'un seul homme, le roi.[...] L'enfant en se réveillant de ses extases, ne manquait jamais d'assister aux cruels exercices de danse qui disloquaient le corps de mille fillettes á l'image de Dieu. Et l'image la plus proche de Dieu que ces vierges incarnaient, c'était l'image d'une liane. Avec cette image-racine, elles pouvaient figurer le geste de Dieu créant l'univers." [A thousand virgins poised for the love of one single man, the king.[...] Waking up from her ecstasies, the child never failed to attend the cruel dance exercises which dislocated the bodies of a thousand little girls into the image of God. And the closest image of God that these virgins embodied was the one of a vine. With this root image, they could reproduce the gesture of God creating the universe." (p57-58)
Amongst the myriad of historic notations, this one: the female dancers at the Angkorean court were watched over by old women instead of eunuchs, as the kings of Angkor "were loath to resort to the employment of eunuchs, leaving that to the courts of Annam and China."
Tags: literature, French literature, dance, initiation, symbolism, eunuchs

Makhali-Phal
French-Khmer poetess and novelist Makhali-Phal (Nelly-Pierrette Guesde: 21 Sep. 1898, Phnom Penh - 15 Nov. 1965, Pau, France) was brought to France in 1906 with the Cambodian Royal Court during the official visit to Exposition Universelle de Marseille, yet wrote almost exclusively about the history, mythology and landscapes of her native country, Cambodia.
In 1933, she published her first poem, Cambodge, and four years later her Chant de Paix (Royal Library of Phnom Penh and Buddhist Institute), 'dedicated to the Khmer people', that has been translated into English (Song of Peace, 2010, DatASIA) and Khmer languages. Her novels such as Le Roi d'Angkor (1952) or Le feu et l'amour (1953) reflect a vast knowledge of the Angkorean civilization, and a sensuality, musicality and mysticism reminiscent of the French symbolist literary movement, with noticeable influences from her Buddhist background -- even if her father, Mathieu Pierre Théodore Guesde (a colonial administrator born in Guadeloupe and married to a young Cambodian attached to the Royal Palace, Neang Mali) made her enter a Catholic convent at a young age.
In 1942, the publication by Random House of her novel The Young Concubine made Makhali-Phal a literary celebrity in the USA. The editor noted: 'Her pen-name, reputedly given to her by King Sisowath, refers to the sound made by the blade of the plow of the goddess Kali. Born in Phnom Penh, Makhali-Phal's work concerned the perils of metissage (mixed-race identity) n a colonial context. In this novel, for example, a Khmer Princess educated in Paris struggles with her place at the intersection of East and West.'
The poetess who invoked 'Ô Europe, ô Asie, tristes sœurs jumelles' ('Oh, Europe, Oh, Asia, sorrowful twin sisters') launched ethereal bridges between East and West, although she noted about her work: "Je transposais dans la langue de ma mère le rythme des gongs, les répétitions, les images cruelles, voluptueuses et théologales qui ressuscitaient mes ancêtres d'Angkor et qui m'en délivraient" ("I transposed into my mother's native language the rhythm of gongs, the repeating echoes, the fierce, voluptuous and mystical images which resuscitated my Angkorean ancestors and yet set me free from them.")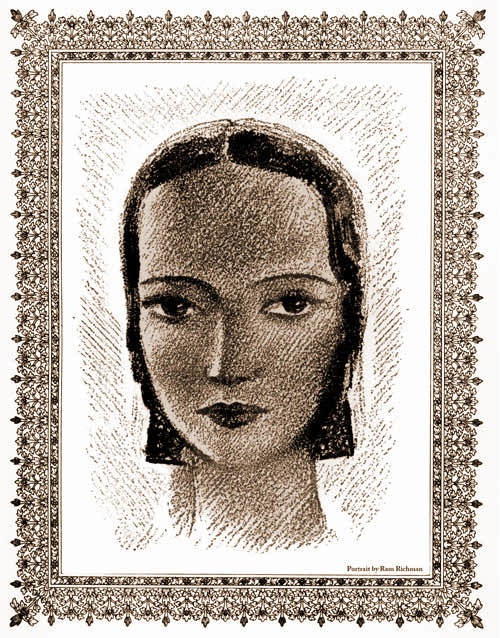 Portrait by Ram Richman posted on the website devoted to the author, Makhali-Phal: Khmer Oracle of East and West.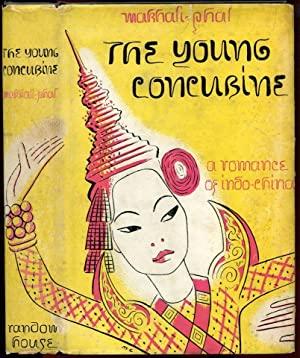 The cover of Makhali-Phal's book published in New York in 1942. The Young Concubine is the title of La favorite de dix ans English translation.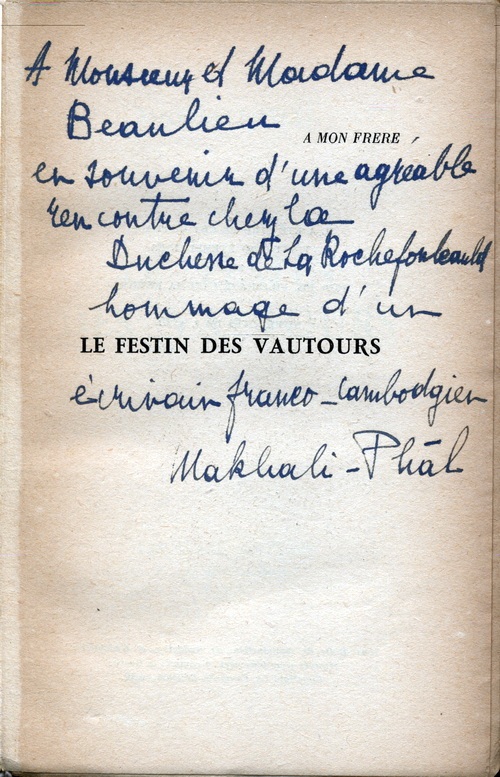 A book cover page autographed by the author.