The Antiquities of Cambodia
by John Thomson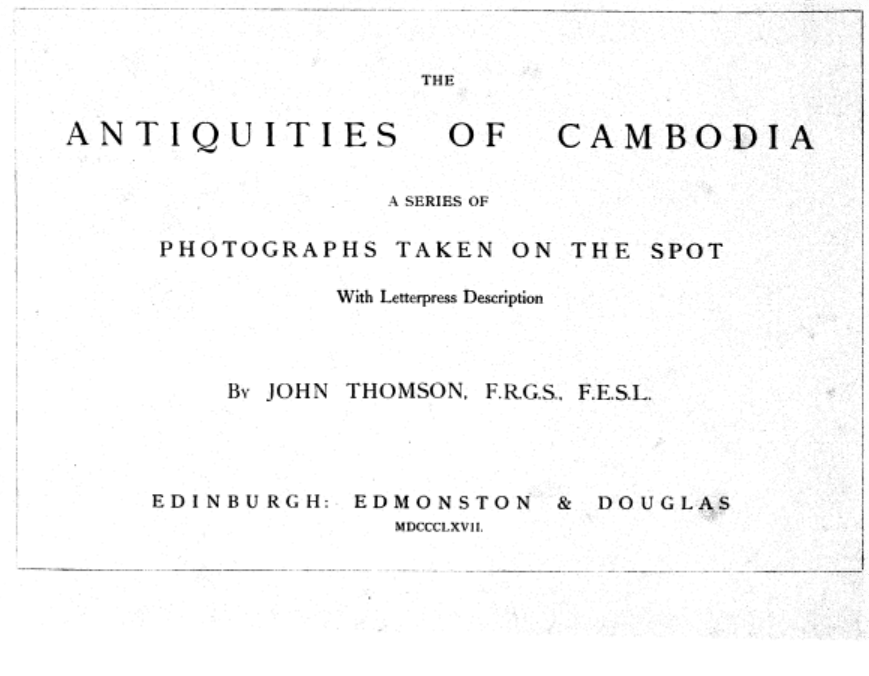 Type: Hardback
Publisher: Edmonston & Douglas, Edinburgh
Published: 1867
Pages: 73
Language : English
With a warm tribute to Henri Mouhot in the very first sentences, John Thomson's book reflects not only the photographer's skills but also the keen eye of the geographer -- one has to keep in mind he was a member of the Royal Geographical Society for no less than fifty-five years.
While the present book only dwells on the architectural and archaeological aspects of his exploration, we find interesting notations about the technical constraints the "traveller-photographer" had to face in his daily work in the remarks Thomas made following George Curzon's communication to the RGS in 1893, "Journeys in French Indo-China (Tongking, Annam, Cochin China, Cambodia": "When in Cambodia, the King of Siam sent a special envoy to request me to photograph the entire series, a request with which I was unable to comply. At that time the kodak was unknown, and one had to depend on the collodion wet process of photography. This entailed the constant presence of eight or ten porters to transport the necessary apparatus. But the process had this advantage; as each plate was taken it was at once developed, so that one could see and judge of its value." (see full text here).
Among the spots photographed and commented: Angkor Wat (Nakhon Wat) galleries and entrances, Angkor Thom, Palace of the Leprous King.
Further reading on John Thomson:
John Thomson (1837-1921) photographer / Richard Ovenden ; foreword by Sir David Puttnam ; specialist photographic printing and a chapter by Michael Gray (White Lotus, Bangkok:2014)
John Thomson : the early years : in search of the Orient / Joel Montague & Jim Mizerski (White Lotus, Bangkok:2014)
Tags: photography, Western explorers, 19th century
John Thomson
Scottish photographer and geographer John Thomson (14 June 1837, Edinburgh – 29 Sept. 1921, Edinburgh) was a pioneer in photographying the ruins of Angkor in 1866, part of his ten-year long travel stint across Asia after joining his elder brother William in Singapore in 1862.
When he left for the Far East, he had studied photography processing and technique as an apprentice in an optical and scientific device manufacturing company, while enrolling to evening classes at Watts Institution and School of Arts to study chemistry, philosophy and geography.
Thomson was welcomed at the Court of Siam in 1965, and then to Phnom Penh Royal Palace the following year. After Cochinchina and Indochina, he traveled around China, documenting local cultures, landscapes and artefacts of the East. He insisted to travel to Angkor, with the assistance of his friend H.G. Kennedy, a British Consulate officer fluent in Siamese, after reading Henri Mouhot's travel accounts, first published in English even if Mouhot was a French citizen.
After his Asian period, he worked on the street people of London, deveoping a style of social documentary viewed as the historic basis of modern photojournalism. Yet he was at ease in all strata of society, to the point that he became portrait photographer of the Mayfair High Society, with a Royal Warrant granted to him in 1881. He had a great impact on his contemporaries, for instance introducing the famous travel writer Isabella Lucy Bird to the art of photography.
Like most pioneer photographers, Thomson rarely took photos of himself. This one was taken by accident during a street life photoshoot in China: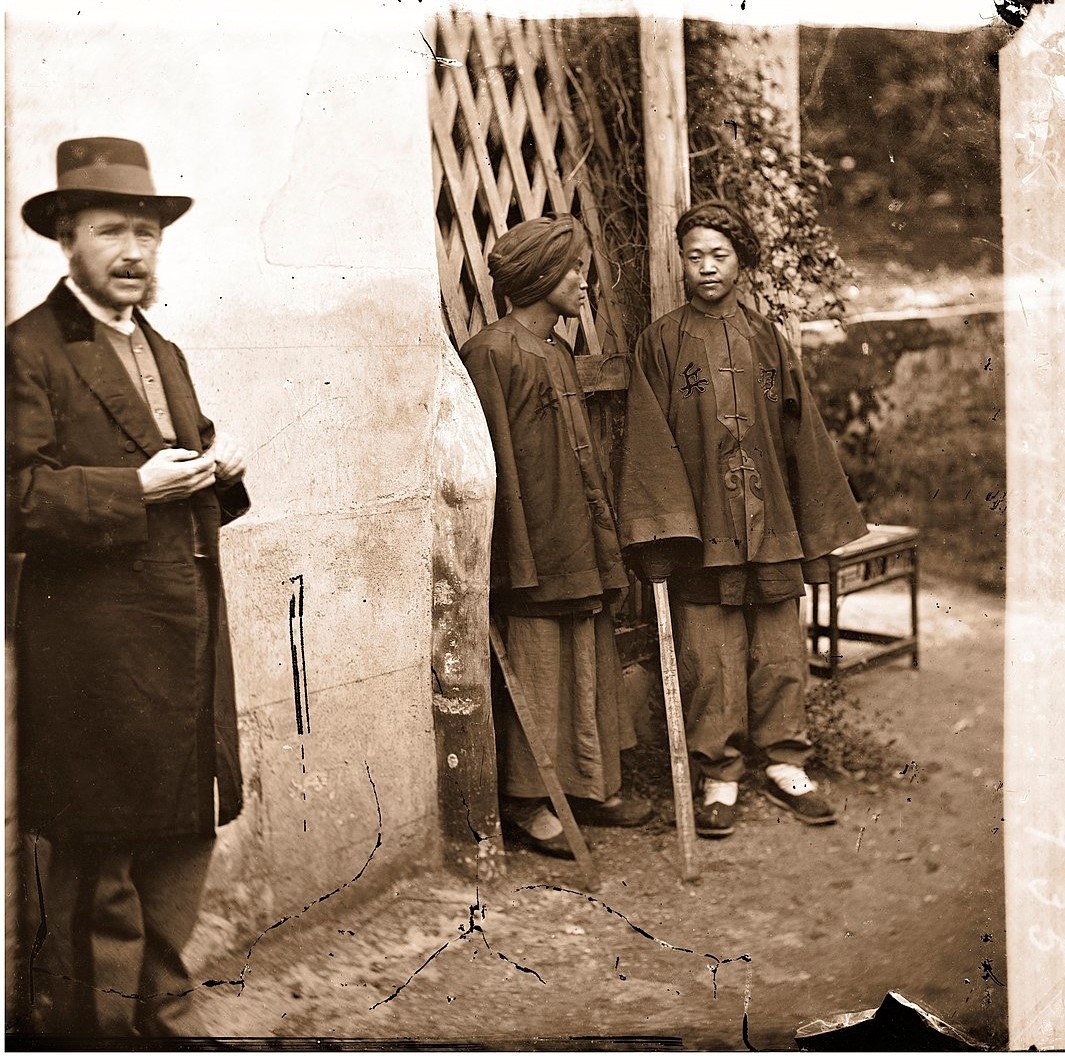 See the short online biography by the National Library of Scotland.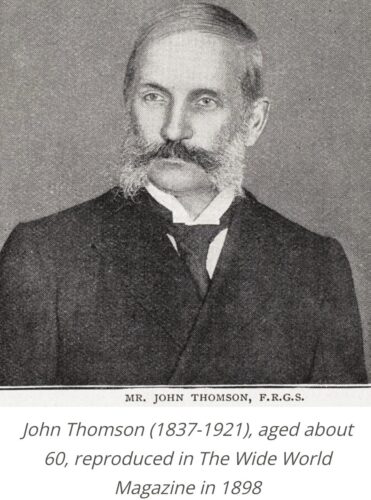 (photo Cambodia News English)