John Thomson's Photographs at The Wellcome Library
by John Thomson
Most of John Thomson's original photo negatives are kept at London Wellcome Library, a collection now accessible online.
Published: 1921
Author: John Thomson
Shortly after his death in 1921, Scottish photographer and geographer John Thomson's vast photo collection was acquired by Sir Henry Solomon Wellcome (1853-1936), a pharmaceutical industry magnate, philanthropist and amateur archaeologist himself.
Born American, Henry Wellcome became a British subject in 1910, and was made an Honorary Fellow of the Royal College of Surgeons of England. A keen collector of everything related to health, biomedicine and personal hygiene -- including Napoleon I's tootbrush --, he founded the Wellcome Collection and Library and, after passing away, left his considerable health to the Wellcome Trust, a federation of charities.
The John Thomson Collection at Wellcome Libraryincludes some 660 original negatives, which cover Thomson's travels to China, Indo-China and Cyprus in the 1860s and 70s.
Most of Thomson's Siam and Cambodia photos are glass plate negatives using the wet-collodion process, also called collodion process, an early photographic technique invented by Englishman Frederick Scott Archer in 1851. The process involved adding a soluble iodide to a solution of collodion (cellulose nitrate) and coating a glass plate with the mixture. The plates are generally labelled and numbered by Thomson himself.
Also of note:
In 2015, researcher Pamela Casey identified 16 prints donated to McGill University Library as John Thomson's work in Angkor. In a fascinating development, it appeared that these photographs were part of the Anna Leonowens Fund, and had been donated by the controversial author's granddaughter, Avis Selina Fyshe (1886-1964), who helped Margaret Landon in her writing of the best-seller Anna and the King (1944), a somewhat sensationalist rendition of her "fabulous grandmother"'s life. Read the whole story here.
In his essay "Émile Gsell (1838–79) and Early Photographs of Angkor", Joachim K. Bautze notes several similarities between Thomson's and the French photographer's captures of Angkor, adding: "Whether Gsell was asked by [Ernest Doudart] de Lagrée, who had seen Thomson's views, to produce the same composition or whether this was Gsell's own idea will probably remain an unsolved question."
Thai independent researcher Phiphat Phongraphiphon, promoter of the opinion that most Western photographers active in the Kingdom of Siam plagiarized or hijacked the works of Siamese photographers, claimed in one of his essays that Thomson "sold" his negatives to Henry Wellcome.
Tags: photography, Western explorers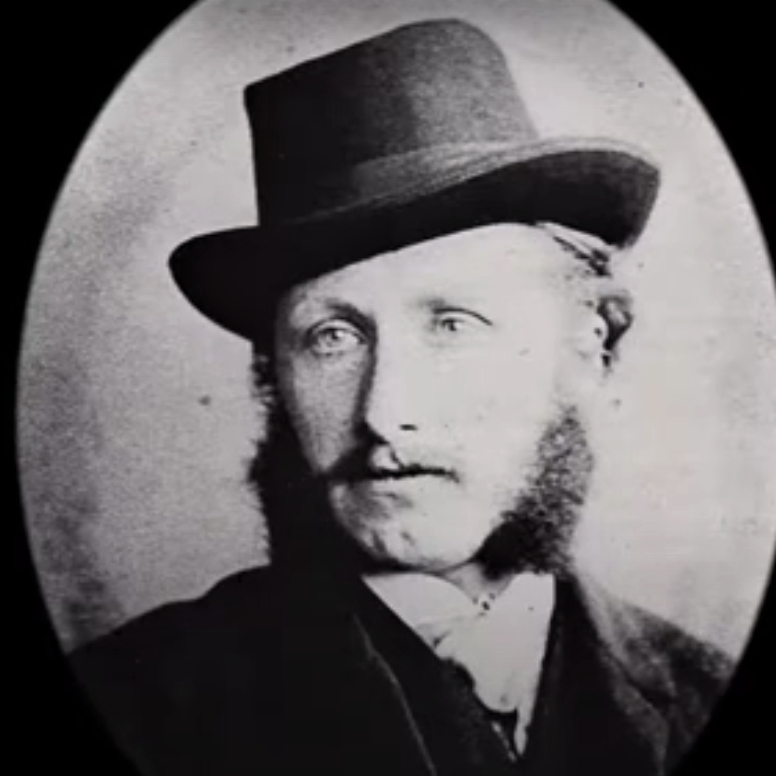 John Thomson
Scottish photographer and geographer John Thomson (14 June 1837, Edinburgh – 29 Sept. 1921, Edinburgh) was a pioneer in photographying the ruins of Angkor in 1866, part of his ten-year long travel stint across Asia after joining his elder brother William in Singapore in 1862.
When he left for the Far East, he had studied photography processing and technique as an apprentice in an optical and scientific device manufacturing company, while enrolling to evening classes at Watts Institution and School of Arts to study chemistry, philosophy and geography.
Thomson was welcomed at the Court of Siam in 1865, and then to Phnom Penh Royal Palace the following year. After Cochinchina and Indochina, he traveled around China, documenting local cultures, landscapes and artefacts of the East. He insisted to travel to Angkor, with the assistance of his friend H.G. Kennedy, a British Consulate officer fluent in Siamese, after reading Henri Mouhot's travel accounts, first published in English even if Mouhot was a French citizen.
According to Jim Mizerski in Cambodia Captured, "On January 27, 1866, John Thomson accompanied by H. G. (Henry George) Kennedy left Bangkok on his way to Angkor. His departure was noted in the Bangkok Recorder:
Mr. Thomson, the photographer who has been residing in Bangkok approximately three months, departed last Saturday, 11th day of the waxing moon in the third month, headed for Cambodia, to the ancient city of Angkor, wishing to photograph those ancient artifacts for the European people to see. Mister Thomson went by land, not by way of Chanthaburi. He expects to return in two months. During those two months anyone wishing to see the photographs taken in Bangkok may do so. The photographs are with Captain Ames, Commander of the Police, whose home is at Pom Pongpajamid. The king praised Mr. Thomson as a truly excellent photographer. I agree that none can compare to him.

In The Straits of Malacca John Thomson recorded the start of his Cambodian adventure:
We had first intended to sail down the Gulf of Siam to Chantaboon, and thence to cross over the forest-clad mountains of that province to Battabong. But the Siamese Government declined to grant a passport for that route, which they reported as dangerous and impracticable. We were therefore reduced to the necessity of making a tedious, and, so far as health was concerned, more dangerous journey by the creeks and rivers, and across the hot plains and marshes of the south-eastern provinces of the interior.
Thomsen's original plan to follow a shortened version of Henri Mouhot's route was not possible and his adventure in Cambodia was to be uniquely his own. There is nothing to suggest that Thomsen's plan, at least at the time he left Bangkok, included traveling to Phnom Penh and Kampot, which he later did."
After his Asian period, he worked on the street people of London, deveoping a style of social documentary viewed as the historic basis of modern photojournalism. Yet he was at ease in all strata of society, to the point that he became portrait photographer of the Mayfair High Society, with a Royal Warrant granted to him in 1881. He had a great impact on his contemporaries, for instance introducing the famous travel writer Isabella Lucy Bird to the art of photography.
Like most pioneer photographers, Thomson rarely took photos of himself. This one was taken by accident during a street life photoshoot in China: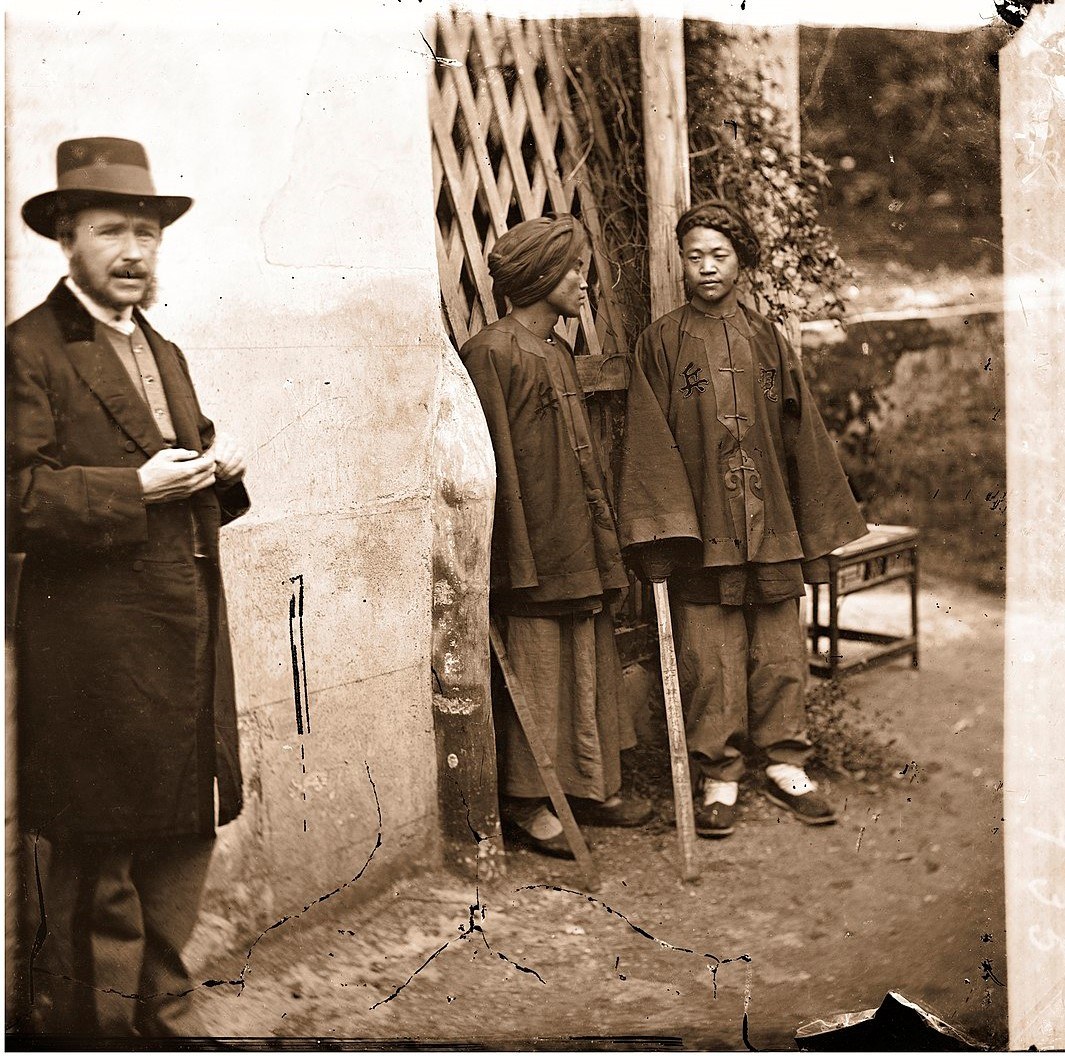 See the short online biography by the National Library of Scotland.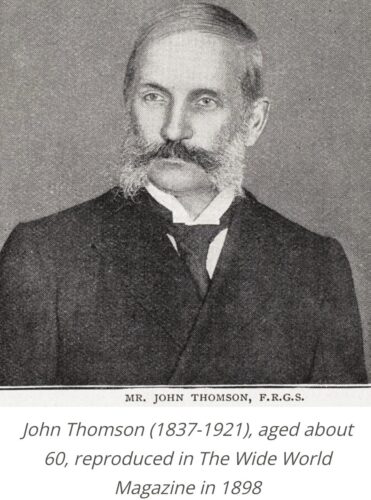 (photo Cambodia News English)