The Strange "Exchange" of Khmer Art Between EFEO and Japan, 1941
by Andy Brouwer
Entry #4, Khmer Art Worldwide Photo Collection
Published: October 22nd, 2021
Author: Andy Brouwer
79 (?) items originally, 17 pictured here. Sandstone, bronze, ceramics.
9-17th century
Provenance: Cambodia
Location: Tokyo National Museum, Japan
Catalogue Numbers: Not known
Status: Only a small fraction of the items has been exhibited in public since 2014
Photo credits: Tokyo National Museum, EFEO Photo Archive
How did Cambodian treasure end up forming a serious collection of Khmer artifacts in the current display and archives of the Tokyo National Museum (TNM), Japan? In 1941, the EFEO chief in Hanoi, George Coedes, during the time the city was under Japanese control during the Second World War, agreed to an exchange project whereby 69 Angkorian artifacts were sent to the TNM, in exchange for 31 Japanese items including swords, lacquer ware and sculptures.
Whilst the Japanese items never reached Cambodia (they remained in Vietnam), the Khmer objects - which included 31 sculptures from the 9th-13th century, 13 metalwork objects from the 12th-14th century and 25 ceramics from the 9th-17th century - are still in Tokyo, having eventually arrived at the beginning of 1944. It is not clear how Cambodia benefitted from this so-called exchange...
Let's also remember that a man who dedicated much of his life to Cambodia, the former museum curator George Groslier, died at the hands of the Japanese military police in Phnom Penh in 1945. Not exactly a positive time-period for Khmer-Japan relations.
The TNM is Japan's oldest and largest museum and one of the biggest art museums in the world. Its Khmer collection is housed in the Toyokan Asian Gallery and I've included as many of the exhibits here as I can, though their online gallery is not nearly as helpful as many other museums. After some research through the EFEO Photo Archive online, I found (when they exist) the corresponding photographs taken by EFEO in Cambodia some time before the "exchange":

Standing Vishnu, origin Prasat Olok, 12thC, sandstone, found in Nov. 1934 and photographed by EFEO (photos 1, 2)
Lintel from Prasat Salao, origin Prasat Salao, 10thC, sandstone, photographed by EFEO in situ in May 1934 (3,4)
Standing "Happy" Hanuman, 12-13thC, bronze, no doubt closely related to his "cousin" at the National Museum of Cambodia (5,6)
Buddha Sheltered by Naga, 12thC, sandstone, and photographed in Jan. 1937 at Angkor Thom by EFEO (7,8)
Garuda Riding Naga, from entrance to Baphuon temple, Angkor Thom, 12-13thC, sandstone, and photographed by EFEO (9,10)
Standing Male Deity, Prasat Ta Keo, 12thC, sandstone, and pictured in 1938 by EFEO, the male deity accompanied by a female Deity, after removal from Ta Keo temple (arms added to the male deity at a latter date) (11,12)
Relief of Devata figures, Phimeanakas Temple area, Angkor Thom, 12thC, sandstone, and photographed by EFEO among other fragments (13,14)
Standing Prajnaparamita, 12-13thC, sandstone, location origin in Cambodia still unknown (15,16)
Stele with Buddha, 13-14thC, sandstone, and photographed by EFEO in July 1937 with another Buddha on the right side (17,18)
Standing Vajimukha, 7-8thC, sandstone, origin in Cambodia unknown, could not be located in EFEO archive (19,20)
Shiva Head and Torso, excavated from Damdek, 9thC, sandstone, and photographed by EFEO in 1937 after being retrieved from Beng Vien Temple near Damdek (21,22)
Lintel from Prasat Kduong (Kdoeung), 10thC, sandstone, and photographed by EFEO in 1939 (23,24)
Relief of Apsaras, 12-13thC, sandstone, and photographed by EFEO in 1937, labelled as from Baphuon (25,26)
Seated Ganesha, Angkor Thom, 12thC, sandstone, and on an undated photo by EFEO along with other pieces that went to Tokyo (27,28)
Vishnu on Garuda, 12thC, bronze, unknow origin and date of transfer to the EFEO fund (29)
Lintel from Prasat Ta Sel, 11thC, sandstone,and labelled by EFEO in an undated photo as "Gajalaksmi, collected at Prasat Anant (IK 236,03), also known as Prasat Anon in Pongro Leu, Chikreng district" (30,31)
Lion from the Terrace of the Leper King, Angkor Thom, sandstone, and an undated picture by EFEO showing the famous grinning lion with two other pieces that went to Tokyo (32, 33)
(first published online March 29, 2021)
Tags: museums, Khmer sculpture, EFEO, controversy, Japan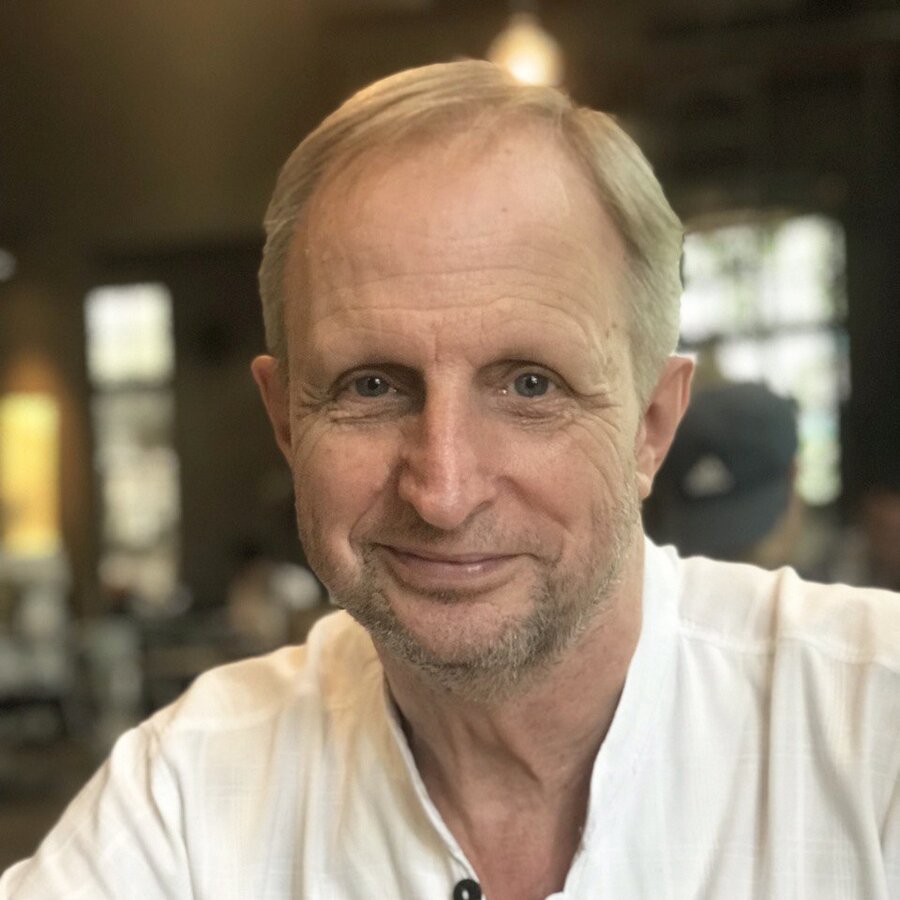 Andy Brouwer
Cheltenham-born and bred, Andy Brouwer (1959, UK) made his first trip to Cambodia in 1994, and that white-knuckle ride hooked him for life. He upped sticks to Phnom Penh in 2007 after more than thirty years in banking back in the UK to join Hanuman Films.
As well as having a serious obsession in temples, books -- he's the editor of the guidebook To Cambodia With Love --, and pretty much all things Khmer, he is a lifetime supporter of Leeds United and has an insatiable passion for the music of Steel Pulse and Ennio Morricone. His website relives his numerous visits to Cambodia, and more.
During his time living in Cambodia, he's been a producer and researcher for Hanuman Films, a product manager at Hanuman Travel, and the media officer with Phnom Penh Crown FC. Since 2020, he developed a personal research, Exploring Khmer Art Worldwide, published as an ongoing series on his Facebook page, that will be soon hosted on Angkor Database.