Maurice Fievet, Visions of Ancient Angkor
by Maurice Fievet
Re-creation of Ancient Angkor by visionary artist and avid traveler Maurice Fievet (1921-1997)
Author: Maurice Fievet
Visual artist Maurice Fievet (Fiévet) closely worked with Angkor scholars George Coedès and Bernard Philippe Groslier to recreate vivid scenes of the daily life at the times of the Khmer Empire.

Maurice Fievet's (1921-1997) work inspired a major National Geographic report in the 1960s (Robert Moore, "Angkor, Jewel of the Jungle", National Geographic, Vol 117, No. 4, 1960). The National Geographic feature took up no less than 53 pages, with Moore's photographs complementing the artist's view of Angkor.
Maurice Fievet's life and work was narrated by Kent Davis here.

We can find again the artist's maniere in his numerous paintings he made in Africa, for instance: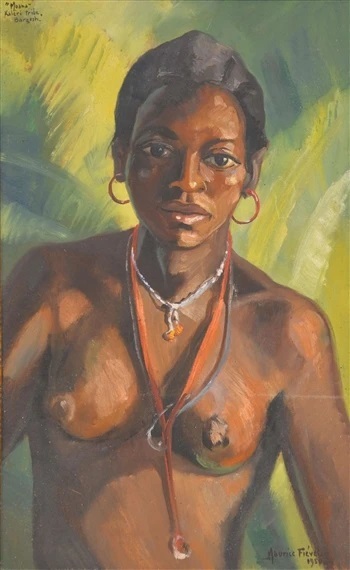 "Portrait of an African Girl", 1959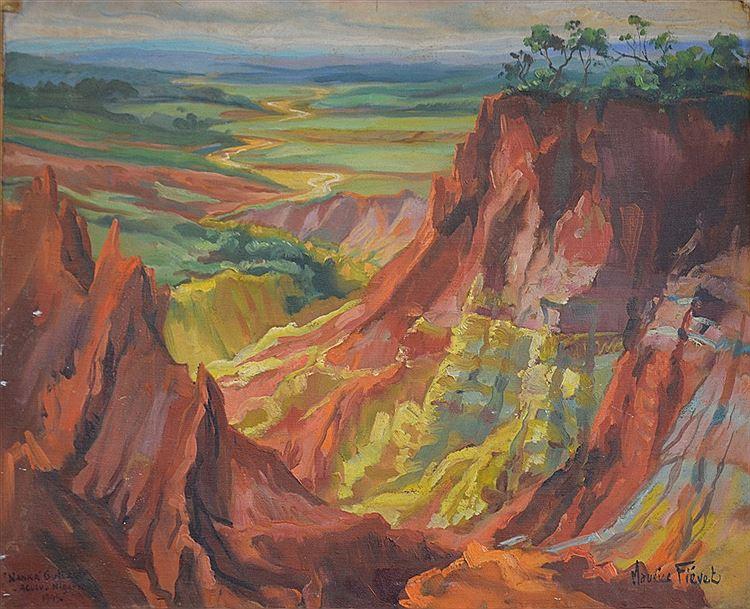 "Agulu Nanka, Nigeria", 1949
Tags: visual art, Visions of Angkor, paintings, history
Maurice Fievet
Maurice Robert Fievet (or Fiévet) (20 Aug 1921, Montana, USA -1995, Islas Baleares, Spain) was a visual artist, photographer and avid traveler who envisioned with 'extraordinary accuracy', according to many contemporary scholars, the daily life in Angkor at its peak in a series of striking watercolor and gouache paintings inspired by his conversations with Bernard-Philippe Groslier and George Coedes in the 1950s.
Born from French emigres to the USA, Jean-Baptiste "John" Fievet (3 March 1885, Bruay-la-Brussiere, France - 4 Sept. 1959, Bruay-la-Brussiere) and Jeanne Gabrielle Marguerite Calonne (27 Dec. 1889, Lens, France - 15 Dec. 1972, Bruay-la-Buissiere), Maurice and his family went back to France when one of his aunts offered to pay for his art education. His studies at Ecole Nationale des Beaux Arts were interrupted by World War II, during which young Maurice joined the Resistance underground, and he was a Laureate of the 1945 promotion at the prestigious school, where he met his future spouse.
With first wife Jeannette Fievet-Demont (1918, Bruay-en-Artois, France - 2006, Toulon, France), both of them young math teachers and passionate about photography and painting, Maurice embarked in a journey through Africa in 1947, from Algiers to The Cape. The adventure (with only a letter of recommendation from General de Lattre de Tassigny in order to cross borders) led the couple to the remotest parts of the continent. In the manuscript for Un bébé blanc parmi les Noirs (A White Baby Among the Blacks), Jeannette notes that 'Maurice was the scientific and I the literary one', and remarks that 'sadly, we had to sell almost all our paintings in order to stay financially afloat', before securing a contract with the US publication National Geographic in 1954.
Their son, Francis (nicknamed Bichon, who died in a motorcycle accident in his early twenties) was born in Nigeria in 1952, and they documented the experience in books and TV documentaries such as Francis au pays des grands fauves, while covering extensively the African wildlife and the daily life in the bush. Maurice also created colorful stamps for various African countries, Nigeria, Benin, Chad...
What led Maurice to Cambodia is still to be clarified, but the fact is that his paintings of Ancient Angkor reflect a profound knowledge of the available testimonies of that period, in particular the writings of Zhou Daguan. The series was created to illustrate W. Robert Moore's feature article in The National Geographic (April 1960, vol. 117, no. 4), Angkor: Jewel of the Jungle. Researcher Kent Davis brought them back to the public attention in 2011 when he found photos of Fievet's paintings in the archive of the Groslier family, while readying the English edition of George Groslier's writings.
In the 1960s and 1970s, Maurice Fievet was back to field work in Africa, this time with his soon-to-be second wife, Monique Dumonté, with whom he authored the book Tesouro Selvagem de Mocambique (1973, Lisbon, Editions BNU). It seems that Monique Dumonté worked with the couple Maurice-Jeannette, since she was the sound engineer for their documentary film Francis aux Paradis perdus "Carrefour de Savane" (ORTF, 1972).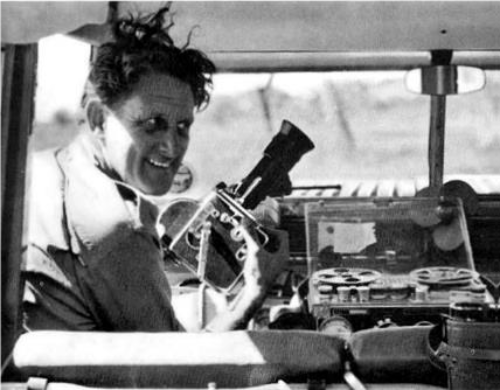 Maurice Fievet in Africa in the 1960s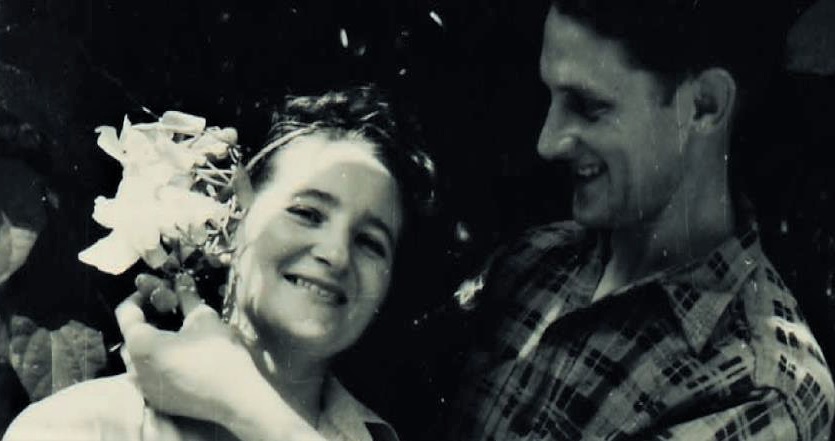 With first wife Jeannette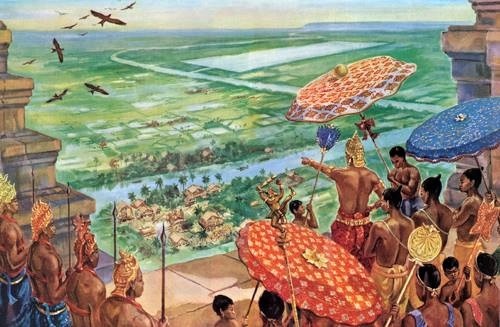 "Yasovarman I atop the sacred mountain" by Maurice Fievet
Trivia:
Emilio Salgari's La città del Re lebbroso (2018, Landscape Books) has a painting by Fievet as front cover.
M. Bolton, genealogist in Montana, USA, has found this photo of Maurice Fievet from his young years in America: