Indochina, 'Greater France' and the 1931 Colonial Exhibition in Paris
by Marco R. Deyasi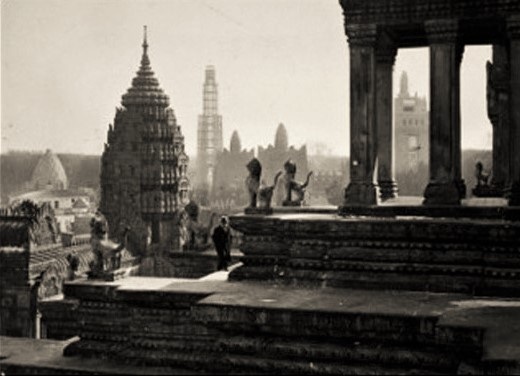 Publication: History Workshop Journal, 80, pp 123-141 | DOI 10.1093/hwj/dbv035
Published: 2015
Pages: 19
Language : English
'Angkor Wat in Blue, White and Red'
Since the first 1867 Paris Exposition coloniale, Angkor, or an "ersatz Angkor" -- to use the term coined by the author -- remodeled by French architects without the slightest participation of Cambodian people, was central in the making of the "colonial imaginary".
Developing previous studies on "Cambodia-ness" as a French colonialist ideological fabrication, the author is inclined to follow the trend of post-colonial critics, who tend to detect some kind of political agenda even in the most sincere and open-minded attempts of developing scientific and cultural knowledge of the submitted nations. He judges with particular severity George Groslier's contribution, contending that his "book [Cambodian Dancers, Ancient and Modern] focused on the royal dancers as the last surviving form of Khmer culture, a culture that he imagined was an unchanging tradition transmitted through the generations since antiquity. For him, Sisowath's dancers were living fossils, representatives of Angkorean culture itself and belonging to an ancient past that was rapidly disappearing. In numerous passages, he deplored the impending doom of Khmer culture and its traditions of dance, declaring that contact with French modernity would inevitably destroy them. Most of these passages are overblown and exaggerated: 'They are dying! They are dying, these charming traditions and poetry of times past'..."
According to the author, the 1931 Exhibition marked the peak of an ideological enterprise designed to achieve one sole achievment: 'Khmer culture had been 'reconstituted' by French science and regenerated by colonial policy as part of the humanitarian mission of France overseas. The celebration of Khmer culture was itself a patriotic gesture sustaining 'Greater France': Angkor was topped with a tricolor and lit with blue, white and red lights. Thus, in the imagination of colonial administrators, the ancient Khmer culture symbolized by the Angkor pavilion had become French (...) Thus, paradoxically, an ancient Khmer temple became a resonant symbol of imperial 'Greater France'. Thanks, in part, to Groslier's efforts, Cambodia became French and France became Cambodian."
The recent Khmer translation of Groslier's above mentioned book shows that history and time proved us otherwise.
Tags: colonialism, Khmerology, dance, Exposition Universelle, Modern Cambodia
Marco R. Deyasi
Marco R. Deyasi is an art historian and faculty member of the Department of Art History, Concordia University (Canada), with his research focusing on the impact of Vietnamese and Cambodian art and culture in France.
His doctoral dissertation at Duke University (USA) was titled "French Visual Culture and 'Indochina': Modernism, Primitivism, Colonialism, 1889–1931". He was also a visiting professor at University of Idaho,
His latest publication was French Modern Art and "Indochina" 1889-1931: Colonialism, Primitivism, and Visual Culture. Focusing on postcolonial and critical race studies, he is currently working on a book on Classicism Contested: Archaism, Colonialism, and Modernist Sculpture in France, 1890-1940.