The Botanist's Corner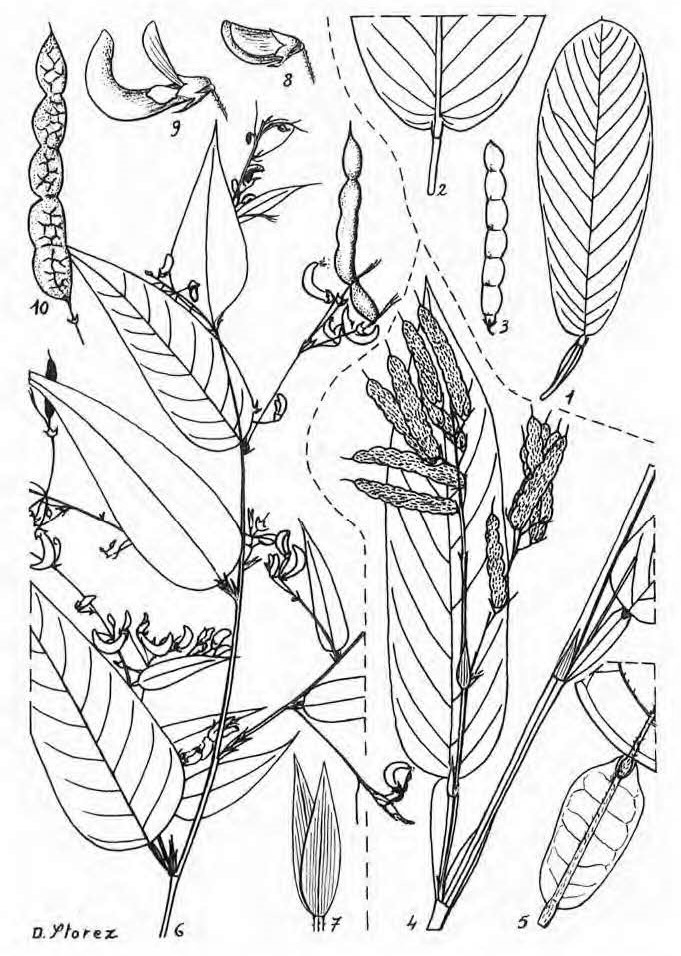 by Pauline Dy Phon & Pascal Medeville & Angkor Database
Publication: ADB Special Online Projects
2021
The work of Pauline Dy Phon (1933-2010)
In 1970, Cambodian botanist Pauline Dy Phon published La végétation du sud-ouest du Cambodge (Annales de la Faculté Sciences de Phnom Penh, 3, 1–136; 4, 1–59). In 2017, Philip W. Rundel, Professor at University of California Department of Ecology and David John Middleton, Keeper of the Herbarium at Singapore Botanical Gardens, translated and completed her work in their publication The flora of the Bokor Plateau, southeastern Cambodia: a homage to Pauline Dy Phon, including 359 species. Read their article (in Cambodian Journal of Natural History 2017 (1), pp 17–37).
Pauline Dy Phon's Lexique des arbres forestiers du Cambodge (Lexicon of Cambodia's Forest Trees)in an abridged, searchable version.
The previous work completed and expanded the 692 trees and shrubs with vernacular Khmer names listed by Pou Saveros and Bernard Rollet in 1973 (Lexique des arbres et arbustes du Cambodge, BEFEO, Vol. 60, pp 117-62). Pauline Dy Phon's teacher at the Musée d'histoire naturelle, Prof. Jules-Émile Vidal, contributed to the list.
Pauline Dy Phon's monumental dictionary, វចនានុក្រមរុក្ខជាតិប្រើប្រាស់ក្នុងប្រទេសកម្ពុជា |Plantes utilisées au Cambodge | Plants Used in Cambodia
In 1981, Pauline Dy Phon published Taxons nouveaux pour la Flore de l'Indochine (New Taxons for the Indochinese Flora)
In 1994, Pauline Dy Phon co-authored (with ) Vol. 27 of Flore du Cambodge, du Laos et du Vietnam, studying Leguminosae (Fabaceae), Papilionoideae, Desmodieae.
Further Readings
ASEAN Herbal and Medicinal Plants, collective, 2010, Djakarta.
'Tonle Sap Authority discovers 196 new plants around Tonle Sap Lake, one special species' (Phnom Penh Post, 22 June 2021)
In 1790, Portuguese Jesuit missionary Joao de Loureiro (1710-1791) published Flora Cochinchinensis, sistens plantas in regno Cochinchina nascentes : quibus accedunt aliae observatae in Sinensi imperio, Africa orientali, Indiaeque locis variis : omnes dispositae secundum systema sexuale Linnaeanum, a work inspired by his interest in local medicinal plants after spending in 1790. Loureiro's work was an extension of his interest in local medicinal plants after spending 35 years, mostly as chief mathematician and naturalist, in the service of the King of Cochinchina.
About the Cambodian evergreen swamp forest, read the article Evergreen swamp forest in Cambodia: floristic composition, ecological characteristics, and conservation status, by Ida Theilade, Lars Schmidt, Phourin Chhang, J. Andrew McDonald
The Cambodian Journal of Natural History, launched in Phnom Penh in 2008 (a collaboration of Fauna & Flora International and the Royal University Centre for Dioversity Conservation (CBC) is now available online. Read the first issue here.
Pascal Medeville's Notices on Tela Botanica
The author completes the botanical description of each species with the cultural context in which it appears in Cambodian history and culture (in French).
Going greener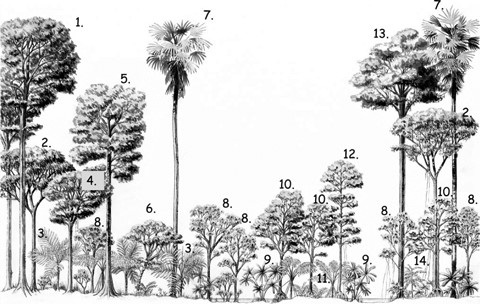 Profile of evergreen swamp forest showing the characteristic species. Height and length approximately 35×50 m. (1) Shorea guiso, (2) Archidendron clypearia, (3) Areca triandra, (4) Sindora siamensis, (5) Myristica iners, (6) Fagraea racemosa, (7) Livistona saribus, (8) Macaranga triloba, (9) Licuala spinosa, (10) Eugenia albiflora, (11) Cibotium barometz. (12) Litsea sp. (13) Dipterocarpus costatus, (14) Pternandra caerulescens (from Evergreen swamp forest in Cambodia..., op.cit.)
About the Authors
Pauline Dy Phon
Pauline Dy Phon (ប៉ូលីន ឌី ផុន) (1933-21 May 2010) was a Cambodian botanist specialized in the flora of Southeast Asia.
After graduating from the Paris Faculty of Sciences in 1959, Pauline Dy Phon taught at Phnom Penh Lycée Sisowath before becoming a teacher and researcher with the University of Phnom Penh until 1975. She had obtained her doctorate in botanic from Toulouse University in 1969.
After surviving the Khmer Rouge regime,transiting through the Khao I Dang refugee camp and escaping to France -- her only written account of the Khmer Rouge period, published in 1982, was a study of "plants in the Khmer diet in normal times and in times of famine" --, she worked at the Botanical Laboratory of the Musée d'Histoire Naturelle (National Museum of Natural History), identifying and classifying plants of Cambodia and Indochina. One of the few women botanists then, she was awarded for her discovery of five new species of Papilionaceae, Euchresta Bennet, Gueldenstaedtia Fischer, Medicago Linné, Parochetus Buchanan Hamilton and Tifidacanthus Merril.
Back to Cambodia from 1994, Pauline Dy Phon published in 2000 a 915-page Dictionary of plants used in Cambodia (Dictionnaire des plantes utilisées au Cambodge), with entries in French, English and Khmer. The year before, she had co-authored with Bernard Rollet the Lexique des Arbres Forestiers du Cambodge (EFEO Publications, 1999).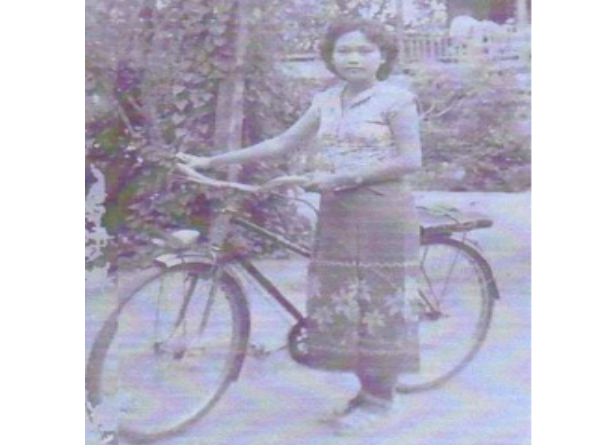 Dr. Pauline Dy Phong young (Obituary cover page of Chatomukh journal, Jan. 2010)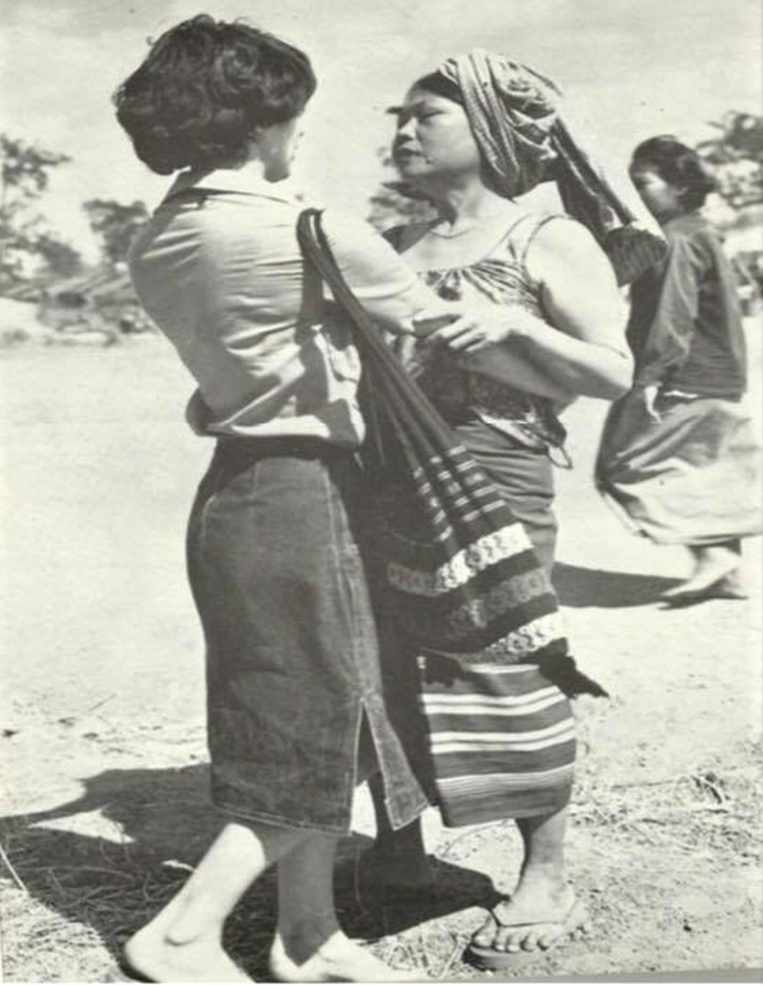 On this photo dated 7 Dec. 1979, at Khao I Dang refugee camp, Pauline Dy Phon (right) meets again with an old friend from her student years and colleague, Marie-Augustine Martin (MAM), a reputed ethnographer and botanist who had extensively worked in Cambodia (from G. Condaminas and R. Pottier, Les réfugiés ordinaires de l'Asie du Sud-Est, Paris, 1982)
Selected Bibliography:
1962 Practical works of micrography and plant morphology for the use of students in SPCN-PCB, 2 vol., 200 p, Phnom Penh
1964 List of medicinal plants used in pharmacopoeia in Cambodia, Phnom Penh
1968 Flora and vegetation of the Kirirom plateau and its surroundings, Annales Faculty of Sciences, Phnom Penh University
1970 The vegetation of Southwest Cambodia (published thesis, part I, Annales Faculty of Sciences, Phnom Penh University 1971 The vegetation of South-West Cambodia, (part II)
1972 (with M.A. Martin) Botanical Guide to the City of Phnom Penh, Annales Faculty of Sciences, Phnom Penh University
1975 Illustrated Flora of Cambodia, Phnom Penh, with 950 color photos (work lost during the Khmer Rouge era)
1981 (with Jules Émile Vidal) Ecological factors and vegetation of Cambodia, Seksa Khmer, n. 3-4
1982 Plants in the Khmer diet in normal times and in times of famine, CEDRASEMI Paris - Brief overview on Cambodian forests, Seksa Khmer, n. 5
1999 (with Bernard Rollet) Lexicon of forest trees of Cambodia, Paris
2000 Plants used in Cambodia, Khmer ~ English – French dictionary, preface by Maurice Fontaine, Phnom Penh, 915 p
Pascal Medeville
Pascal Medeville (8 Dec. 1962) is a professional translator and a writer specialized in Chinese civilization and language.
After studying Chinese and Khmer at INALCO Paris, and spending ten years in mainland China and Taiwan, he relocated to Cambodia, where he leads a professional agency and shares his discoveries on Khmer culture and linguistics on the blog Khmerologie (in French and Khmer).
Amongst his numerous centers of interest, botany comes high on the list, and Pascal Medeville conducts an ongoing research on herb and plant terminology and use in Asian societies, particularly in Cambodia.
Angkor Database
Angkor Database - មូលដ្ឋានទិន្នន័យអង្គរ - 吴哥数据库
All you want to know about Angkor and the Ancient Khmer civilization, how it keeps attracting worldwide attention and permeates modern Cambodia.
Indexed and reviewed books, online documentation, photo and film collections, enriched authors' biographies, searchable publications.
ជាអ្វីគ្រប់យ៉ាងដែលអ្នកទាំងអស់គ្នាចង់ដឹងអំពីអង្គរ, អរិយធម៌ខ្មែរពីបុរាណ, និងមូលហេតុអ្វីដែលធ្វើឲ្យមានការទាក់ទាញចាប់អារម្មណ៍ពីទូទាំងពិភពលោកបូករួមទាំងប្រទេសកម្ពុជានាសម័យឥឡូវនេះផងដែរ។
Our resources include the on-site Library at Templation Angkor Resort, Siem Reap, Cambodia, with exclusive access for the resort's guests. Non-staying visitors can ask for a daily pass here.