Germaine Krull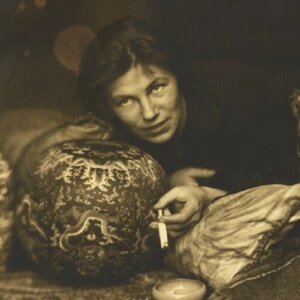 Germaine Luise Krull (20 November 1897, Posen-Wilda (then in Germany, now Poznan, Poland) – 31 July 1985, Wetzlar, Germany) was an avant-garde photographer, political activist, and avid traveler who beautifully captured Khmer temples in the 1960s before settling for a while in Tibet in her ongoing search for spirituality and a better world.
A free-thinker who questioned the patriarcal order -- with the approval of her own father -- from a young age, she attended the the Lehr- und Versuchsanstalt für Photographie, a photography school in Munich, with the influence of Frank Eugene's teaching of pictorialism, and opened her own studio there in 1918, portraying prominent artists such as Kurt Eisner, Rainer Maria Rilke, Friedrich Pollock, and Max Horkheimer.
Inclined to communist activism, she was harceled by police in Germany and Austria, traveled to Bolshevik Russia in 1921 with lover Samuel Levit, was imprisoned and expelled from there. She moved to Berlin, -- where she created a series of nude photos with a quite explicit lesbian message -- Amsterdam -- where she met filmmaker Joris Ivens, with whom she contracted later a marriage of convenience -- and Paris, where her 'modernist' style was remarked by surrealist circles and where she befriended artists such as photographers Man Ray ans André Kertész, artists Sonia and Robert Delaunay, and writers Colette, André Gide, Jean Cocteau or André Malraux. In her much-acclaimed portfolio Métal (1928), a 64 black-and-white dramatic shots in which she captured metallic architectural structures, "the essentially masculine subject of the industrial landscape", in particular the Eiffel Tower. It is there that she portrayed writer and traveler Titayna with her Buddha head.

Living in Monte-Carlo in 1935-1940, Germaine Krull kept contributing to major photo magazines, travel and fiction books. Fleeing collaborationist France, she escaped to Brazil, French Equatorial Africa, Algeria, and actively contributed to the Resistance, capturing military action in France in 1944-1945. Her proximity to Malraux -- they were working on a book about the sculptural and architectural art of Southeast Asia that never materialized -- led to her involvement with the Gaullist movement. In her autobiography, she reported that the last time she saw Malraux in Paris -- more precisely at La Lanterne, Malraux's residence in Versailles --, "j'ai laissé plus de 1500 photos chez André, et elles y sont toujours!" [I left more than 1,500 photos at André's, and they're still there!] [1]. She went to Southeast Asia, first Laos, then Thailand and Cambodia in 1946 as a war correspondent and a representative of the French Resistance, and was spotted as such by the American CIA, for instance in this confidential dispatch.
With famous designer Jim Thompson, she decided to remodel and refurbish the derelict Oriental Hotel in Bangkok -- which was to become the Mandarin Oriental --, and in spite of many disagreements with Thompson remained its co-owner until 1966. She designed the now iconic Bamboo Bar, and slowly but surely led the hotel to grow from the Japanese Officers Club it had been turned into during World War II, and then to a transit hospitality center for anti-fascist activists, to a high-end establishment. [Read a complete and richly illustrated saga of the hotel by Wild'n'Free Diary.]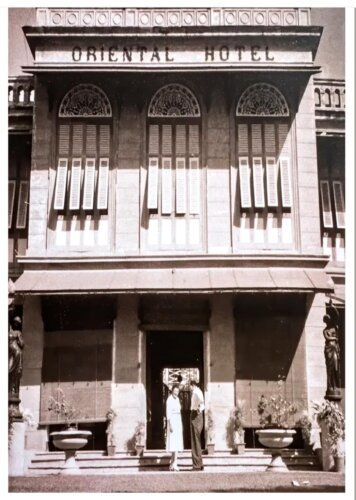 Meanwhile, she collaborated to three photo and text books about Thailand, and traveled frequentely to Angkor, photographying then lesser-known temples such as Pre Rup or Preah Khan. 268 of these remarkable documents are kept at the Museum Folkwang in Essen, Germany, within her archives donated by her heirs. Angkor Database wishes to make more accessible Krull's unique contribution to the photographic documentation of Angkor Wat and other Khmer Temples.
Later on, Germaine Krull went briefly back to Paris, then moved to North India, where she embraced the Sakya teaching of Tibetan Buddhism. Her late work reflects her lifelong interest in Buddhist art and dance, both themes that had inspired her so profundly in Angkor. Her final major photographic publication was the 1968 book Tibetans in India, including a portrait of the Dalai Lama.
[1] Germaine Krull, La vie mene la danse, ed. Francoise Denoyelle, Textuel, Paris 2015 and 2019 [out of print], p 397. The editor added that she asked Madeleine Malraux (7 April 1914, Toulouse – 10 January 2014, Paris) about these photographs in 2001, but the pianist and concertist who had been Malraux's companion from 1944 to 1966 said she had no idea of this collection's whereabouts.
Main publications: Métal, Paris: Librairie des arts décoratifs, 1928. (New facsimile edition published in 2003 by Ann and Jürgen Wilde, Köln.) | 100 x Paris, Berlin-Westend: Verlag der Reihe, 1929. | Études de Nu, Paris: Librairie des Arts Décoratifs, 1930. | with Raúl Lino and Ruy Ribeiro Couto, Uma Cidade Antiga do Brasil, Ouro Preto, Lisboa: Edições Atlântico, 1943.| Chiengmai, Bangkok: Assumption Printing Press, 1955. | with Dorothea Melchers, Bangkok: Siam's City of Angels, London: R. Hale, 1964. | with Dorothea Melchers, Tales from Siam, London: R. Hale, 1966. | Tibetans in India, Bombay: Allied Publishers, 1968. | Posthumous autobiography: La Vita Conduce la Danza, Firenze: Filippo Giunti, 1992. ISBN 88-09-20219-8 (La vie mène la danse or "Life Leads the Dance", translated into Italian by Giovanna Chiti.); La vie mène la danse (L'écriture photographique), ed. Francoise Denoyelle, Paris : Textuel editions, 2015. ISBN 978-2-84597-522-4.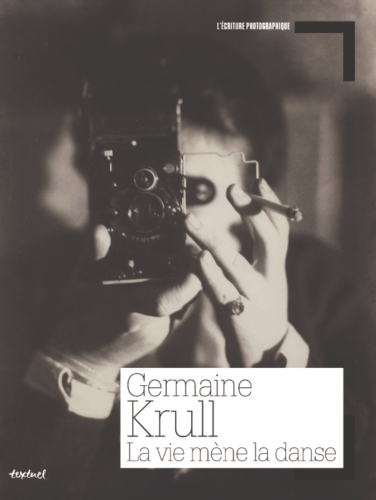 Among Germaine Krull's contributions to literary work: Bucovich, Mario von, Paris, New York: Random House, 1930. | Colette. La Chatte, Paris: B. Grasset, 1930. | Nerval, Gérard de, and Germaine Krull, Le Valois, Paris: Firmin-Didot, 1930. | Claude Farrère, La Route Paris-Biarritz, Paris: Jacques Haumont, 1931. | Morand, Paul, and Germaine Krull, Route de Paris à la Méditerranée, Paris: Firmin-Didot, 1931. | Simenon, Georges, and Germaine Krull, La Folle d'Itteville, Paris: Jacques Haumont, 1931. | André Suarès, Marseille, Paris: Librairie Plon, 1935. | Vailland, Roger, La Bataille d'Alsace (Novembre-Décembre 1944), Paris: Jacques Haumont, 1945.
Films: Six pour dix francs (France, 1930) | Il partit pour un long voyage (France, 1932)
References: MacOrlan, Pierre, Germaine Krull: Photographes Nouveaux, Paris: Gallimard, 1931. | Rosenblum, Naomi, A History of Women Photographers, 2nd edition, New York: Abbeville Press, 2000. ISBN 0-7892-0658-7. | Baker, Kenneth. "Germaine Krull's Radical Vision / Photographer's Work Featured at SFMOMA", San Francisco Chronicle, 15 April 2000. | "Fotografía Pública: Photography in Print 1919–1939", Madrid: Museo Nacional Centro de Arte Reina Sofía, 1999. ISBN 84-8026-125-0. | Rheinisches Landesmuseum Bonn, Germaine Krull: Fotografien 1922–1966, Köln: Rheinland-Verlag, 1977. ISBN 3-7927-0364-5. | Bouqueret, Christian, and Moutashar, Michèle, Germaine Krull: Photographie 1924–1936, Arles: Musée Réattu, 1988. | Sichel, Kim, From Icon to Irony: German and American Industrial Photography, Seattle: University of Washington Press, 1995. ISBN 1-881450-06-6.; Germaine Krull: Photographer of Modernity, The MIT Press, 1999, ISBN 0-262-19401-5.; "Germaine Krull and L'Amitié Noire: World War II and French Colonialist Film", in Colonialist Photography: Imag(in)ing Race and Place, ed. Eleanor M. Hight and Gary D. Sampson, London: Routledge, 2002. ISBN 0-415-27495-8.; "Germaine Krull à Monte-Carlo [Germaine Krull: the Monte Carlo Years]", Montréal: Musée des Beaux-Arts de Montréal, 2006, ISBN 2-89192-306-5. | Kosta, Barbara. "She was a Camera", Women's Review of Books, volume 17, issue 7, pages 9–10, April 2000. | Specker, Heidi, Bangkok - Heidi Specker Germaine Krull im Sprengel-Museum Hannover, 9. Oktober 2005 bis 25. Juni 2006. Zülpich: Albert-Renger-Patzsch-Archiv, 2005. ISBN 3-00-017658-6. | Bertolotti, Alessandro, Books of Nudes, New York: Abrams, 2007. ISBN 978-0-8109-9444-7. | Dumas, Marie Hélène. Lumières d'Exil, Paris: Gallimard and Éditions Joëlle Losfeld, 2009. ISBN 978-2-07-078770-8. (French novelization of Germaine Krull's life.) | Roth, Andrew, ed., The Open Book: a History of the Photographic Book from 1878 to the Present, Göteborg, Sweden: Hasselblad Center, 2004. | "Portrait of Hedonist with Glasses Half Empty", The Gazette (Montreal), 30 December 2006. | Frizot, Michel, Germaine Krull, Paris : Hazan editions, 2015. ISBN 978-2-7541-0816-4. (Catalog of "Germaine Krull (1897-1985)", Jeu de Paume Museum Exhibition, 2015).
Latest and Upcoming Exhibitions: "Germaine Krull– The Return Of An Avant-Gardist", The Jim Thompson Art Centre & The Goethe Institute, Bangkok, June 2022. | "Germaine Krull and Southeast Asia", Bangkok, September 2023.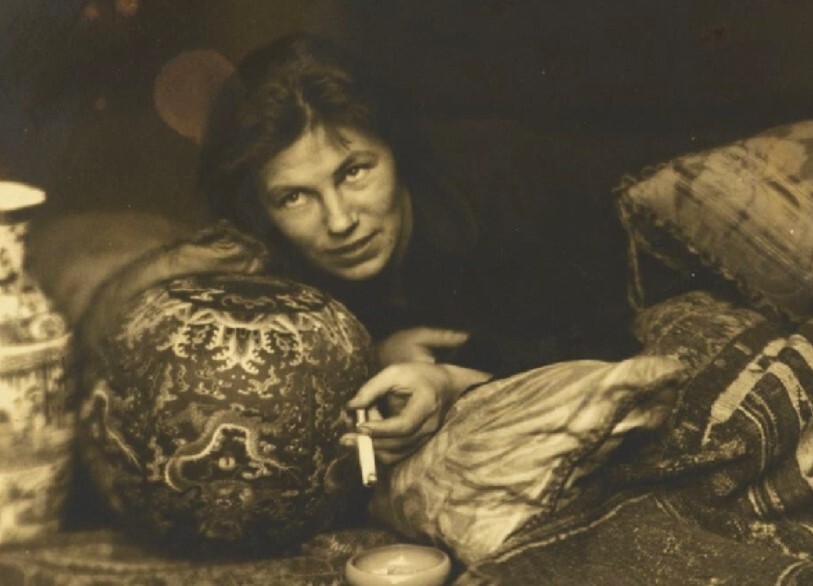 Listed works